Add attachments to product pages and let visitors download additional information about your products.
Add new section to a product page
Add any number of files to this section
Download statistics are available for each file
Current extension version: 1.0.5 | Compatibility: Open Source 1.4.1.1 - 1.9.3.10; Commerce 1.12.0.0 - 1.14.3.10

30-DAY MONEY BACK

FREE INSTALLATION

30-DAY FREE SUPPORT

LIFETIME RIGHT TO USE
Extra Downloads Gallery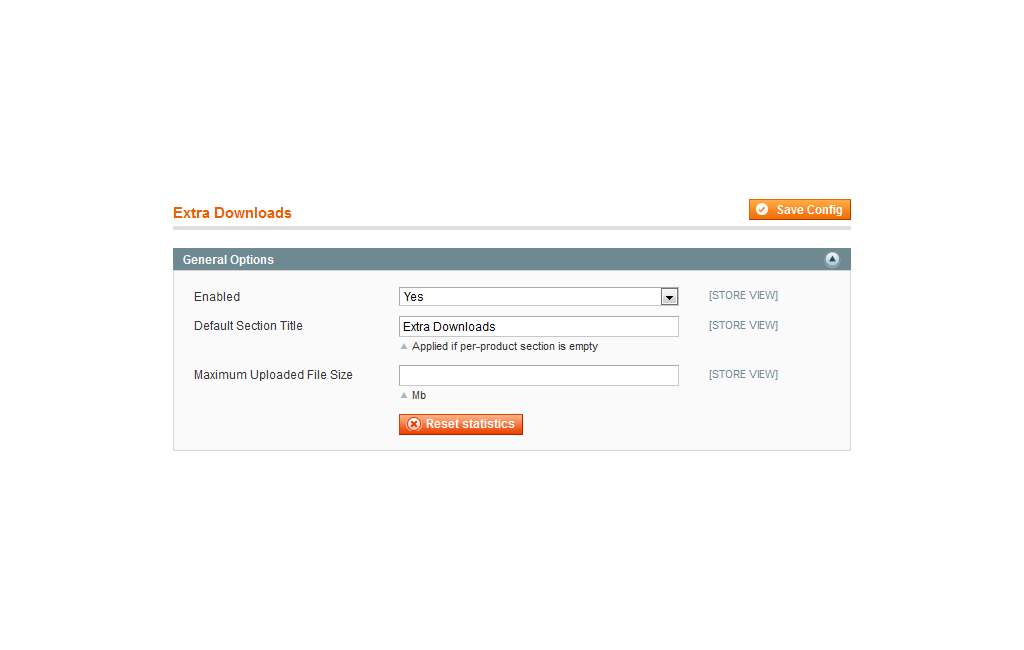 Overview
A difficult mission is assigned to store owners while creating a new product page: all items' pros should be described without making the page fussy and difficult to read. Sometimes item's features and overall descriptions can't fit into the designated area on product pages and store owners beat brains about the way of showing the required info to visitors.
The Extra Downloads module solves this problem by adding a special block to a product page with uploaded documents.
With the Extra Downloads extension for Magento, you can easily populate necessary product pages with any additional info such as user manual, product use cases, compliance certificate, etc. Files of any types can appear in your store and customers can download them whenever they want. A special block with its own title contains all the attachments displayed in the required sequence.
Upload files to a product page with the help of Extra Downloads extension for Magento and be sure that visitors never miss any important information about your product or service.
Features:
Share files with customers
The Extra Downloads module allows you to attach any files to product pages and make all additional product info at customers' disposal.
Add documents to a separate block on product page
All attachments uploaded by admin are displayed in a separate block with its own title. You can specify the name of the section applied to all products or set up a unique one per specific item.
Upload files of different types
You can create files of different types such as doc, pdf, xsl, etc., and upload them to your store easily with the help of Extra Downloads.
Unlimited number of attachments
The amount of uploaded files is not limited, so you can attach as many files to product pages as you want.
Upload files while editing products
The extension is very easy at configuring. A special tab is added to product page at the backend, so you can attach all documents while creating new products or editing already existed ones.
Limit the size of uploaded files
General settings of the module allows you to limit the size of all documents you want to share with your visitors.
View the statistics of downloads
Every file has its own download counter, so you can view how many times the file has been opened by customers.
Multi-store support
With the help of the Extra Downloads extension, you can define stores where the sharing documents are visible and can be downloaded by customers.
1.0.5

+ Extra download duplication
* Magento 1.9.3.0 and 1.14.3.0 compatibility
* SUPEE-8788 compatibilty

Works only with Magento 1.9.3.0 and higher

1.0.4

Works with Magento up to 1.9.0.0 and up to 1.9.3.0 with SUPEE-8788 installed

1.0.3

* SUPEE-6788 compatibility issue

1.0.2

+ Stability and speed improvements

1.0.1

* Minor bugfixes

1.0.0

Initial release