B2B Extension Suite for Magento 2
Level up your business with a powerful and cost-effective solution for B2B eCommerce. 
Increase the lifetime value of customers by allowing companies to create multiple staff accounts within your store

Build a long-term sales strategy by offering credit to trusted customers

Simplify the quoting process for orders and convert quotes to orders when ready to purchase

Introduce requisition lists to encourage repeat purchases

Enhance functionality by integrating with  Private Catalogs, Sales Representative, NET 30, Easy Reorder, Payment & Shipping Restrictions, Web API and GraphQL support.
Current extension version: 1.0.13 | Compatibility: Open Source 2.4.4-2.4.6; Commerce 2.4.4-2.4.6


License:
Starting At
Special Price
$599.00
$599.00

30-DAY MONEY BACK

FREE INSTALLATION

30-DAY FREE SUPPORT

LIFETIME RIGHT TO USE
B2B Extension Suite Gallery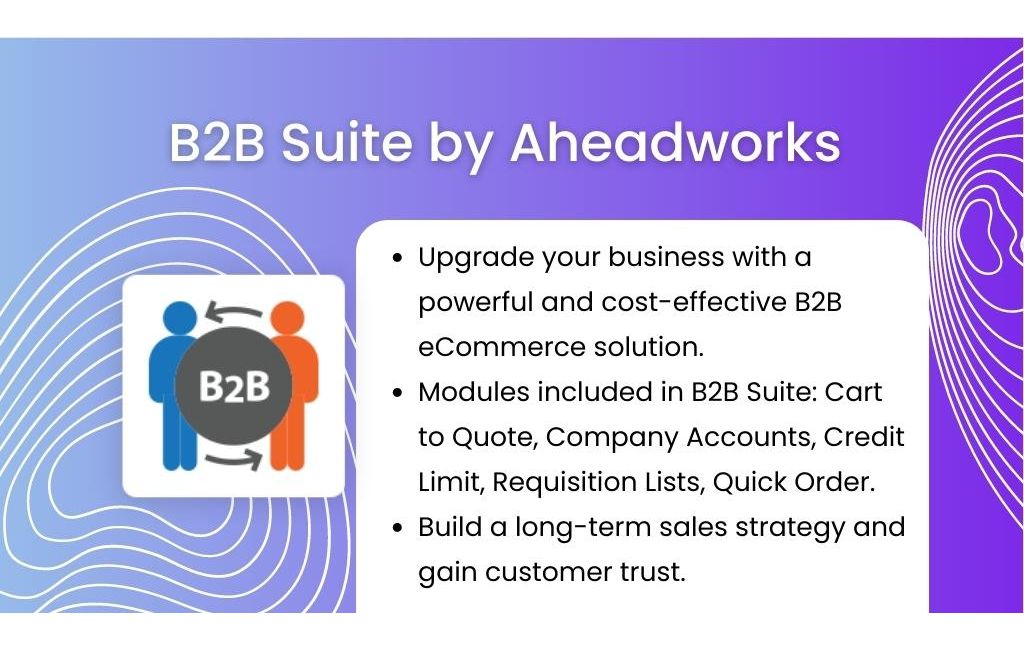 Magento open source is built to cater to direct to customer (DTC) merchants. For B2B businesses who sell to dealer/distributor networks, the needs are more involved, and the requirements are unique. Their customers have different locations with multiple staff accounts. They can allow certain customers to purchase on credit. B2B businesses want to provide customers an easy way of replenishing (quick order) or at times require a quoting process before an order is executed. Magento Open Source does not provide the necessary functionality to meet the demand of B2B merchants.
Our all-in-one B2B solution suite allows B2B merchants to cater to customers needs in the most optimal way. Customers can see inventory, their negotiated pricing, and products allowing them to transact with few clicks. This reduces the need for cumbersome phone orders. Customers can review quotes and negotiate inline with a sales rep and when ready convert the quote to order. These key functionalities improve the ease of doing business with your company and are integral to how B2B commerce is executed in today's digital world.
Grow Your Business and Outperform Competitors
Achieve the maximum potential of your business with a suite of powerful and easy-to-use B2B tools. Effective combination of B2B vital features helps build a long-term sales strategy and gain customer trust. Enable customers to create corporate accounts, set permissions for specific company roles, negotiate prices, place bulk orders, create requisition lists, and more. All combined, this provides a personalized approach to each customer, thereby decreasing cart abandonment rates and boosting revenue.
Manage Companies Effortlessly
Streamline Wholesale Purchasing
Credits for Trusted Customers
Benefit from Win-Win Deals
Encourage Repeat Purchases
Manage Companies Effortlessly
Manage Companies Effortlessly
Allow customers to create and run company accounts with multiple members of various roles and permissions to gain long-term and on-going business relationships.
Streamline Wholesale Purchasing
Streamline Wholesale Purchasing
Facilitate large volume purchases with the help of bulk orders: enable customers to collect and add SKUs straight to cart, without longtime catalog surfing.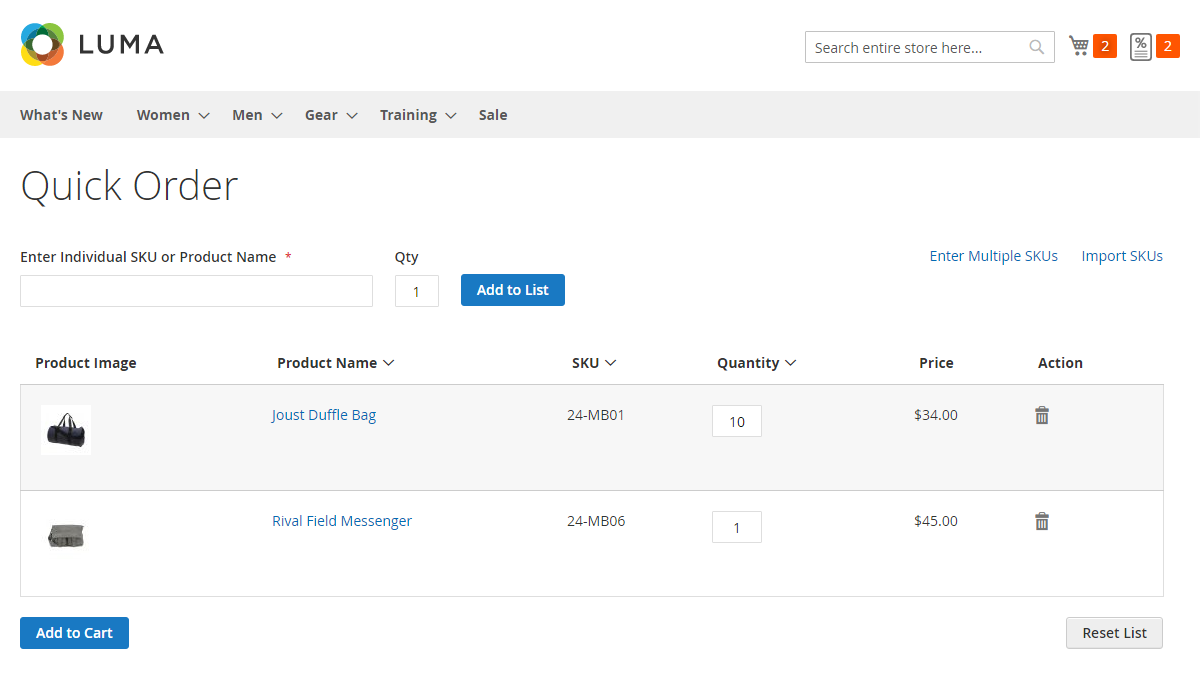 Credits for Trusted Customers
Credits for Trusted Customers
Demonstrate trust and encourage sales by assigning credits to certain companies and allowing them to pay by credit on the checkout. Manage credit payments easily in one grid and set automatic email notifications on credit operations.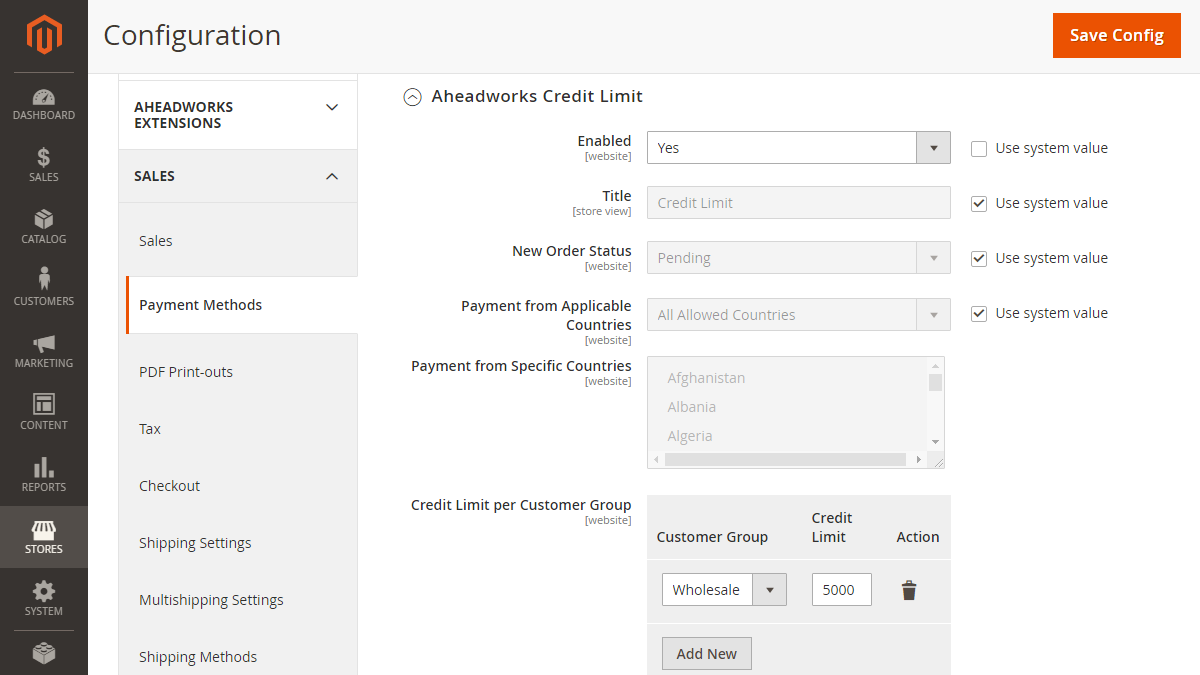 Benefit from Win-Win Deals
Benefit from Win-Win Deals
Negotiate with customers successfully by simplifying the quoting process: allow customers to turn a shopping cart into a quote list in one click. Set auto-approvals of quotes, apply a discount to the product price or order total.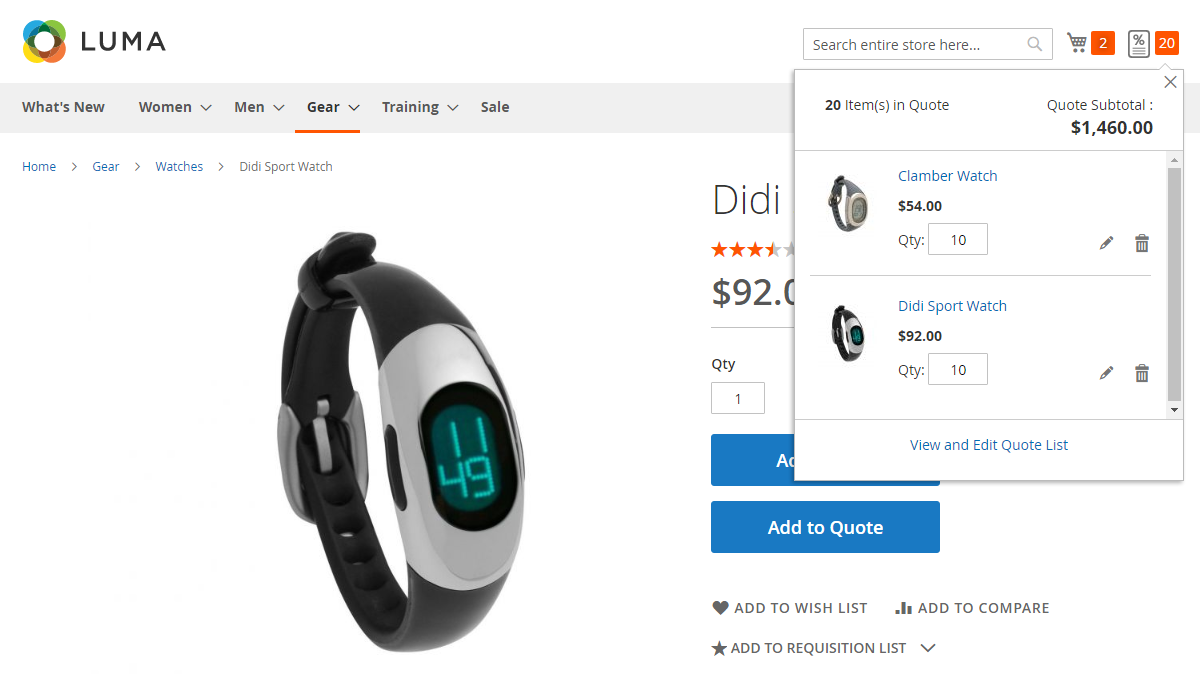 Encourage Repeat Purchases
Encourage Repeat Purchases
Offer customers the option to collect regularly purchased products into requisition lists and use them at a later date to place orders, making the ordering process less time consuming and complex, encouraging repetitive purchases.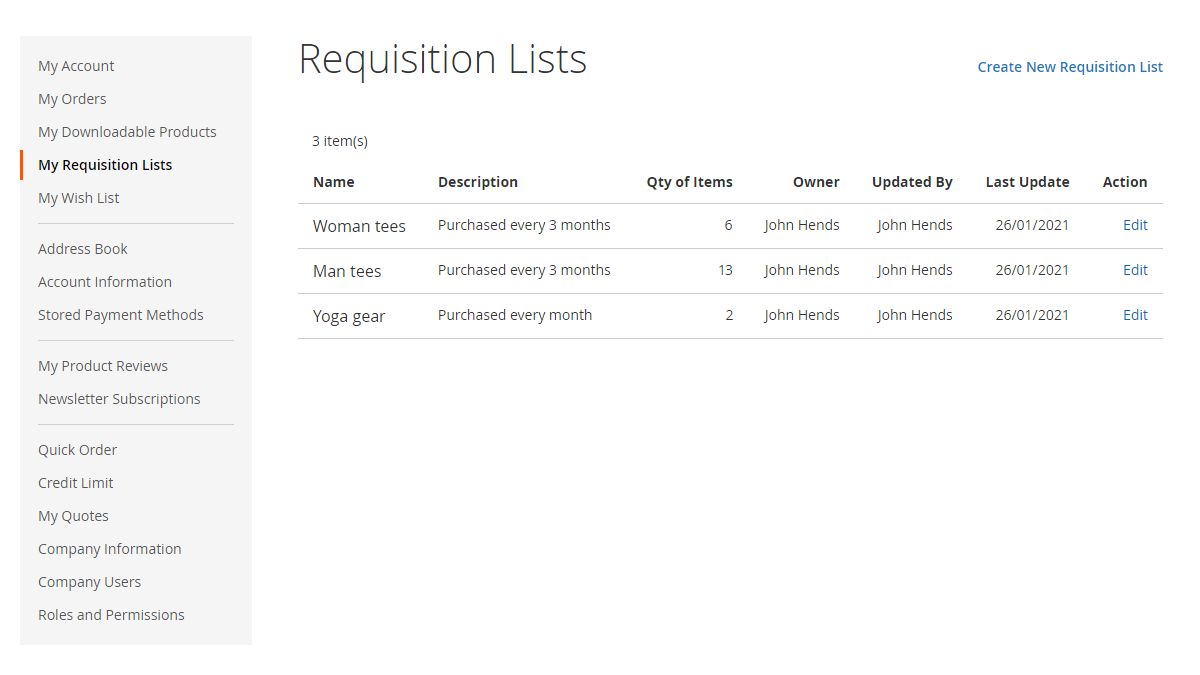 Reach your Sales Goals with Advanced B2B Functionality
Make your business even more profitable and competitive with powerful B2B enhancements!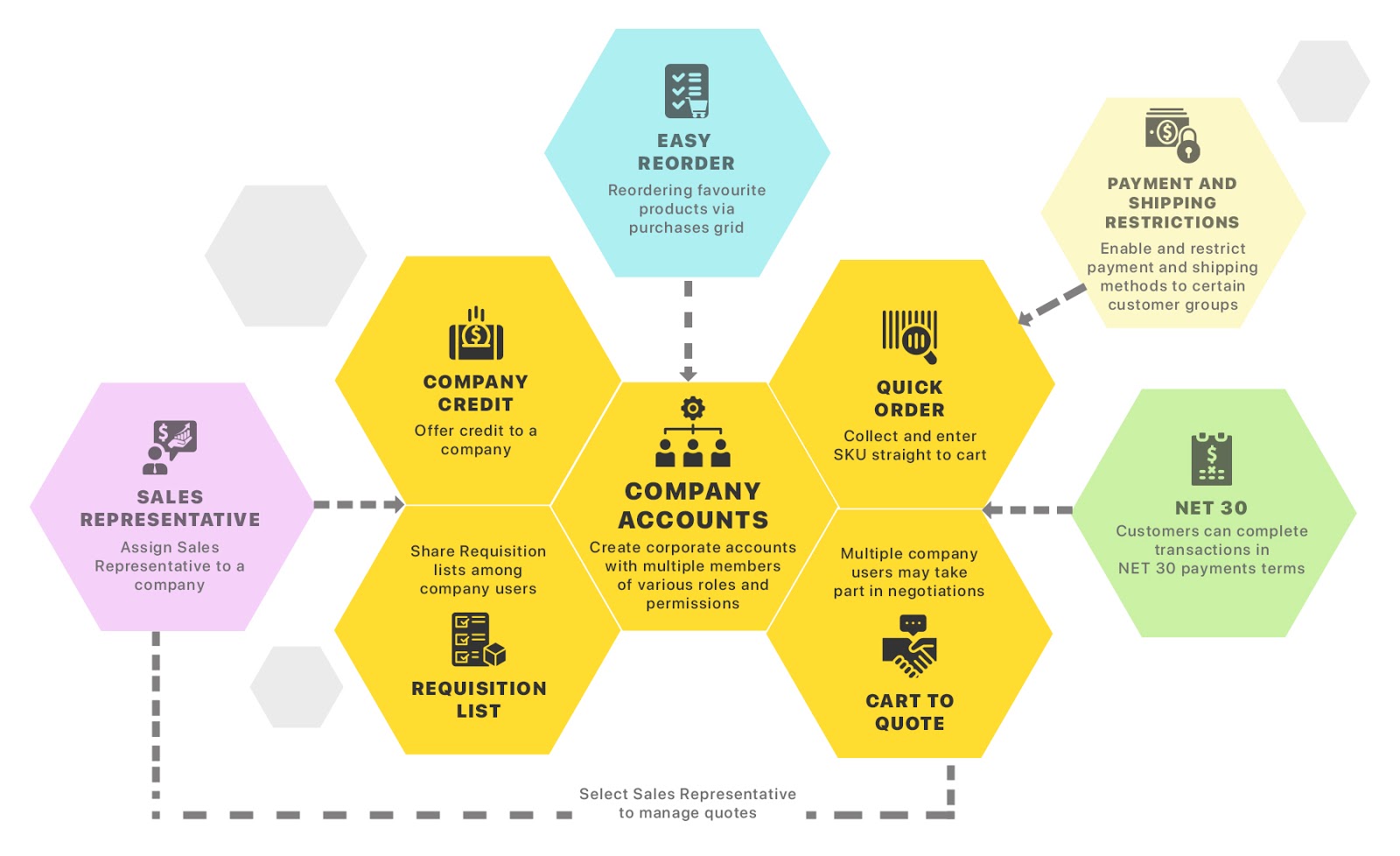 The following extensions may enhance B2B Extension Suite functionality:
Keep sustained money flow by offering delayed payments to particular customer groups. Control payments with automatic calculation of due dates and timeframes.
Increase customer satisfaction by saving them time on reordering frequently ordered products via previous purchases grid. Customers can analyze the current price and add a necessary product to the cart within a single page.
Build professional and trusting relationships with customers by assigning personal sales managers to them. With sales managers providing customer service on the spot, suggesting relevant cross-sells and up-sells, increase customer retention rates, and boost revenue.
Apply an individual approach to each company, specifying preferred payment and shipping methods. Define unique checkout options for B2B & B2C customer groups to provide a tailored purchase experience.
*Not included into B2B Extension Suite
Create and edit company accounts on the front or backend.
Allow clients to assign business roles, and manage company members status.
Get all essential company details like VAT id, legal address, company administrator, and more.
Convert requisition lists into the cart with one click.
Requisition Lists managing
Edit product options right in the list or move/copy products from one list to another.
Repetitive purchases lists
Collect frequently bought products into multiple requisition lists.
Restrict quick orders for particular customer groups.
Import product SKUs in CSV  file format to order in bulk.
Product options configuring
A popup appears to configure products, added via an individual SKU.
Specify credit limits for customers, groups of customers, and companies.
Track customer credit usage, overall credit history, update credit balance on the backend.
Multi-store currency conversion
Provide credit balance both in the currency of the base and the customer store-views.
Request quote with one simple click. Quote, list integrated into / detached from Shopping Cart.
Get a relevant status assigned to the quotation automatically.
Receive emails on any updates made either by a customer or an Admin.
1.0.13

Released 20.09.2023
+ Upgrading Requisition List to 1.2.1
+ Upgrading Cart to Quote to 1.8.2
+ Upgrading Company Credit to 1.2.0
+ Upgrading Company Accounts to 1.10.0
+ Upgrading UI components to 1.0.4

1.0.11

Released 26.07.2023
+ Major update of Cart to Quote 1.8.1

1.0.10

Released 11.07.2023
+ Major update of Cart to quote 1.8.0

1.0.9

Released 13.06.2023
+ Major update of Company Accounts 1.9.0

1.0.8

Released 15.05.2023
+ Upgrade Requisition List to 1.1.4
+ Upgrade Cart to Quote to 1.7.7
+ Upgrade Quick Order to 1.1.6
+ Upgrade Company Credit to 1.1.3
+ Upgrade Company Accounts to 1.8.3

1.0.7

Released 26.09.2022
+ Upgrade Requisition List to 1.1.3
+ Upgrade Cart to Quote to 1.7.6
+ Upgrade Quick Order to 1.1.4
+ Upgrade Company Credit to 1.1.2
+ Upgrade Company Accounts to 1.7.3
+ Upgrade UI components to 1.0.2


1.0.6

Released 01.09.2021
*Fixed issues for Cart to Quote 1.7.1
*Fixed issues for Quick Order 1.1.2

1.0.5

Released 01.09.2021
+ Major update of Cart to Quote 1.7.0


1.0.4

Released 07.07.2021
* Major update of Company Credit 1.1.0
* Major update of Requisition List 1.1.0

1.0.3

Released 04.06.2021
+ Major update of Cart to Quote 1.6.0

1.0.2

Released 07.05.2021
+ Major update of Quick Order by SKU 1.1.0

1.0.1

Released 22.04.2021
* Fixed issues for B2B Requisition List 1.0.4

1.0.0

Initial release 16.02.2021