Sales Representative for Magento 2
Provide tailored experience for each customer with personal sales managers.
Assign sales representatives to orders automatically
Engage personal sales consultants for customers
Display sales managers' contact info in customer account
Control sales representatives' performance at ease
Send notifications for both customer and sales dealer
Manage sales representatives' permissions in the back-end
Current extension version: 1.1.0 | Compatibility: Open Source 2.4.4 - 2.4.6; Commerce 2.4.4 - 2.4.6

License:
Starting At
Special Price
$189.00
$189.00

30-DAY MONEY BACK

FREE INSTALLATION

30-DAY FREE SUPPORT

LIFETIME RIGHT TO USE
Sales Representative Gallery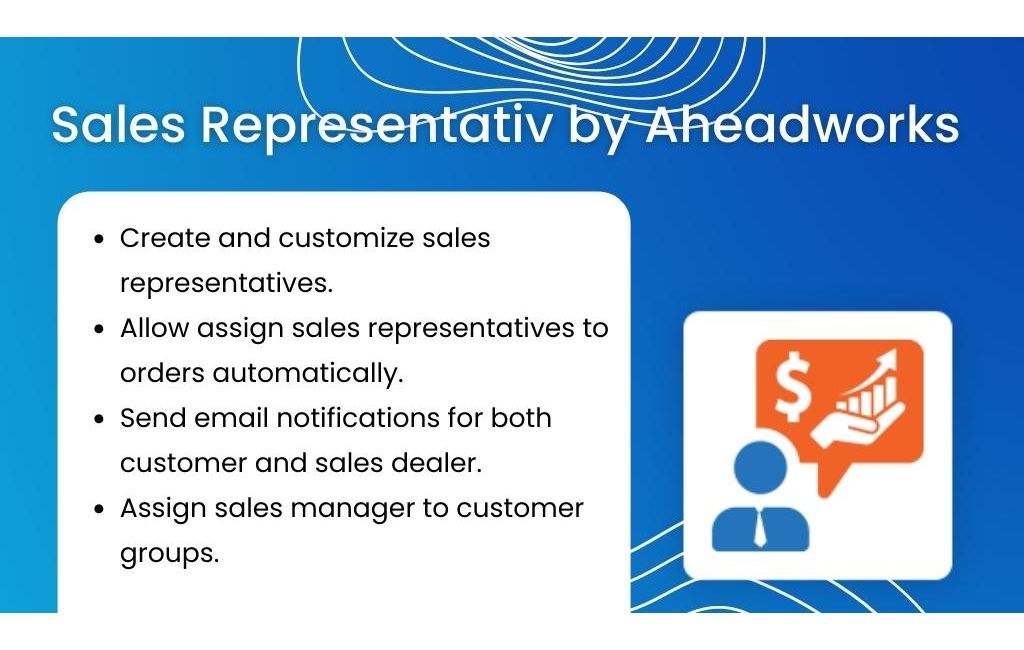 It is common knowledge that targeting your potential customers is vital for driving sales. However, customers got a bit tired of persistent cold-calling and impersonal emailing. That is why every online business is  looking for a smart solution that makes the sales process both "warm" and effective.
Build professional and trusting relationships with customers and optimize the sales process with personal sales representatives! Working directly with customers, sales assistants resolve clients' issues by providing users with up-to-date product info, special offers and individual approach. What's more, skilled sales preps find new leads to drive business and ensure your sales process goes smoothly.
Enhance online purchase experience for each customer
Serving as proactive advisors, assigned sales reps provide detailed product information, superior customer service experiences, subsequently increasing retention rates and boosting sales. Improve post-purchase experience and make it more "human" oriented by displaying photo, email, phone number and additional information of a sales representative on the storefront. Such an individual approach introduces an easy way to solve sales-related issues in real time, establish customer trust,
promote relevant cross-sells and up-sells,
drive marketing campaigns and personalized offers.
Create sales reps
Assign/unassign sales reps
Email notifications
B2B benefits
Create sales reps
Some features of Sales Representative for Magento 2 are put in the separate module - Backend User Profile that is used as a supporting extension. Thus, the additional information about sales managers can be specified in the Additional User Information tab which appears on the User Details page. Here store admin can change sales person's status between Active and Inactive, add name, email address, phone number, upload image. All fields are optional, so you can customize sales manager's information displayed on the storefront according to your needs.
Assign/unassign sales reps
Assign/unassign sales reps
Choose sales managers both manually or automatically and decide which way is the most suitable. Assign appointed sales reps manually to customers on the Customer Information page or update managers directly in the Customers grid. A sales representative can be assigned to orders automatically according to customer groups, set in the configurations. Store admin can unassign sales managers from customers or orders in case sales person should be changed or inactivated.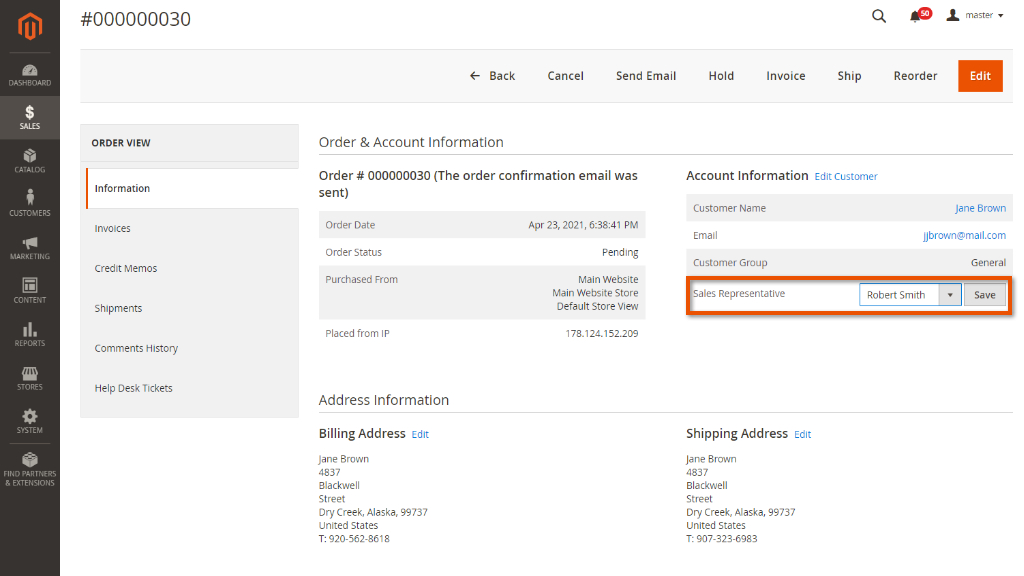 Email notifications
Establish a smooth communication process with easily configurable email notifications. Use special variables for email templates to customize emails and make them informative. Store admin can set the Order assignment email for sales representatives to notify sales managers about orders they have been assigned to. The Order assignment email is also sent after sales managers have been changed manually. Customers in their turn will receive sales representatives' personal info in the Order Confirmation emails.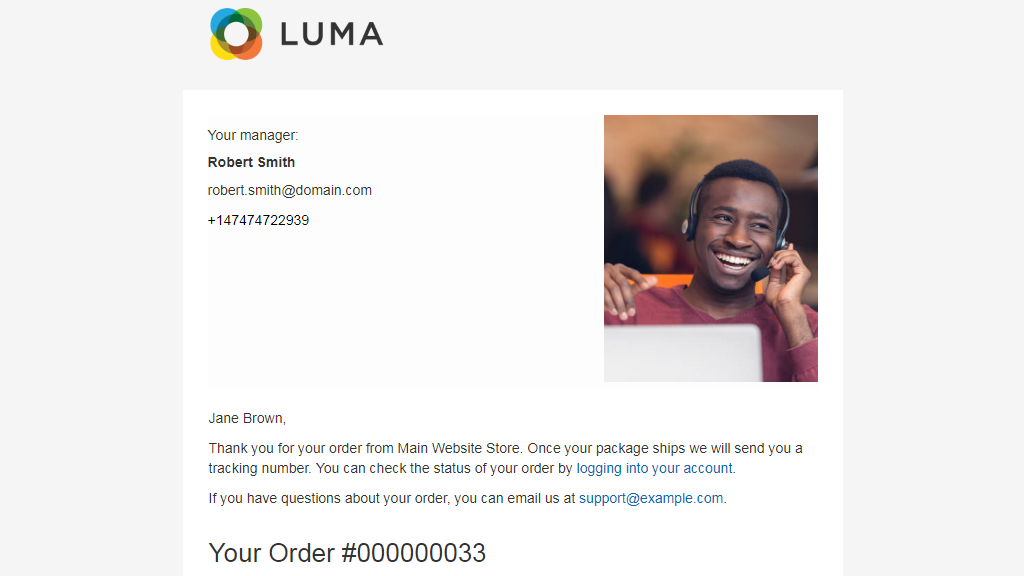 B2B benefits
Expand your business opportunities, involving sales reps in managing company accounts, and quote negotiating! Sales reps perform responsibilities crucial for B2B models, such as:
Establish direct communication with clients;

Run win-win quote negotiations;  

Provide assistance in large-scale order placing; 

Cater customers with detailed up-to-date product info.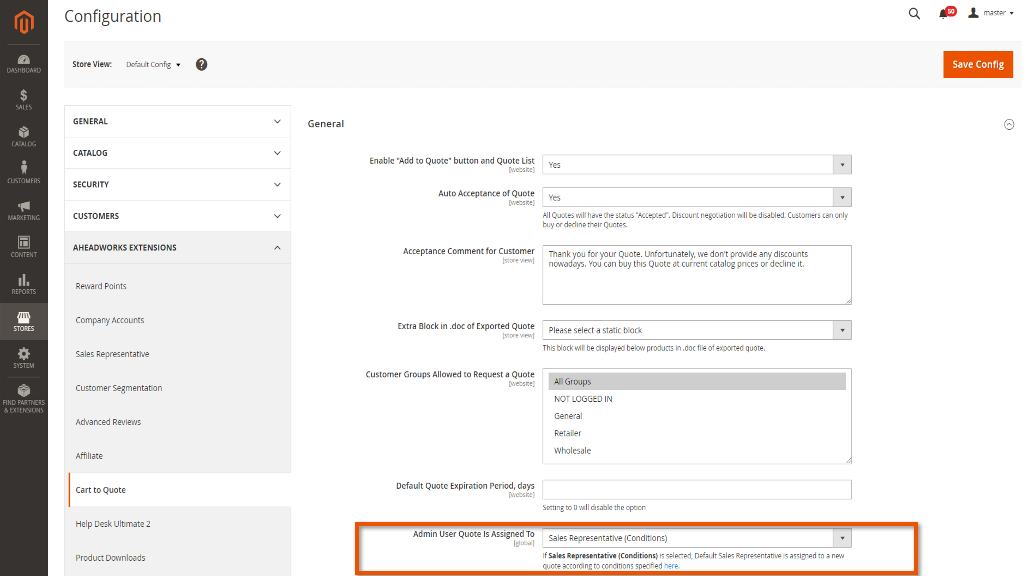 Contact block for customers
Sales rep's info is displayed for customers on the Order View page.
Store admin can specify if the user will have access to Sales, Customers and Custom Price.
Enter any necessary information to display in the Contact block on the storefront.
Assign sales managers in a special tab on the Customer Account Information page.
Sales manager by customer groups
Appoint sales managers to different customer groups, so they will be automatically assigned to these customers' orders.
Sales reps on the Order page
Admin can assign a user from the list to the order or choose 'Not Assigned' value to leave the order without any sales representative. 
Assign/unassign sales representatives in bulk in the Customers grid.
Integration with M2 Company Accounts
Appoint sales representatives to companies and set access restrictions.
Integration with M2 Cart to Quote
Assign sales representatives to quotes and negotiation processes.
1.1.0

Released 02.03.2023
+ Integration with Aheadworks Customer Segmentation
+ Integration with Magento Customer Segmentation
+ Design Improvement
* Fixed issue with assigning a sales representative If customer resaves his account information
* Fixed issue with viewing all invoices without limitations by a sales representative
* Fixed issue with an ability to disallow the assigning of a sales representative
* Fixed issue with the CSV export
* Fixed issue with Advanced Permissions for Magento 2.4.4
* Fixed issue with Advanced Permissions on the Dashboard page

1.0.9

Released 06.06.2022
+ Compatibility with Magento 2.4.4
* Fixed issue with the Sales Representative information in the sales emails

1.0.8

Released 28.03.2022
+Declarative schema upgrade

1.0.7

Released 17.02.2022
*Fixed issue with integrity constraint violation

1.0.6

Released 03.09.2021
*Fixed issue with requesting a Quote as a guest

1.0.5

Released 10.08.2021
+Renamed options for Cart to Quote and Company Accounts integration
*Fixed issue with incorrect hint near the "Default Sales Representative" drop-box
*Fixed issue with incorrect default sales representative when Company Accounts and Sales Representative are installed one after another
*Fixed issue with invalid extension name in permissions
*Assigned Sales Representative isn't displayed on the page
*Fixed issue with unknown column errors for tables: Invoices, Credit Memos, Shipments


1.0.4

Released 22.12.2020
* Sales Representatives can access data of customers they are not assigned to - issue fixed

1.0.3

Released 30.11.2020
* Fixed SQL issue when partial access to customers is set
* Fixed issue with installation
* Variable is absent in an email

1.0.2

Released 18.11.2020
* Fixed issue with filtering customers by Sales Representative

1.0.1

Released 16.11.2020
* Initial release
* Design improvements
API Documentation For Sales Representative Extension Function. What's available to adminster via API?
Question by: Corinne on Sep 28, 2021, 5:10 PM
API is not supported for Sales Representative.
Answer by: Julia Gorobets (Admin) on Apr 25, 2022, 7:20 AM