Sales Representative for Magento 2
Provide tailored experience for each customer with personal sales managers.
Assign sales representatives to orders automatically
Engage personal sales consultants for customers
Display sales managers' contact info in customer account
Control sales representatives' performance at ease
Send notifications for both customer and sales dealer
Manage sales representatives' permissions in the back-end
Integration with M2 Company Accounts, M2 Cart to Quote 
Current extension version: 1.0.4 | Compatibility: CE 2.3.X - 2.4.X EE 2.3.X - 2.4.X

45-DAY MONEY BACK

FREE INSTALLATION

90-DAY FREE SUPPORT

FREE LIFETIME UPDATES
Sales Representative Gallery
Sales Representative Magento 2 Business Value
Serving as proactive advisors, assigned sales reps provide detailed product information, superior customer service experiences, subsequently increasing customer retention rates and boost sales revenue. Improve post-purchase experience and make it more "human" oriented by displaying photo, email, phone number and additional information of a sales representative on the storefront. Such an individual approach introduces an easy way to solve sales-related issues.
How Sales Representative Magento 2 works?
The Sales Representative is a tool for assigning sales managers to orders. This can be done automatically in accordance with customer groups specified in the configurations. Sales managers can also be chosen for orders manually by Admin. What is more, it is possible to decide on personal managers for particular customers.
Create users with the Backend User Profile
Assign/unassign users at ease
Create users with the Backend User Profile
Create users with the Backend User Profile
Some features of Sales Representative Magento 2 are put in the separate module - Backend User Profile that is used as a supporting extension.
Additional User Information tab appears on User Details page
Change user status between Active and Inactive
All fields are optional to customize sales manager's information displayed on the storefront according to personal needs
Assign/unassign users at ease
Assign/unassign users at ease
Try to choose sales managers both manually and automatically and decide which way is the most suitable for you. You can definitely combine these options.
Add a sales representative on the Customer Information page or update managers directly in the Customers grid
Assign one sales representative by several customer groups or set different ones for each group  
Unassign sales managers from customers or orders in case they become inactive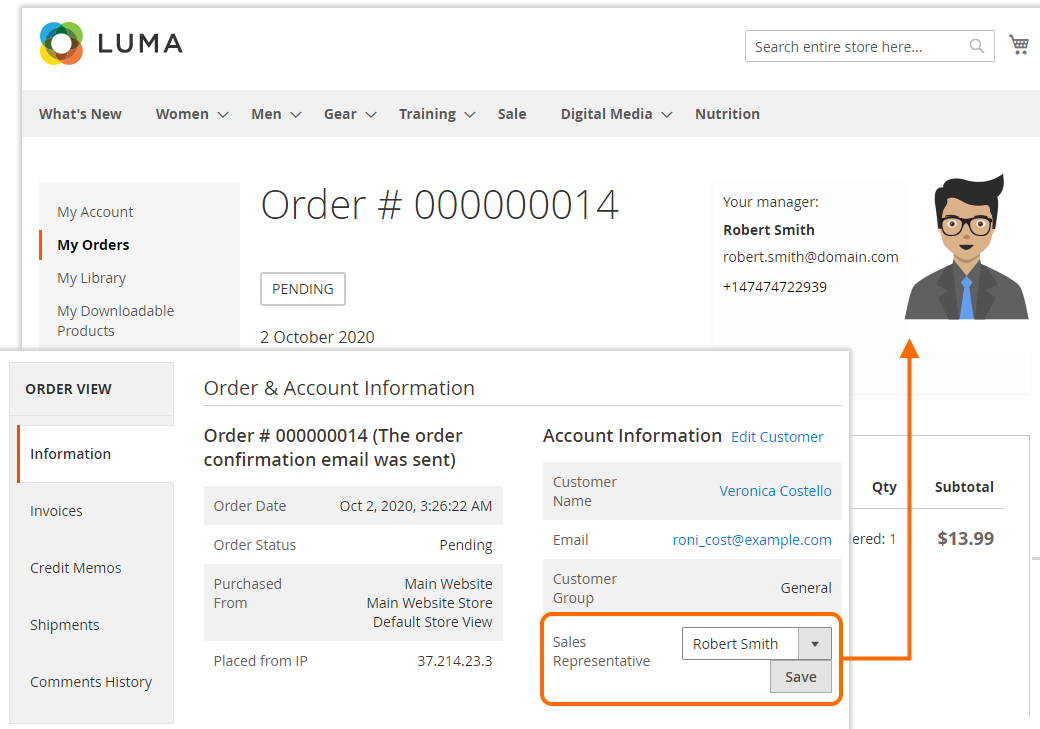 Sales Representative Magento 2 Detailed Feature List
Contact block for customers
1.0.4

Released 22.12.2020
* Sales Representatives can access data of customers they are not assigned to - issue fixed

1.0.3

Released 30.11.2020
* Fixed SQL issue when partial access to customers is set
* Fixed issue with installation
* Variable is absent in an email

1.0.2

Released 18.11.2020
* Fixed issue with filtering customers by Sales Representative

1.0.1

Released 16.11.2020
* Initial release
* Design improvements