Fine dress helps to impress

Nothing better affects the appearance of an e-commerce store as a gorgeous and UX-friendly web store theme and today we glow to announce you our new products – 10 fine-designed responsive Magento themes from our partners.

Professionally looking and easy-to-browse online stores have much more chances to grab customers' attention and hold it until the very checkout.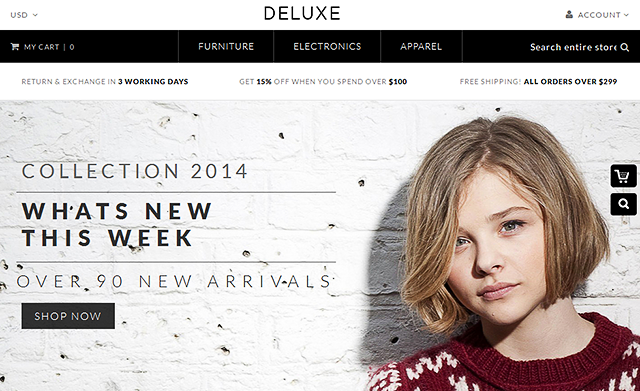 The mentioned below themes all deserve to be installed on your store and you should just choose the one, which perfectly fits you customers and products. All the themes are multipurpose, modern, and functionality rich:


Activa Theme – a high-quality responsive theme suitable for any kinds of devices;
Electra Theme – a highly-customizable theme, which allows you to create exclusive appearance of your store easily;
Vespa Theme – the theme is suitable for leading brands and retailers and provides a cutting-edge design and functionality;
Pulsar Theme – simplicity and elegance is the slogan of this theme;
Glamour Theme – a stylish and modern theme adaptive to all kinds of devices, designed for trendy brands and customers;
Maestro Theme – soft and gentle, it meets all the requirements applicable to a modern and superb theme;
Deluxe Theme – this theme brings to your store great appearance and rich functionality;
Access Theme – it is all about style and usability;
Duke Theme – highly configurable and feature rich, the Duke theme makes your store 100% responsible;
Karizma Theme – makes your site recognizable and exclusive with its own flavor and style.


Browse those excellent Magento themes in our store and you will find the one perfectly suitable for you. Great functionality, clean code, and smooth integration with Magento make them all worthy of your choice.


Theme Features

Most of the presented themes have advanced functionality inherent to modern Magento themes with some differences, which make them fit better one or another business. Below we just enumerate some basic features all ten themes possess without exception.




The functionality description is rather extended as the themes have more than 20 main functionality features. So, here we will briefly touch upon some of them, what is enough for you to make the choice, we hope, and then you'll be able to read the full specification of your favorite theme on the product page in our store.

100% Responsive Design
All the themes obtain 100% responsive design, so your customers are able to explore your store via any device.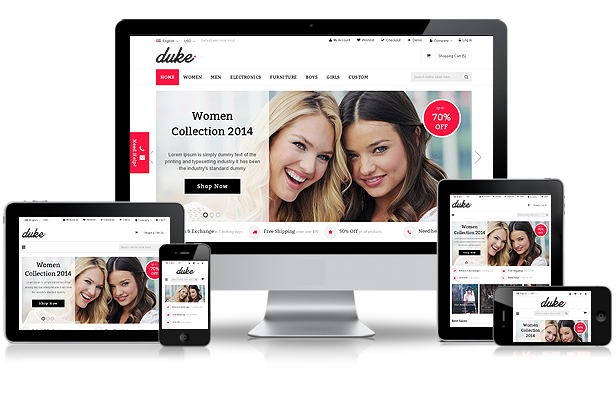 100% Responsive Design

Automatic Screen Size Adjustment
The themes adapt to all screen sizes without any distortions or other losses of quality and provide top-notch user interface and usability properties.

A Complete & Comprehensive Theme
The themes contain all possible frontend elements available for a Magento store, so the appearance of it is not limited by any element shortages.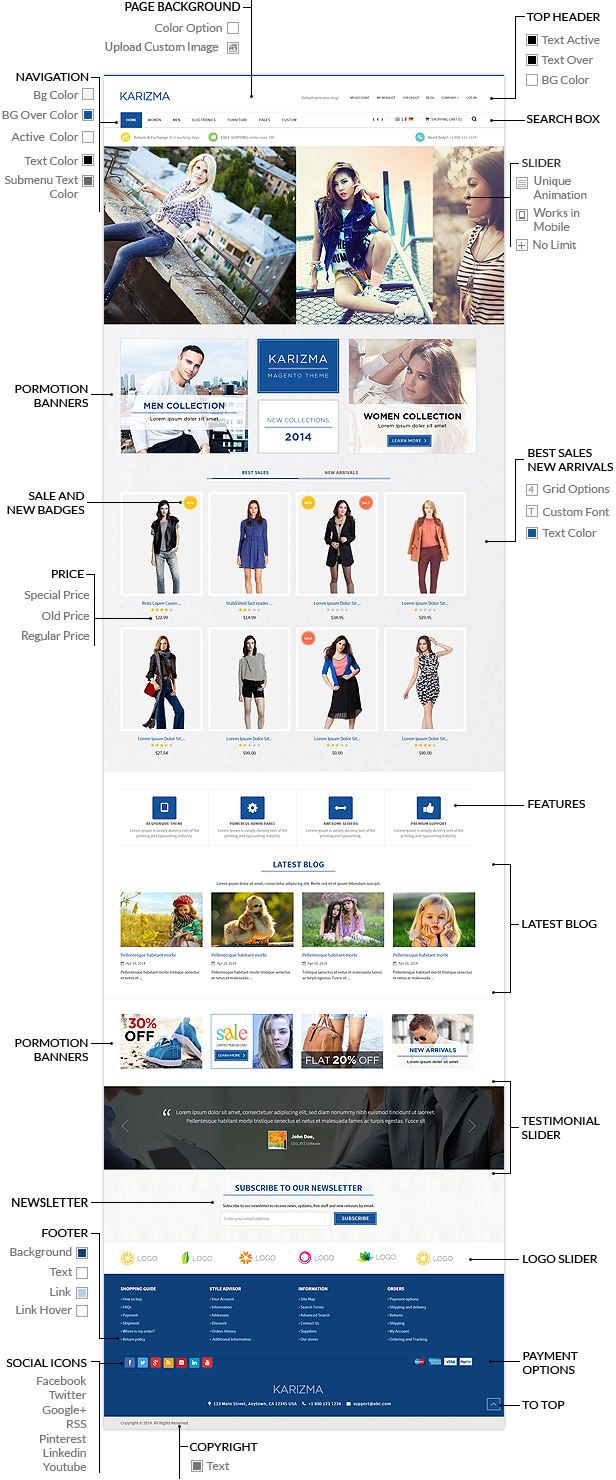 Complete & Comprehensive Theme

Multi-Level Full Width Menu
The deeply elaborated full width menus provide customers incomparable simplicity and comfort of store navigation.

Color Configuration
The advanced color configuration tools inspire you to seek and find the best color scheme for your Magento store.

Social Sharing & Email Subscription
The integrated and ready-to-use social sharing functionality enables you to extend your social media presence and share, and the embedded email subscriptions allow you to increase the number of clients in your mailing base.

Additional Product Images with Slider
Product images enhanced by sliders provide your customers more opportunities to get a detailed visual overview of each product and complete picture about items.

Manufacturers Logos
All the themes include neat and elegant logo sliders for your brands.





Previous / Next Product Browse
The opportunity to switch products without return to a category or home pages is truly beneficial and comfortable for customers.

Smart Quantity Changer
The simple +/- product quantity changer is a nice functionality addition to your product detail pages making purchasing streamlined and natural.

Dropdown Cart
This functionality provides your customers instant access to their carts on any stage of the purchasing process just by hovering the cursor over the top of the shopping cart.

Create Your Own Flavor of Detail & Listing Pages
The configuration facilities allow you to create remarkable and exclusive looks of product details and product listing pages.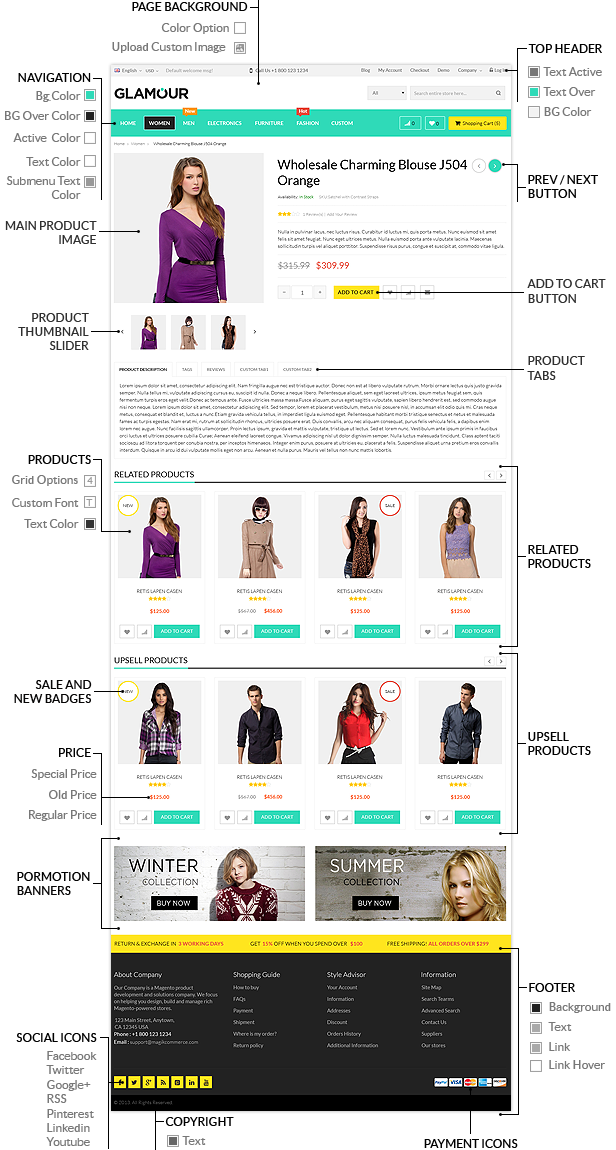 Detail & Listing Pages

Powerful Admin Panel
The provided advanced and powerful admin panels give you an instant access to all aspects of the themes and save tons of time preventing any manual tweaks.
Other Features
Quick View – lets your visitors check the main product information directly from the category page;
Newsletter Subscription Pop-Up – enables automated newsletter subscription pop-ups;
Multilanguage Support – allows you to translate your store interface into several languages;
Bestsellers and Featured/New Product Lists – use these integrated lists and highlight your bestselling, new, or special products without a difficulty;
Zoom Cloud Integration – lets visitors browse high-definition product images;
Awesome Font Icons – enrich and facilitate your content ;
List and Grid Views – provide nice-looking list and grid views of your store;
Custom Block for Products & More – the provided custom block is designed for additional products highlights or any other purposes.


The mentioned above features are still not the entire list of the available functionality. In order to get more information about the themes you like or purchase them, visit our store, please. Note that purchasing themes from us is truly beneficial.

We carefully select partner themes and offer our customers only best items, which are able to satisfy the most demanding and strict tastes. Purchasing from us you also get a single Help Desk support and high-quality code easily integrated with you Magento store. Our regular clients benefit from our Rewarding Policy, which allows you to get points, when you order partner themes in our store.
10% OFF on All Themes

Valid till October 23, we offer you a great chance to purchase any theme mentioned in this post with a 10% discount. The offer is time limited, so hurry up to benefit.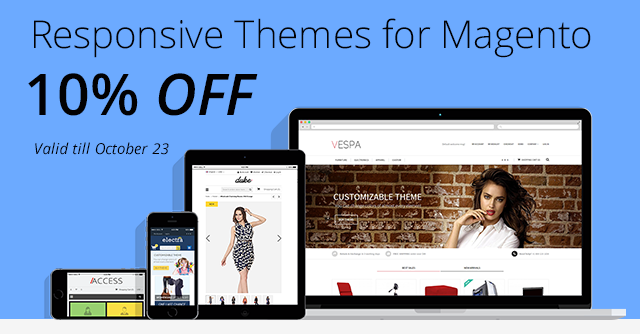 If you have some questions about the mentioned above Magento themes, please share them in comments below.
Subscribe to our RSS.