As 2013 draws to a close, we'd like to take this opportunity to wish all of our partners and customers a Happy Christmas and New Year and say 'Thank You' for your support.
Now we'd like to share our achievements and major moments of this incredible 2013.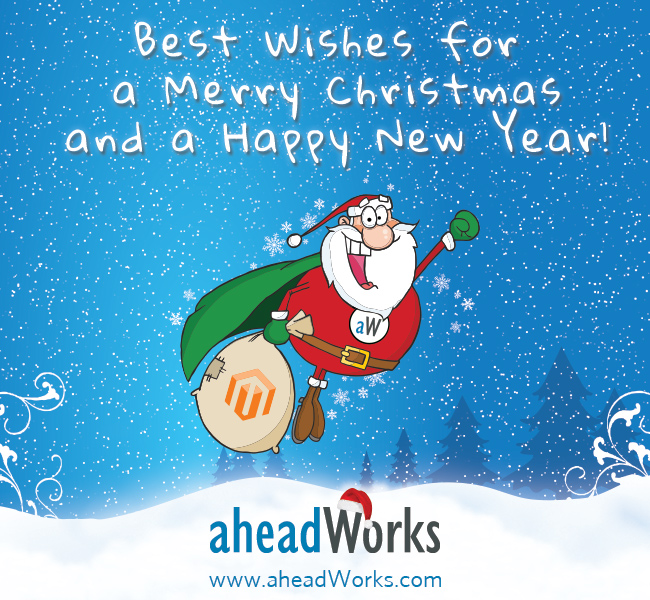 In the year of our 10th Anniversary we made a significant step and became Magento Platinum Industry Partner. This status proves our serious attitude to this platform and its community.
But our team never stops working and progressing. The results of our activities prove this fact better than any words. 19 new extensions and 2 services – OnPulse and aheadMetrics have been released this year.
19 new extensions and 2 new services have been released this year.
Moreover we have acted as a Silver Sponsor of the Magento Imagine eCommerce Conference and as Media Partner of the events in Palma de Mallorca, Sao Paulo, and Warsaw.
In order to boost the popularity of Magento Enterprise Edition, we've launched free trial services for all Enterprise extensions in our store. Magento Enterprise merchants can try out any of them before buying and it does not cost a cent.
This year aheadWorks team has put a lot of efforts into improving our partnership program, trying to make it more powerful and profitable for both sides. Currently we have 58 official members from 27 countries. Some of them used the opportunity to share rich experience and interesting projects with readers of our blog. We are always open to such collaboration.
One more peculiar event of this year is the opening of a Brazilian regional website, where we communicate with our customers in their native language. This contribution to Brazilian Magento market hasn't gone unnoticed for merchants from this country.
While establishing regional stores we never forget about our main one. We recently upgraded our site. It's simpler, cleaner, with big icons, and we think looks more sophisticated and user-friendly. Hope, you'll take some time to explore it.
As you have finished reading this post the upcoming holidays became even closer. On behalf of the whole aheadWorks team, I wish you a Merry Christmas and a Happy New Year.
Now it's time to wrap yourself up in a rug, make a cup of hot chocolate with a cookie (or two), and… relax.