Editor's note: aheadWorks Magento-dedicated forum is a platform for communication of our clients and prospects with each other and aheadWorks company. We welcome everybody to actively use this unique opportunity for professional communications, discussions of Magento, aheadWorks modules, and other exciting topics. Below we would like to highlight some basic concepts about aheadWorks forum.

Forum Registration
Forum registration is simple and short: you should accept the terms of use and specify your username, email and password in the special form. After that you will get an activation link via email and should only follow it to complete the registration.

Forum Structure
Our forum includes tree main subforums: News & Announcements, General Issues, Magento Extensions and Themes of aheadWorks.

News & Announcements is a thematic forum, where we highlight main events, contests and bargain sales. So, we recommend our customer and prospects to visit this forum periodically in order to get valuable news from there.

Note: This forum is a closed one and is only intended for your notification. Just stay connected!

The General Questions forum is composed of the issues that are not directly related to our extensions, but could be interesting for Magento users. Here you can request a new module from aheadWorks or discuss pros and cons of ecommerce platforms and browsers or choose an appropriate aheadWorks module for a certain purpose.

Magento Extensions and Themes of aheadWorks is the biggest subforum and its main goal is to make use of our extensions and themes more simple and beneficial. Here our customers can request new features for certain extensions, discuss the issues they meet during installation or configuration of the modules, and share the ways to overcome them; share any customizations of our modules, especially localizations and code updates, etc.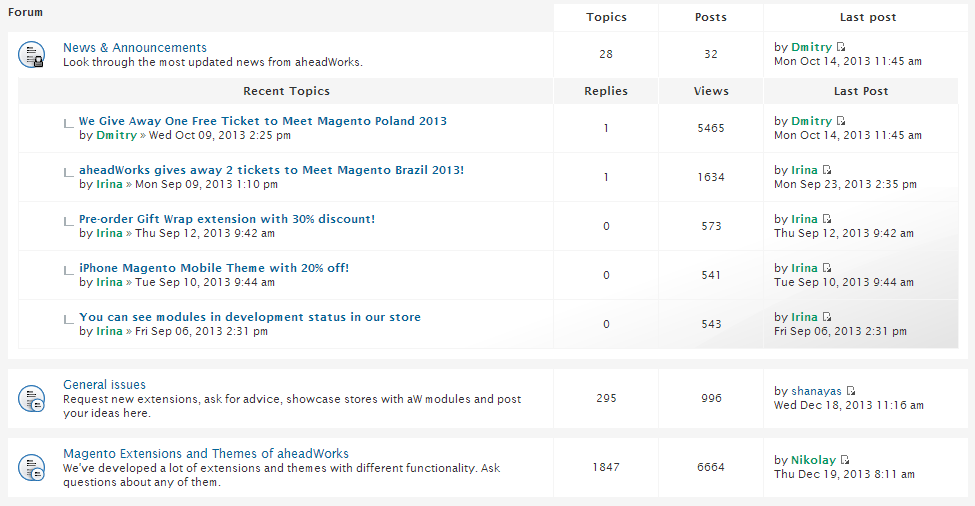 Forum Navigation
Multi-page site sometimes causes difficulties in quick finding specific topics and forums, however, aheadWorks Magento forum has several tools facilitating navigation and sorting.

Firstly, it is the search bar which performs searching of topics by the key words chosen by users. You can also use advanced search that allows searching by several keywords and author simultaneously. Use multiple search options, such as searching within definite forums, subforums and within certain parts of messages.


The second navigation tool is breadcrumbs, placed on each page, indicating the current user's position in the structure of the forum and, moreover, there are additional links for quick access to unanswered, unread and new posts, and to active topics of the forum.
The Most Popular Topics of aheadWorks Forum
Are there any ways to promote Magento website for free?/17073 views
We Give Away One Free Ticket to Meet Magento Poland 2013/5469 views
aheadMetrics:Vote for new features or leave your feedback/6737 views
Booking and Reservations - Intergration with Google Calendar/4565 views
What to choose - Magento or osCommerce?/ 3268 views

A selection of several most viewed topics of our forum obviously shows that users are interested in versatile subjects and ready to actively discuss them, and aheadWorks extension discussions trigger as huge response as promotional issues.
FAQ Section
Except of this post you can also use FAQ section as a useful forum guide. The FAQ section of our forum describes most common issues people meet during its use. It covers login issues, user preferences and settings, posting issues, formatting issues and many other ones described in simple terms, so, you can refer to them any time you need.

aheadWorks forum, in some sense, is a knowledge base and a helpdesk at the same time, where you can discuss topics and share knowledge. It is also one of the shortest ways to contact us about our extensions and get competent response about the existing extensions and our future plans.

We welcome all of you to share your ideas and needs on the pages of our forum and we'll together make Magento more valuable and profitable.