Reliable partners provide every successful business an indispensable additional force and confidence.
Today we are thrilled to announce the start of mutual cooperation with an outstanding representative of the Magento ecosystem -
Blue Acorn
.
Being a
Gold Magento Solution Partner
and regular participant of
Imagine
and other e-commerce events, it is well-known within the Magento community.

Located in the U.S., Blue Acorn is a
full service e-commerce agency
, which provides expertise to such great companies like Reed & Barton, Olympus, Char-Broil, and many others. Customers can completely rely on its talented team and expect truly tangible results.
Veggie Tales Use Case*
Recently Blue Acorn presented a suchlike example of the efficient work in their
Veggie Tales Case Study
. Terrific positive shifts in conversions and revenues were the result of multiple improvements, including the
aheadWorks iPhone Theme application
.
Veggie Tales
Veggie Tales is a
popular video series
for preschool children offering them a whole animated world of games, books, toys apparel, and home videos dedicated to Bob and Larry – the main characters of the fabulous tale.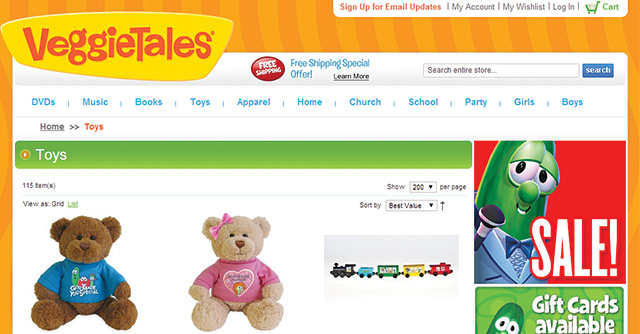 Challenge
Since 1993, Veggie Tales has sold millions of videos, books, and CDs, but now they suspect that their current site design constraints conversions and revenues.
Solution
Among other valuable solutions solving the issue Blue Acorn offered the company to refer to the mobile traffic and
make the UI mobile friendly
. They chose our
iPhone Theme
for the purpose, which actually supports
Blackberry, Android OS, and Windows Phones
.
Results
This turn to mobile users brought Veggie Tales
28.1% extra revenue per visitor and the 37.5% increase in conversion rate
. This is an example of a successful cooperation with our partners beneficial for all sides, including the end customer.
*We sincerely thank Blue Acorn for the provided use case.
Thus, we consider partnership primarily as a close interaction between two companies with the main purpose - to make e-commerce an
easy and positive experience
. We are always open to cooperation in all areas within Magento ecosystem and constantly strive to strengthen our relationship with the existing partners.
If you have something to add to this post, please share your ideas in comments below.