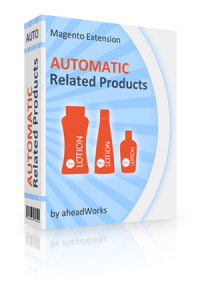 Automatic Related Products extension by aheadWorks allows you to automate the process of related products creation. The native Magento related products module is a good advantage for store owners but it has one fatal disadvantage – you have to add your cross-sells or upsells manually what is quite time-consuming, and just impossible for large catalogs. But now you can stop wasting time & money and let Automatic Related Products do it for you!
Automatic Related Products is extremely flexible extension which allows you to forget about outdated way of adding related products. Define the rules for products selection and let this software populate the block automatically! You can specify the following fetching options - random, last added or lexically similar products; their location - from the current store or current category only, or restrict in-stock only items to be retrieved. You can even specify a certain price range!
Besides standard control of the extension's behaviour from the admin panel, you can also pass block variables what allows you to create several independent of each other related blocks with different content. Position the block anywhere on any page – have cross-sells and upsells at the same time, or use it on category page to create "Featured products" block. Enrich your store with Automatic Related Products now!
Features:
Automatic on-the-fly products relations - starts working immediately with no delays
Relating by lexical analysis (alike titles), recency or even randomly
Flexible positioning - use a CMS block or just display instead of standard related products option
Ability to fetch products from the whole store or only current category
Restriction by stock status
Price condition - fetch only products that are cheaper or more expensive than a defined price
Configurable number of items
CMS block supports variables that controls products selection - any condition can be overridden, what gives you ability to place multiple blocks in any place of your site with different content
Can be used for featured products, banners, promotions, callouts and anything else
Control the view of the block by editing a simple template
Easy 2-minute installation
30 day money back – satisfaction guaranteed
Lifetime bug free guarantee
Meets Magento programming practices for most versions and customizations compatibility
Free upgrades at least in current version branch
Our excellent support team is waiting to hear from you each business day from 9:00 am to 5:00 pm GMT
If you need more information, you can find it on the Automatic Related Products page.