Recently we have released the One Step Checkout Magento extension. As you have probably guessed (or know), this must-have module reduces the number of checkout steps and allows customers to buy products in one simple click.

Besides a lot of cool features, One Step Checkout has one more great advantage - it is compatible with 7 aheadWorks extensions for Magento! Together they make shopping in your store much easier and faster for customers. Keep reading to learn all the details!


AJAX Cart Pro

Everybody knows how cross-sells and up-sells can boost sales. The Checkout page is a great possibility to stimulate your customers to spend more. The One Step Checkout extension doesn't remove the related products block, so your customers can always add something else to cart until they click the Place Order button.

Nevertheless, there is one important "but" – interested in related product, customers leave the checkout page and can never come back! They can be distracted by various product options or change their mind, or… anything else can prevent them from completing the order. It means that all your efforts to reduce the number of abandoned carts are in vain!

The AJAX Cart Pro extension from aheadWorks can rescue you and your business in these situations. No annoying redirections, no distracting moves. With AJAX Cart Pro installed, your customers can add related products to cart and select all required options directly on the checkout page.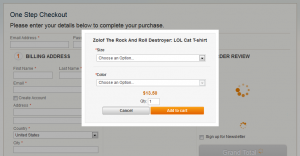 Automatic Related Products 2

As I already said, the One Step Checkout extension displays the related products block on the checkout page. But adding related items manually is often a headache, especially if there are 100K+ products in the store. That's why many merchants are obliged to suffer from missed profit.

Been there, done that, got the T-shirt? It's high time to stop losing money and start to benefit from up-sells. Install the Automatic Related Products 2 extension, which works perfectly with One Step Checkout, and let this software populate the related products block automatically.

With the help of Automatic Related Products 2, you can create any rules and display required products in the related products block on the checkout page. Choose any product attribute while defining the rules for items selection and make the related products block more engaging and relevant to people who browse your store.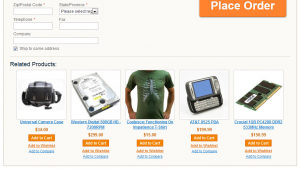 Facebook Link

While browsing or shopping in the Internet, people get irritated by the necessity to register at every website. We all appreciate our time and don't like to spend it on fulfilling numerous fields. By the way, complicated or long registration process is one of the top reasons for abandoning shopping carts.

Show your customers that you take care of them – allow them login to your store from the checkout page using their Facebook accounts. The Facebook Link extension from aheadWorks will help you do that. Besides, this Magento module will help you promote your website among your customers' friends!

Thus, with Facebook Link you achieve 2 goals simultaneously – satisfy your customers by saving their time and get free promotion in the most popular social network!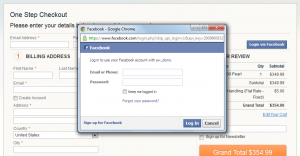 Delivery Date and Notice

Combining all checkout steps on one page is one of the major moves towards top notch customer service. Make one more stride – allow your customers to specify their preferable delivery time and create notices for delivery persons on the checkout page. Just a couple of extra fields but there is much more in this than meets the eye.

Such new options are provided by the Delivery Date and Notice Magento module from aheadWorks. By filling in two fields, they can choose their preferred delivery arrival dates as well as leave a message for their postal or delivery person. Best of all, your customers will be instantly informed if delivery is unavailable to them (i.e. weekends, holidays, recurrent days of the week, isolated days).

As you can see, Delivery Date and Notice in combination with One Step Checkout is the perfect way to effectively increase your customer service.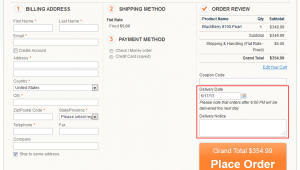 Advanced Newsletter

Checkout page is a great place to display the newsletter subscription block at. While placing the order, people check all the information to be correct and they are extremely careful. That's why they thoroughly inspect all information provided on this page and the chances that this block will be missed are very small.

One Step Checkout allows you to display the subscription form of the Advanced Newsletter extension. Thus your customers can subscribe to any segment of your store directly at the checkout page.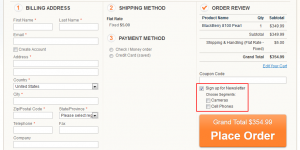 Points & Rewards

There are tens of ways and methods to stimulate customers perform different actions (sign up to newsletter, review the product, participate in poll, etc.) and finally spend more. You can display promotional blocks, send emails or just give discounts.

The Points & Rewards Magento extension allows your customers to earn points (internal currency) and then redeem them for discounts at checkout.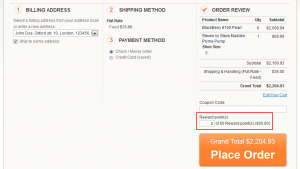 Refer a Friend

You can reward your customers for performing different actions in your store as well as for inviting their friends to your website. With the Refer a Friend Magento extension, you can easily do this. Your customers refer their friends to your store and get a percentage or flat discount on their own purchase – while you get more customers and greater revenues!

As Refer a Friend is absolutely compatible with One Step Checkout, your customers will meet no difficulties when using earned discounts for referred friends during the checkout.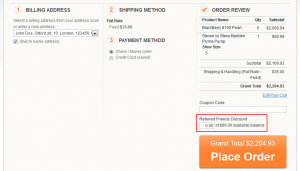 Let's sum up! You can boost the effectiveness of One Step Checkout with the following Magento extensions:
AJAX Cart Pro
Automatic Related Products 2 extension
Facebook Link
Delivery Date and Notice
Advanced Newsletter
Points & Rewards
Refer a Friend