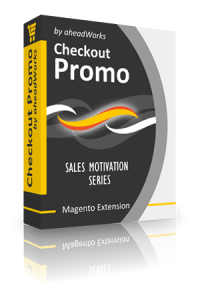 This is another powerful sales motivation extension - you can entice your customers to spend more to receive this or that benefit. "Buy X to get a discount", "Spend not less than Y to get a gift", "Buy product N to get K for free" and many other sales formulas can be successfully implemented using this extension. You can create as many rules as you wish and satisfy requirements even of the biggest ecommerce players.
Multiple configurable blocks positioning on checkout and shopping cart pages
Customizable rules based covering any combination of order and cart items attribute set
Websites and customer groups based rules
Customizable blocks defined in CMS Static Blocks section
Multiple promo blocks on page
Easy 2-minutes installation
Meets Magento programming practices for most versions and customizations compatibility


Extension page: https://aheadworks.com/magento-1-extensions.