The Home Tabs Pro extension for Magento makes the main page of your online store more appealing and functional. Customizable tabs allow you to display automatically generated list of top items: top sellers, top rated, most reviewed, just added, and wishlist top.
In the 1.0.2 version of Home Tabs Pro, one more configurable tab which allows showing products from different categories has been added. Except other fields common for all tabs, here you can specify whether products will be sorted by date of creation, price, or name and define the direction of displaying – descending or ascending.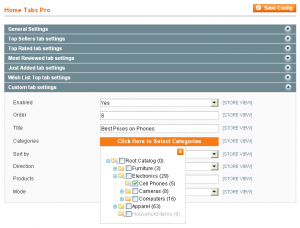 One more feature added in the new version gives you more control over the items displayed in the Home Tabs Pro block. Now you can hide out of stock products and display available for sale goods and services only.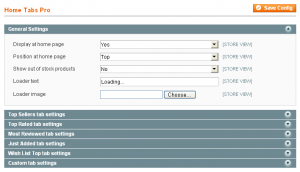 The following bugs have been fixed in the 1.0.2 version:


Magento 1.3.3.0 compatibility problem


Fatal error when inserting several CMS blocks in one page


Top Sellers tab displayed products incorrectly in multistore


Top Sellers tab displayed configurable products incorrectly


Please, find the extension demo and detailed information about this Magento add-on on the Home Tabs Pro page.