Magento Hackathon in Berlin was a success and we wish you were there. "What's next?", you may ask. Are there any places in the world where you can continue grasping Magento wisdom, hack all day long and enjoy the company of soul mates? Yes, and this time we are moving to Zurich!
Join us for the Magento Hackathon in Zurich on March 8-10, 2013, inspired by the spirit of those held in Munich and Berlin. This international event is the first of its kind in Switzerland and aims at everyone who enjoys coding, learning and sharing Magento knowledge.
The Hackathon will gather Magento developers with different skill levels for collaborative projects provided by participants and picked by groups. Traditionally, the group provides project ideas and then splits up into teams to organize the work on their own.
Sylvain Rayé, one of Hackathon organizers, announces the preschedule.
A pre-party will be organized Friday evening in the bar close to the hotel or the event venue. The Hackathon will officially start at 9 a.m. Saturday morning and will last until your fingers can code no more. During the day we will have some pauses to check the progress of projects, share challenges that participants encounter and call for help from other teams. The Hackathon will be ended around 15:30 – 16:00 Sunday afternoon to let participants come back home in time.
At the very moment when you are reading this blog entry, Zurich Hackathon organizers, Sylvain Rayé and Tim Bezhashvyly, are planning something special for attendees. aheadWorks assists Sylvain and Tim in bringing the event outside and encouraging the community to explore the best Magento development practices in Zurich.
It's very possible the event will have slight modifications to be even more exciting. Please, stay tuned to our blog and obtain the latest news as soon as it arrives.
Register for the Magento Hackathon in Zurich right now here or contact me in case you have questions.
P.S. As sponsors, we prepared bonuses for participants. Expect a free beer round from aheadWorks for all @ after-party :). Have fun!
About organizers: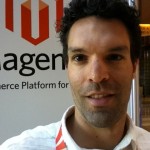 Sylvain Rayé - CTO and Senior Developer at rissip GmbH
"I'm French and since 2008 I live in Zurich. My experience includes more than 15 years in Internet technologies and several eCommerce websites on osCommerce. I work with Magento for over 5 years by now. I hope that you will enjoy Magento Hackathon in Zurich and find interesting to participate. Feedbacks are welcome."

Tim Bezhashvyly - Senior Developer at Openstream
"I am a certified Magento developer from Zurich, Switzerland. I am passionate about my job and dedicate most of my free time to Magento community. This includes writing free Magento extensions, Magento articles and tutorials, helping people at StackOverflow and also reading lections about Magento."