Among numerous offers merchants have products and services where prices should be hidden. It's very important due to different reasons. These items are free, out of stock or their prices change frequently and need to be verified by phone. But store owners usually face various difficulties while adding such goods to their websites.
The
Call for Price Magento extension
removes price and the default 'add to cart' button and allows placing any piece of html code instead. It can be the image telling that you have no price for this product now, the URL to another store, any text message or pop-up that attracts viewers to contact the store owner and find out the price of a product.
Call for Price
motivates customers to contact store administrators. They prove the interest in purchasing these or that goods. So merchants get a better chance of selling if they speak to clients directly. Additional goods can be offered as well.
Good news for everybody who has been waiting for such module from aheadWorks.
You can pre-order the
Call for Price extension
for
$49
and save
$50
before its release.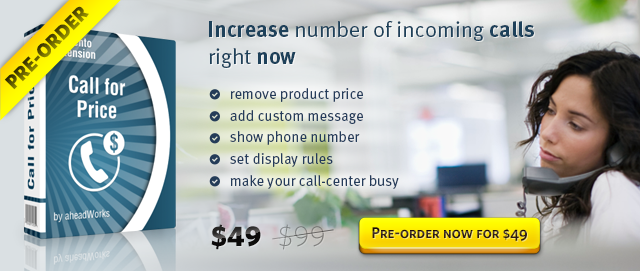 The following features are implemented in
this Magento extension
.
Hide price and "add to cart" button
You can conceal these elements where they are not necessary.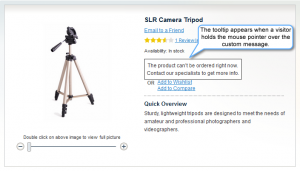 Display custom messages on catalog and product pages (supports HTML)
Replace default 'add to cart' button with any piece of HTML code.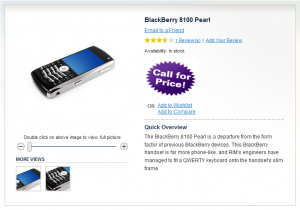 Flexible settings via rules
Create conditions when price and "add to cart" button are hidden.

Product level settings
Disable
Call for Price
rules for any product.

Don't lose the opportunity to get
50% off
. Visit the
Call for Price page
and
pre-order
the module.