The power of social networks is undeniable and doesn't require to be proven once again.
You have lots of options to bring this power to your store and collect traffic from numerous popular social networks. But it sounds even more appealing when you, in addition to traffic, have an opportunity to improve the appearance of your Magento store and make it bright and colorful.

This opportunity is provided by the Instagram Connector Magento extension - one more useful partner product in our store.
Instagram Connector

The extension adds an Instagram widget to all pages of your site and allows visitors to view your recent Instagram photos on the site pages.
[gallery link="file" ids="33015,33014,33016"]
Instagram Connector Frontend Block Positions

It makes the pages attractive, more informative and increases the engagement of users with your account on Instagram, as customers are able to enter it in just one click and view there full-size pictures.
Note: 71% of top-ranked world brands are presented on Instagram. Source: Simply Measured.

The installation of the extension is extremely easy and takes just a couple of minutes. The module provides advance configuration options and allows you to specify the number of photos in the block and the URL to your Instagram account displayed in the frontend.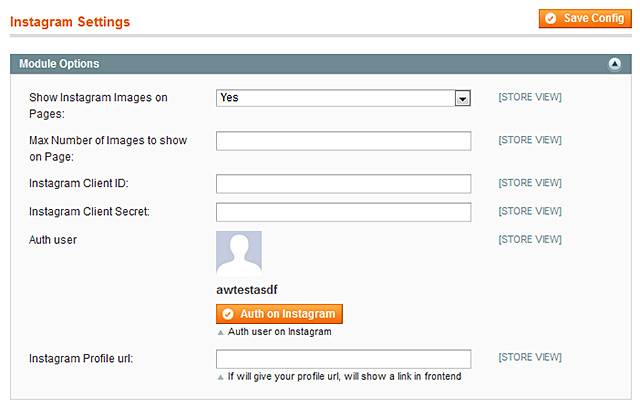 Instagram Connector Backend Configuration

So, simple, but very useful, the module adorns your Magento site and makes customers' experience on site rich and cheerful; it makes customers perceive your brand social media oriented and advanced.
Note: 25% of brands from the Fortune 500 list are on Instagram. Source: Thenextweb.

If you feel that this module is what you need, you can find the full scope of the provided features on the product page or visit our demo store.

If you have any further questions about this extension, you can ask them in comments below.