In today's internet marketing, the upward "single product store" trend is traced. You can sell only one item – software, license, book, etc. – or have a multi-store where site with one item is bound to the general store with large range of goods, but you still need a special Magento theme.
If you are such merchant searching for a single product Magento template, you are at the right place. Among our
38 SEO-friendly skins for Magento
, there is one applicable exactly for a mini store – the
I Love You
theme from aheadWorks.
Bright and even a bit aggressive, the
I Love You
template allures. The
JavaScript slider
on the homepage attracts attention and calls to action. Usable design and ease of purchase add 2 more advantages in favor of this single product template.
Due to the absence of overload and redundancy, the
I Love You
theme allows you to focus your site visitors' attention on the item and avoid distracting by less important information. The navigation of this Magento template is simple and intuitive what creates a homelike atmosphere in your single product store.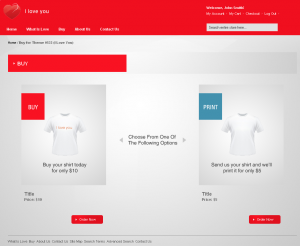 You can always customize any theme element – background, font size, slider images, or whatever else – as the
PSD source
is included in every Magento template from aheadWorks. You also don't have to worry about installation – with
step by step guide
you'll fulfill all required theme configurations in few minutes.
Please, feel free to visit the
I Love You page
where you can find the skin demo and complete description of this template for a single product store.