We are frequently asked this question and the answer is always "Absolutely!" Today we are proud to unveil the first part of the list of our modules used at https://ecommerce.aheadworks.com:
AJAX Cart Pro

This extension allows adding our Magento themes and extensions to cart directly from the category – no page reloading occurs. Moreover, you can select the Magento edition you run (Enterprise or Community) in the popup window.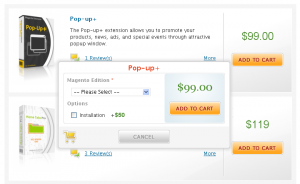 Help Desk Ultimate

Customer support is among our success factors which aheadWorks Co. is highly appreciated for. We know from our own experience that qualified and timely customer support improves our clients' satisfaction, increases loyalty, and eventually consumer lifetime value. With the Help Desk Ultimate extension and the effective and flexible ticket-based system, we've managed to significantly reduce support time costs and speeded up the work of our support team.
Home Tabs Pro

This Magento module allows us to display top sellers, most reviewed, and recently added extensions and themes in a convenient and neat way on the home page. Right now the quantity of products displayed is set to 9 but it can be easily changed to any value from the backend.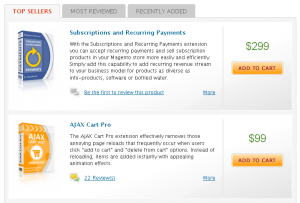 Follow Up Email

According to the Association of Professional Salesmen and the National Sales Executive Association, 80% of sales are made on the 5th-12th contact. As we do understand that customers need time to evaluate the alternatives, both feature- and price-wise, check some reviews and get advice, while still taking care of conversion increase, we regularly use the Follow Up Email module and it helps us greatly. We send follow-ups on abandoned carts and in 2 weeks after the last order.
Advanced Newsletter

With this extension, we enriched the functional side of the standard newsletter subscription block and created several segments, i.e. topics of interest for our customers to subscribe to those they prefer instead of spamming them with irrelevant stuff. Our newsletter subscribers list has already expanded four-fold since we implemented this module some 12 moths ago, and keeps growing.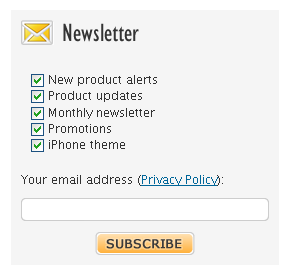 Advanced Reports

This Magento extension helps us fulfill daily, weekly, monthly, and annual eCommerce activity analysis. Thanks to a plenty of parameters (sales figures, geography, customers, coupons, and many others), we have the best possible insights into the business flow, meaning we see our up-to-date strengths and weaknesses, track the dynamics, and can influence the situation, forecast and get ready for changes to boost your performance.
Stay tuned and we'll continue the story in Part II soon.