Many e-commerce merchants deal with the problem of the insufficient average order value in their stores.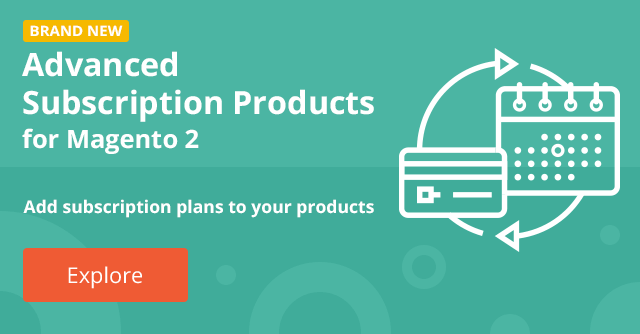 One way to overcome this setback is to encourage customers to make repeat purchases. But what means to use for this purpose?
The answer is – product subscriptions. Customers will be charged once in a certain period, and you can anticipate your future income without a worry in the world.
Already excited and want to get a perfect subscription functionality? Try our brand-new
Advanced Subscription Products extension
for Magento 2!
Magento 2 Advanced Subscription Products Overview
With this module, you can assign subscriptions to products as well as
share
the existing subscriptions among them. Once the plan has been created, you can add it to your products. So, the whole operation is seamlessly performed on the
product level
. Learn how it all goes in our User Guide.

Per-product Subscription Configuration
That's it! Now your customers can add subscriptions to their carts by selecting the appropriate option in the provided selector. In the dedicated
'Subscription details'
block, shoppers can estimate expenditures by viewing subscription payments already calculated per plan.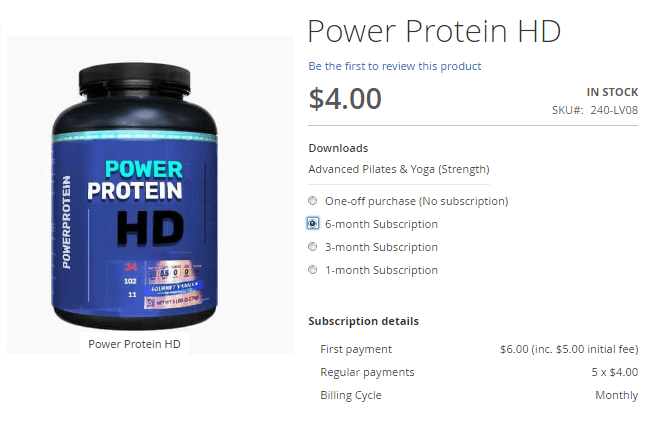 Subscription Plan Selector
Advanced Subscription Products Main Features


Add a subscription option to almost any product in your store, including the simple, configurable, virtual, and downloadable ones;


Provide subscribers with the necessary purchasing flexibility by allowing them to add both subscriptions and one-off purchases to the same shopping cart;


Encourage customers to purchase more subscriptions by grouping subscriptions with the same delivery date in one order (at the delivery price of one);


Notify customers about their subscription billing status with email alerts.


Subscription Products
If you sell products of
multiple types
, you probably want to benefit from product subscriptions to the fullest. If so, your dreams will come true now.
With the Magento 2 Advanced Subscription Products module, you can add subscriptions to simple, configurable, downloadable, and virtual products.
A perfect fit for any store, whether a sport or an electronic one, isn't it?
Mixed Shopping Carts
Traditionally, customers who purchased Magento 2 subscriptions along with one-off products could not purchase all at once since totals were calculated for each variant
separately
. This only caused irritation. Store owners who perform thorough sales analytics could tell how many abandoned checkouts this solution resulted in.
Now, you might forget about this nightmare for good! Our Magento 2 Advanced Subscription Products module introduces a
'mixed cart'
feature, thanks to which your customers can add any combinations of both recurring and single purchases to their shopping carts.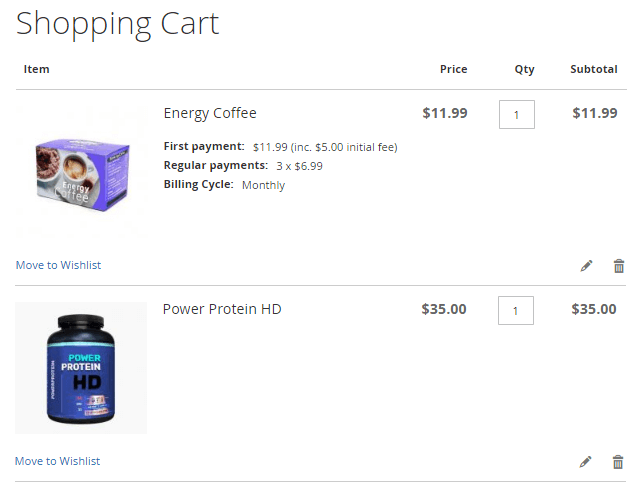 Mixed Shopping Cart
Same-day Subscription Deliveries
Let's say you want to purchase several subscriptions that fall under the same delivery day. Billing price for two deliveries might put a dent in your wallet, so you have to choose only one.
Ask yourself: do you want your customers to make these choices? After all, here one should think in favor of a higher AOV. And this is exactly the issue our Advanced Subscription Products module will help you with!
Now when customers purchase several subscriptions that (at least occasionally) fall under the same delivery date, these purchases will be
combined
in a single order. And customers don't have to worry about the delivery price! It will be calculated as if they purchased only one subscription.
Billing Alerts
Your subscribers need to be notified when they will be charged and whether their billings were successful or not. Constant transparency and informing are the keys to success when communicating with customers.
And here we have one more ace up the sleeve! With our Advanced Subscription Products extension, you can configure
email alerts
for all the above billing updates. So be sure: the subscribers won't miss a thing.
Bottom Line
The Advanced Subscription Products extension brings you
a
powerful subscription functionality
with per-product subscription plans, mixed carts, and many more! All controls are pretty intuitive so you can start working with the module right off the bat.
For more info about our brand-new Advanced Subscription Products module, visit the
product page
 and
demonstration version
. Need an insight on how to configure the module in your store? Read our
user guide
.