Promo campaigns, daily deals, special occasion services — meet the specialty of Magento 2 Countdown Timer!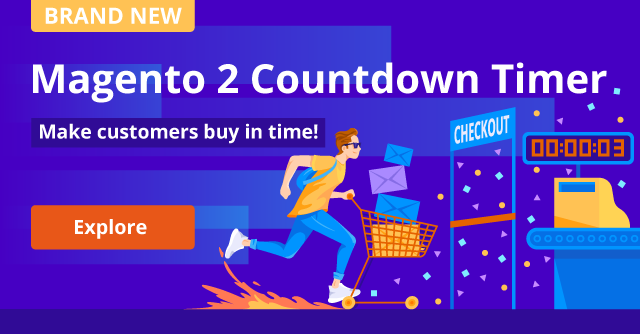 Isn't it discouraging when you take your time, put a decent amount of effort, plan a promo event thoroughly but... there's no actual response to it? Well, people are really hard to please — we admit it, — but what if, it just wasn't the right time?

You don't have to worry about such things anymore. Leave the thought be and rejoice: our new extension is meant to put you on even footing with Time itself! No more excuses, no more failed ideas. With the extension, you will be able to visualize your promos in a most subtle, but powerful way.

Make every second special with Magento 2 Countdown Timer!
Magento 2 Countdown Overview

The module helps to conduct customer behavior with a smart time-limitation functionality. Now it can't be easier to get a purchase decision from a customer as they are strongly influenced by the sense of urgency you create with a countdown timer.
Features
one-time and recurring rules scheduled for days, weeks, months, or years;
customizable countdown specifying days, hours, minutes, and seconds left;
unlimited placement options, including category/product pages and via widget;
5 design options for a countdown block;
CSS box for creating rich text messages;
Insights

Promo is an engine for boosting sales. It serves to increase revenue, widen the audience, add to store credibility and status. These gains are worth the troubles, but promos are not a stable material for store growth. We've come with the extension that will benefit any campaign or any current service in the form of a tiny timer that holds much greater value than it seems.

Have you heard time limits influence people unconsciousness directly? The instinct to move appears before the thought, and running out of time becomes the gravest fear. We offer to exploit these human tendencies to make customers purchase as at some point there will be no time left for them to do so.

But people do not like when someone or something restricts their actions. It's a common fact, you say, and we can't agree more. But what if instead of an open limitation we try to reverse customer perception into a thought they own their intentions. In this case, they will purchase willingly as it's their choice — to buy or not to buy. And as you provide them with a relevant informer they own the consequences of their actions.

Confront customers with a fact. It's hit or miss: you can buy now and receive the product of need. let's say, with a discount, or leave it and miss the chance to get some goodies, it's up to you.

And they will react.

[caption id="attachment_45919" align="aligncenter" width="640"]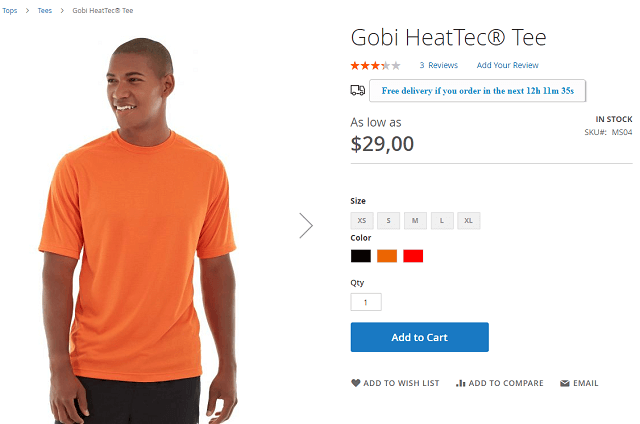 Countdown on a product page[/caption]
Use Cases
Placing a countdown on a category page assists in highlighting promo products. If there are some products that do not attract customers properly you can leverage their value by launching a campaign for a limited time period. Thus, you gather the revenue you missed while customers were ignoring these products and liven up your store with new tempting events. Regular campaigns, e.g., daily deals, help to achieve the necessary level of visibility as they make products stand out in a mass and show that some benefits can be gained only from these particular items.
In the situation where a customer has already taken interest in a product the priority shifts from visualization to persuasion. The product does satisfy particular customer needs but they uncertain in making a move

— a

little stimulus is crucial here not to lose that spark of curiosity that has brought customer to the page. Show the product is special. And why is it special? 'Cause the particular product environment is available only in now, at the very moment. Discount campaigns and additional services do great while advertised on a product page.
To explore more options let's take some custom placed rules. Countdowns in a shopping cart, for example, work nicely as a final motivation to make an order. Special occasions, such as annual sales or Black Friday sale, put an accent on the near end of the event and make the purchase urgent and necessary. Keep in mind that recurring rules allow automating the performance of the events.


[caption id="attachment_45918" align="aligncenter" width="640"]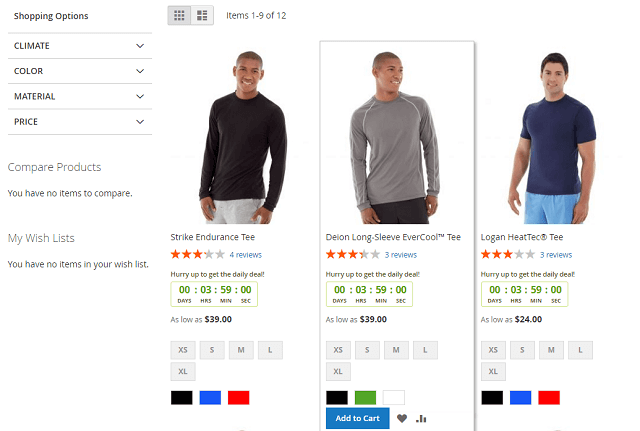 Countdown on a category page[/caption]
Bottom line

Aheadworks Countdown Timer for Magento 2 is a module that takes good care of customer impulses and makes them work for your business. Numerous options of content display and automation in rule management advance the process of the purchase decision stimulation to a level of maximum comfort. The point is the extension can be set up once and leave to resonate crowds infinitely.

Want to know more? Visit the product page.