How does Magento 2 Layered Navigation boost conversions and increase buyer retention?
In the current market, delivering an ultimate customer shopping experience and boosting stores' SEO rankings with a feature-rich navigation system has become imperative. 
If you would like to equip your store with flexible and intuitive product navigation that allows customers to find items fast and effortlessly, you can make use of the Aheadworks M2 Layered Navigation extension. 
Using this extension can lead to improving buyer retention. 
Magento 2 Layered Navigation introduces two options to perform accurate navigation: 
Single-mode and 

Multi-select mode
How is Layered Navigation useful for M2 eCommerce stores?
Use a Single-select category filter to orient your customers throughout catalog categories. 
Apply Multi-select mode to let your customers choose all the necessary attributes at once and see the available products.
Improve

buyers retention

with highly customizable filters

Release

customers'

stress

and

speed up navigation

with smart page reloading 
Provide user-friendly experience enabling popover with a number of products found.
How does M2 Layered Navigation extension work?
Layered Navigation from Aheadworks brings about a stress-free, intuitive user experience of operating catalog filters. The latter comes in various types to save customers' time and increase the system's accuracy to their search queries. 
For ultimate catalog navigation store admins can enable: 
expanding or collapsing filters;

add visually-informative images to the attributes' names and values;

opt for either a single- or multi-select filter mode; 

decide on hiding unavailable filter values from view.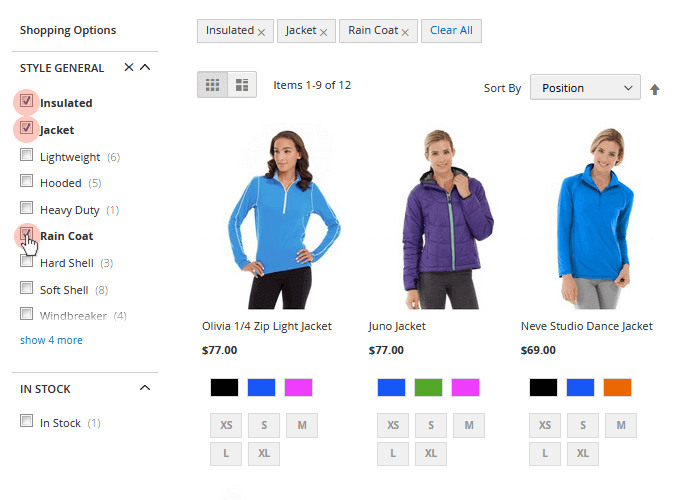 Points to note:
Checkbox, swatch, button, text field and more filter types

Popover with available items count

Edit native swatchers from the Layered Navigation filter edit form
How to enable Layered Navigation in Magento 2 Store?