Advanced SEO practice is a must to run a successful Magento 2 blog - a content pool meant not only to entertain customers but to increase the visibility of the store on the web.
Taking into account that natively Magento 2 offers no tool to run a blog, store-owners often have to engage third-party platforms like WordPress. Such integrations can turn into really complicated environments where SEO is set on a sideline.
Magento 2 Blog extension from Aheadworks is an all-in-one solution which greatly simplifies the workflow across the Content, Publishing and SEO departments of your business. Start a blog or import it to your Magento 2 store from WordPress and tweak the many configuration options that will help your content attract as much organic traffic as possible.
Discover below the advanced list of SEO features Magento 2 Blog offers to increase the visibility rankings of a store:
XML sitemap
It lists a website's important pages, making sure search engines can find and crawl them all.
Disable SEO config for 3rd-party solutions
Third-party code is anything you add to your site, but that's hosted on a different domain. The effect should be minimized as it makes your site load slowly what lowers the chance to increase search rankings.

SEO-friendly URL's and URL configuration
URLs should be "clean" and readable to encourage more clicks by potential website visitors.
The addition of a slash at the end of a URL instructs the webserver to search for a directory. It will make your web page load faster as servers will find the content of the page directly and won't waste time searching for the file.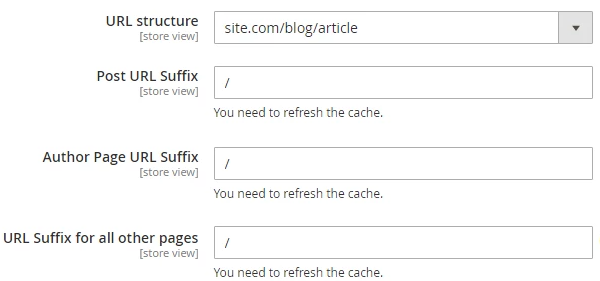 Redirect for URLs
By redirecting a changed URL, you send both visitors and crawlers to a new URL, therefore predicting the trouble of page rank loss or loss of traffic.
Canonical tags
Another advanced SEO feature to support a Magento 2 blog is the use of canonical tags.
Canonical tags help resolve problems produced by duplicate content appearing on multiple URLs. By using canonical tag you tell search engines which version of a page's URL they are to index and rank.
Title tag affixes for categories, posts, authors per store view.
Title has a great impact on rankings, click-through rates, and overall traffic numbers so it's of high priority to have a strong, relevant and clickable one.
For example, include keywords in your title prefix and company name in the suffix.
An example of a Blog/category tag: [Keyword] - [Category title or tighter version of the category title] | [Blog/site name]
Title, alt. text for images
The image alt text describes the image textually so that search engines and screen readers understand what the image is about.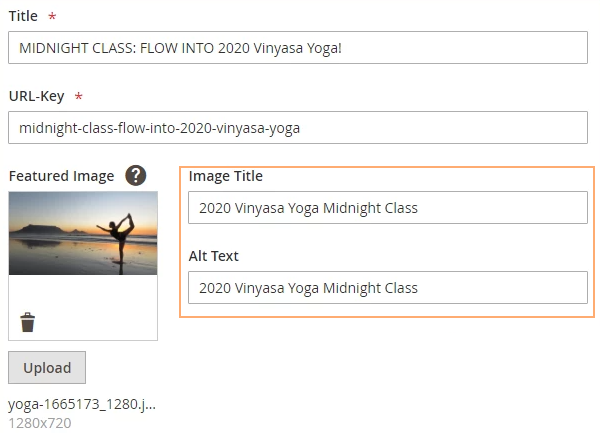 Meta data for all blog pages: title affixes and description
This data summarizes what your potential buyers will find when clicking on the link of a page. Meta data greatly impacts CTR and further rankings.
Add action and power words to the title.
As for the meta descriptions, it's best to keep them long enough (50-160 characters) so that they're descriptive enough.
Keywords for all blog pages
It is an advanced SEO practice that you use keywords that uniquely define your blog content. Keywords are essential for potential customers to find your web site via a search engine.
Keywords are the connecting links between what people are searching for and the content you are producing. So as your goal is to increase search rankings by driving organic traffic to your site, chosen keywords will define what kind of traffic you get.
Mobile responsiveness with PWA
In the third quarter of 2020, mobile devices (excluding tablets) generated 50.8% of global website traffic, consistently keeping the mark near 50% since the beginning of 2017. So it's better to make sure your blog content is mobile-friendly.
There is an out-of-the-box PWA solution from Aheadworks which will provide responsive design and stable performance on any mobile device.
Learn more on Blog for Magento 2 and implement it in your store.