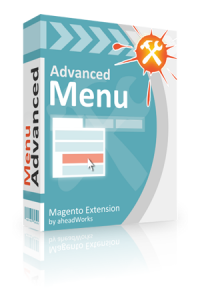 Comfortable navigation is one of the most important steps to the best user and customer experience, so stop loosing visitors because of the endless nesting navigation.

Change Magento navigation look and feel just in minutes! Magento Advanced Menu price

Select desired menu view from already predefined menu patterns in admin panel. If you didn't see a menu type you need - just let us know and we most likely to implement it in a few days.

At this moment only horizontal menu types are available. We are working hard on adding some vertical navigation types for the left column.
After extension install you are able to select menu type in admin panel.

Menu types available in version 1.0

Dropdown
It uses standard HTML "select" element. Suitable for large stores with a lot of categories - your visitors can see all categories at a glance and make shopping route decision immediately.

Plain
DIV-based dropdowns which fit your store theme colors, without hidden nesting.


Plain (advanced)
The most advanced option! Probobaly the best for large categories number.


Static
No popups, no hidden nesting. You would definitely like it in stores with 3-5 navigation links.