Selling internationally is an ambitious aim and difficult task simultaneously. On the one hand you can enter the vast market and skyrocket your sales, but on the other hand you will have to enter terra incognita for your business full of new requirements and local regulations.

Launching international sales requires a lot of time, specific knowledge, and necessary software. The whole process, since payments to shipping, is to be organized almost from scratch due to the
specifics of global trading
.
International shipping options and costs, international package insurance, customs fees, duties and taxes, international returns, transactions security, etc. – all these makes many merchants postpone their
plans for the conquest
of the international market.
You should consider many things at a time:
Not all products are suitable for international trading. Heavy and big items are most likely too expensive for shipping and not able to create proper competition to domestic traders;
Some products are simply prohibited for importing in certain countries;
Shipping costs of international carriers may differ from country to country drastically. So, you should estimate final costs of your products in different countries and avoid shipping to wittingly unprofitable destinations, and etc.

But, there is always a way to reduce that burden using innovative solutions able to take over some of your sophisticated duties. The Pitney Bowes shipping services are able to provide your customers with economical fully-landed shipping rates, including all duties, taxes, and brokerage to 60+ countries worldwide. This way, integrational customers get the rates and transparency comparable to local terms of shipment.

For the integration of Pitney Bowes and Magento we offer free Magento International Shipping solution, which seamlessly adds international shipping functionality to your Magento store. With the installation of this integrator you get full access to the Pitney Bowes shipping services and can start shipping abroad instantly.
The Magento International Shipping extension eliminates all customs paperwork you would encounter when using a traditional carrier. All customs documentation is handled for you, and your international orders can flow in to your normal domestic order processing, allowing your fulfillment team to get their work done with ease.
There are no up-front and no set up costs for this global shipping program. You only pay a small fee on a per-package basis and all of the transactions are kept extremely transparent. Alternatively, you may add the order fee to the shipping charge, making this a zero cost solution for you!
The extension is easy to install, requires minimal configuration, and becomes a natural shipping method in the backend of your Magneto store. It displays fully-landed shipping costs to customers without any customization of your shopping cart and checkout.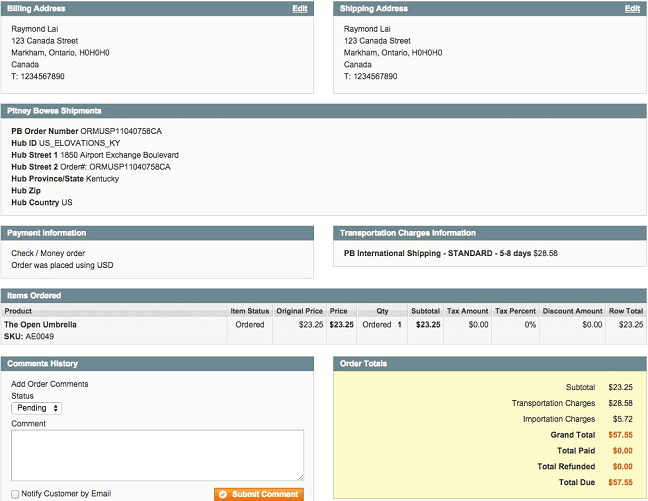 Magento International Shipping Orders
Features
Seamless Magento one-page checkout integration;
Global address verification;
Automatic calculation of economical shipping and importation costs;
Advanced parcel tracking provided for both merchants and customers;
E-mail notifications for customers containing order delivery statuses;
Minimum free shipping order amounts;
The opportunity to determine the list of countries available for shipping.

You can download this extension from the product page in our store and refer to the module's documentation there. This extension is absolutely free.
Add your comments below, please.