Today we released a new version of the On Sale extension. In 2.2, three more label positions have been added: middle-left, middle-center, and middle-right. Now you can select the most appealing and eye-catching place for your label.
Implemented in On Sale v.2.2 is a new live preview label position selector that lets you hover your mouse over any of nine predefined positions and see where the label will be placed in reference to product image.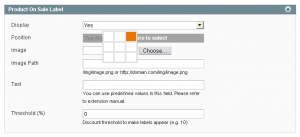 Since tables are loaded and rendered slower than blocks, we decided to make our extension more SEO-friendly and used the block markup instead of the table one in On Sale v.2.2, so that search engine spiders could easily crawl through your website.
The following bugs have been fixed:
Overrides Native Product "New" Period option works incorrectly
To find more details about this aheadWorks extension, please visit the On Sale page.