aheadWorks team visits all the major Magento events. Here's my report about our trip to Leipzig and Paris.
Meet Magento Germany 2012
Artyom Rabzonov, CEO, Petr Samoilov, CTO, and Dmitri Koteshov, Marketing Coordinator, had a pleasure to attend
Meet Magento Germany
in Leipzig on May 22-23, 2012.
The journey to the heart of Germany started in Minsk National Airport, where we got on a plane to Frankfurt-am-Main. The flight took us about two hours spent on talking, playing chess and having fun. Eventually, in Frankfurt, we found ourselves in a comfortable train to Goethe's hometown. The travel by land was twice longer comparing to the flight, but the scenery behind the windows was amazing with all the country houses, castles, windmills and meadows.
Leipzig welcomed us by rather hot weather and hordes of cyclists. It took us just several minutes to reach the hotel, leave the luggage and join the pre-party in Westin Hotel where we met our partners from
Netresearch
and
WebShopApps
.
We must say that the organization of the conference was pretty much flawless. So thank you guys from
Netresearch
, you did a fantastic job.
DAY ONE
Without any doubt, the event was a huge success, as more than
550 people
attended the conference. Nawijn Bas, Head of Sales EMEA Magento Inc., opened the sold-out conference on Monday morning. In his keynote, he spoke mainly about the current growth of successful shop solution. Afterwards, Vinai Kopp, Manager Developer Evangelism & Education Magento, Inc., made a brief outlook on Magento 2 and introduced the new versions of Magento Community and Enterprise - 1.7 and 1.12 respectively.
Overall, more than 25 sessions in three lecture rooms, a facet of topics for developers, 26 companies presenting their products and services - what could be better? The new concept of time and space with large lecture halls, more exhibitors and catering area resulted in a great opportunity for networking in addition to the lecture program for the visitors.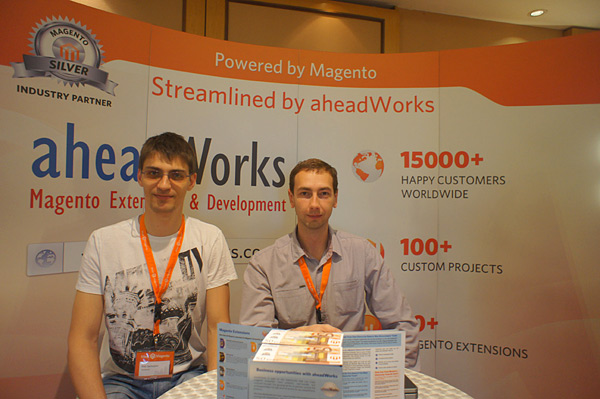 The day one was also notable for aheadWorks participation in business tracks as Dmitri Koteshov joined Karen Baker from WebShopAppps in Extensions Panel. During his speech, Dmitri made a short presentation of the company, its history, services and products and put in the spotlight the most innovative extensions from aheadWorks.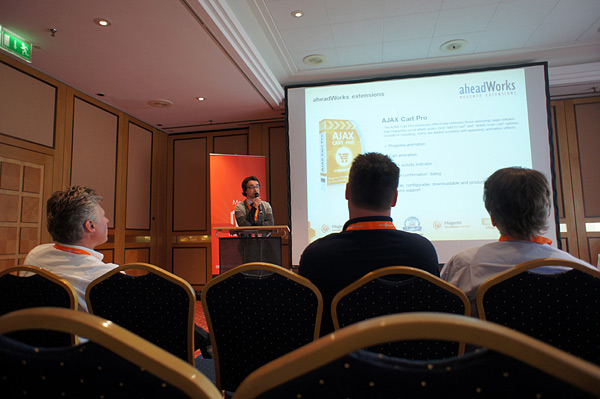 At our booth, we met both merchants and developers, mostly from German-speaking countries, but with a small exception of people from UK and the USA. We received much positive feedback about aheadWorks which made our day and put smiles on our faces. The first day ended up at the famous Leipzig Moritzbastei. The after-party gathered
over 430 participants
, a new record so far. The food, drinks and atmosphere, well, everything was brilliant.
DAY TWO
The second day, which was considerably shorter than the first one, started with Bas Nawijn from X.Commerce who shared his thoughts on the topic. Scott Dahlgren, Department Head Channel Sales, Magento Inc., and some Magento Solutions partners joined him on stage and spoke about their success with Magento. After the official closing of the event, aheadWorks team visited Netresearch office to see the working process and exchange some thoughts about Magento and eCommerce. All the information we've got there is extremely useful and important. We hope to have productive cooperation not only with Netresearch, but also with some other German companies.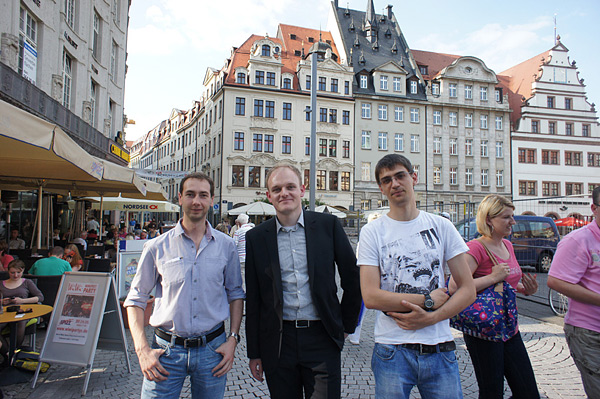 Next spring, the seventh Meet Magento event is planned to take place in Germany. The exact date for
Meet Magento # 7
will be announced shortly.
Bargento 2012
The third consecutive major Magento event for aheadWorks team took place in Paris on May 29, 2012. aheadWorks team landed in Charles de Gaulle airport, dropped the luggage at the hotel and headed to see la Place de la Défense, CNIT, the home of
Bargento 2012
.
The place appeared to be astonishing, like a small copy of New York with all the skyscrapers and things. We were quite surprised that these buildings exist in Paris with its kind of old-fashioned architecture.
This year Bargento drew
over 1,000 attendees
. Beyond any doubt, the conference brought us nothing but joyful moments. At our stand, we encountered many merchants, developers and agencies representatives. Everyone was really excited about our company, products and services. "
Voila le roi des modules
!" ("
This is the king of modules
!") - this line, dropped as a greeting by one of the admirers, speaks for itself.
We had a pleasure to introduce our extensions, services and the partnership program to the francophone crowd. As a sign of gratitude for all the kind words had heard, we provided some lucky people with
the 50 euro coupons
to spend on our products. We are looking forward to integrate into the French-speaking Magento market, as we consider it to be one of the most growing markets in Europe. We discussed the current state of eCommerce and Magento in France and it became clear that future looks bright for Magento.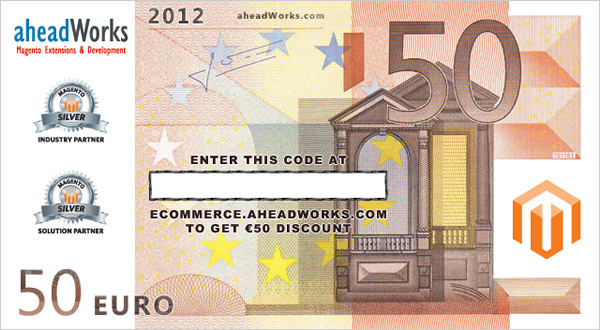 The after-party in the arcade games center proved that some developers mastered not only Magento, but the shooting of zombies and playing air-hockey as well :)
We also would like to thank NBS Systems and personally Philippe Humeau for the event. It was really cool and inspiring.
See you all next year
! We hope we won't disappoint you in future and we are eager to provide you with more tools to rule the world of Magento.