Great news! Finally Points & Rewards and Video Testimonials are integrated. Now you can reward your customers for uploading videos. Build a loyalty program with a double benefit for your business.













Before buying a product, a lot of customers try to find information about its peculiarities and possibilities of its usage. Most of them prefer visual aids.




Provide your Magento store with product demonstrations, services supplied, and sales promotions. Let your customers share their impressions of the items bought.





The Video Testimonials module allows uploading video from computer or YouTube exactly on the product page.





Today we release updated Video Testimonials extension v.1.3 with Points & Rewards integration. For better managing the amount of points provided for customers' video, we added a special function.






With such integration, you can limit the number of points given to each customer. Remember, that the number of uploaded videos doesn't matter here. Moreover, points would be credited only after your video approval.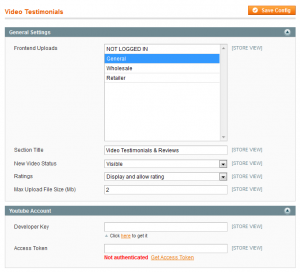 The following bugs have been fixed in new 1.3 version of the Video Testimonials Magento extension:


multistore issue


incorrect YouTube URL


code optimization


Find the extension demo and complete list of features on the Video Testimonials module page.







The Points and Rewards Magento extension helps to turn your customers into repeated clients.





Flexible rules of the Points & Rewards extension allow your customers to earn different number of points for making purchases, reviewing products, inviting friends, or carrying out any other admin-specified actions.





Welcome the updated and definitely empowered Points & Rewards Magento extension v.1.5. As Points & Rewards and Video testimonials are integrated, there are some additional settings you can find in your backend.





In the "Amount available for paying at checkout by points" field, you can specify the percent of the product price that customer can pay for a product with points.














Remember, that the percentage is counted from subtotal without a discount. Shipping and taxes are also not included.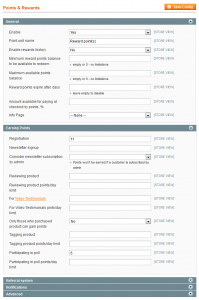 In the Points & Rewards extension v.1.5, coupons ACL issue solved.
Find the extension demo and complete list of features on the Points & Rewards module page.