Almost every online merchant offers his visitors to "Like" products at his website. But customers do not always yearn to do this because they get nothing in return. With our updated Facebook Link extension, you can encourage your clients to promote your products by rewarding them for it.




Facebook Link makes your store more social and up-to-date and it is a wonderful tool for viral marketing.




We are happy to announce the release of Facebook Link v.2.1.4 compatible with the Points & Rewards Magento extension.




The updated Facebook Link extension allows you to give points to customers if they "Like" your products. You can define how many times visitors can click the Like button during the certain time interval and specify the delay between Facebook "Likes". It gives you a possibility to control the process of earning points and avoid unfair balance increase.








Moreover, customers are motivated to "Like" the product - the information about the amount of points per one click is displayed on the frontend. Visitors click the Like button and points are added to their points balance automatically. In that way, clients promote your items and get benefit from it.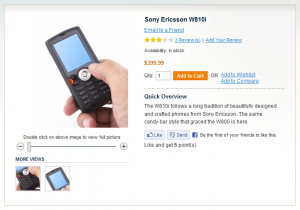 Note that Points & Rewards is not empowered with the possibility of getting points for "Likes" if Facebook Link is not installed.
In the updated Facebook Link v.2.1.4, some bugs have been fixed:
guest's wishlist became empty after logging in via Facebook


required customer attribute didn't appear on Magento EE
Remember, if your support period is active, you can download the latest version of the extension absolutely for free!
Find the complete list of features on the Facebook Link extension page.