Merchants do their best to attract visitors to their stores and make them stay longer there. Enormous efforts, modern technologies and significant cash expenses are aimed to convert visitors into customers. But all these factors can't guarantee you absolute success.




The Subscriptions and Recurring Payments extension possesses a number of advanced features that make it a powerful tool to convert visitors to your regular customers and add recurring revenue stream to your business.




This extension is a key solution for the web stores that accept recurring payments and sell subscription products. It suits you if you sell products that are purchased with a certain regularity: magazines, newspapers, or products like grocery or bottled water. Offer them as a one-off purchase or in the form of a subscription and you will cater to customers with differing needs.







We would like to make this day a bit better for you with the release of the Subscriptions and Recurring Payments 1.9 version enhanced with the following features.


Support of 'Cash on delivery' and 'Bank transfer' payment methods
The list of payment methods supported by the extension is enriched with two more options.

An option to retry X times if the connection with the payment gateway failed
Set the quantity of attempts to retry the connection to payment gateway.





An option to process multiple subscriptions per single cron job
Now you can define the quantity of subscriptions per single cron job that increases the amount of subscriptions to be processed.

Notifications for the admin when using the "Pay now" option for out of stock products
The admin will be the notified when the "Pay now" option is applied to out of stock products. So it will be clear, why the payment is currently impossible.





Here is the list of the latest bug fixes: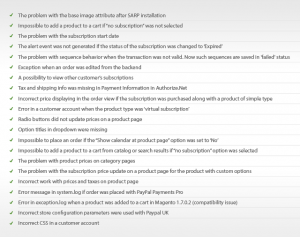 If more information about this Magento extension is necessary, you can find it on the Subscriptions and Recurring Payments page.

Remember, if your support period is active, you can download the Subscriptions and Recurring Payments 1.9 version absolutely for free!