Follow Up Email for Magento 2
Target your customers by sending emails based on customer actions.
Current extension version: 2.2.5 | Compatibility: Open Source 2.3.X - 2.4.X; Commerce 2.3.X - 2.4.X

30-DAY MONEY BACK

FREE INSTALLATION
30-DAY FREE SUPPORT

LIFETIME RIGHT TO USE
Follow Up Email Gallery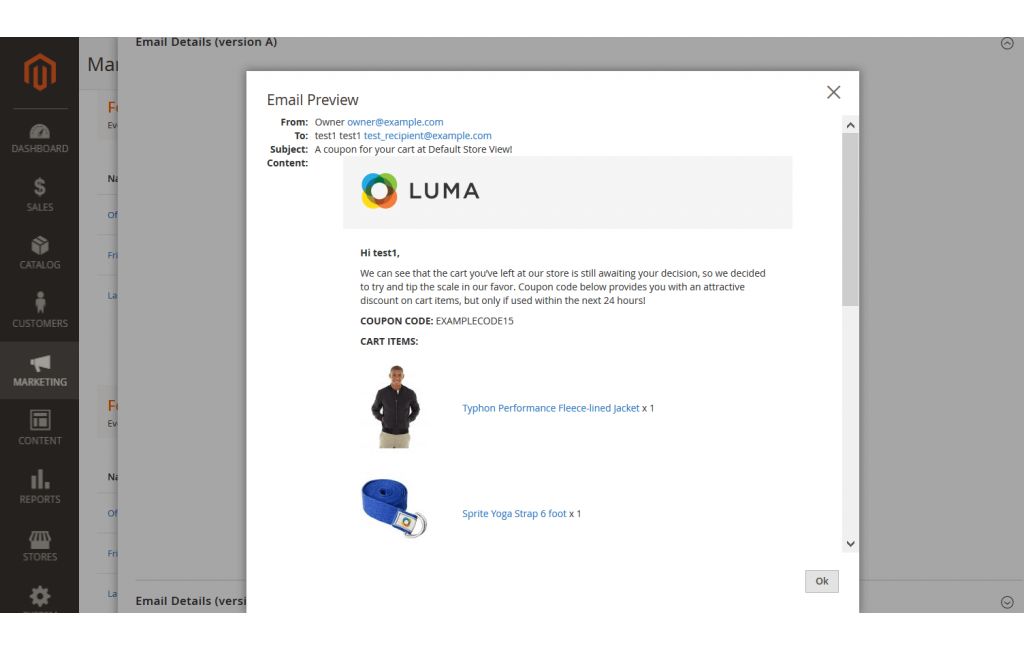 Every business contends with the issue of browse and cart abandonments. Needless to say it is important to keep your customers engaged using various forms of communication. One of the easiest modes of  communication to win-back these potential customers is to launch action based triggered emails. Unfortunately, native Magento lacks this functionality causing merchants to lose out on sales revenue. 
Bring potential customers back to your store and increase the number of repeat purchases with timely reminders and hot deals. With automatically triggered emails you reach for customers by sending communications based on their onsite behaviors. Run effective promotions by including recommended upsells,  and cross-sell items in follow-ups. Get detailed statistics on how campaigns are performing.
Win back customers with targeted email campaigns
Organize targeted email campaigns with customizable content and using the A/B email testing tool. Store owners can define when emails should be sent by choosing among eight trigger-based events. For more precise timing of each email, the module provides the email scheduling feature. By viewing email stats, merchants can evaluate the efficiency of individual campaigns and timely implement necessary corrections to them.
Set targeted emails
Configure follow-ups
Experiment with A/B testing
Analyze the performance
Customize email content
No spam
Set targeted emails
Combine emails by relevant criteria; a holiday, season, target audience, etc. On the 'Campaigns' page, you can organize all emails in a preferred way.
Arrange any number of email campaigns with unique titles, duration, and descriptions

Cover all possible situations by including numerous events in your campaigns

Create and send individual emails

Evaluate the effectiveness of a particular campaign with analytic reports

Change the sending order of emails via drag-and-drop functionality

Move individual events between campaigns with the event moving options
Configure follow-ups
Create separate follow-ups for different customer groups and conditions. The conditions include store views, customer groups, customer segments, lifetime sales, cart, and product conditions, and eight triggered events: 
Abandoned Cart (including guest checkouts);

Order Status Changed;

Customer Registration;

Any Customer Activity;

Newsletter Subscription;

Customer Submitted a Review;

Wishlist Content Has Been Changed;

Customer Birthday.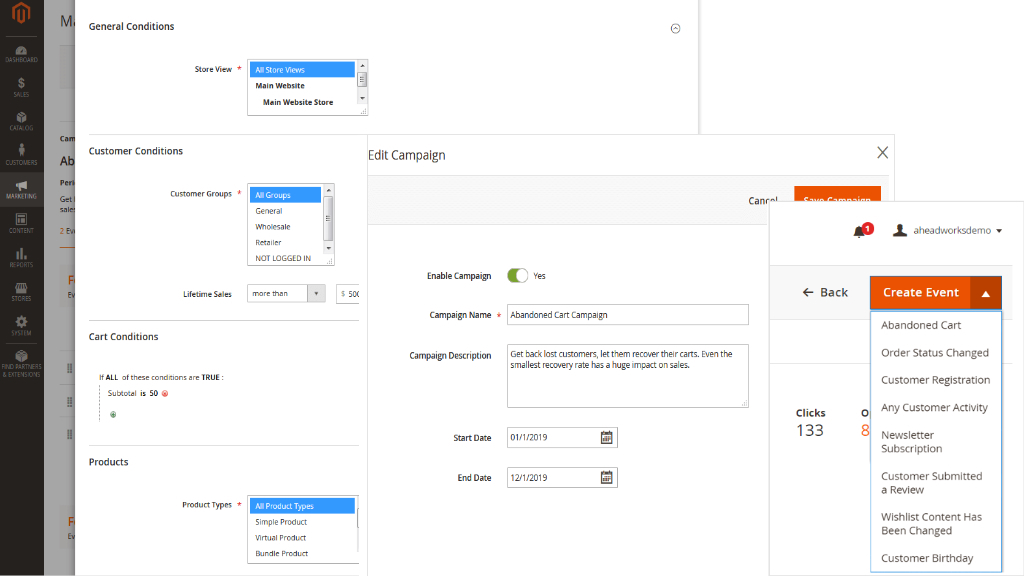 Experiment with A/B testing
Experiment with A/B testing
Improve constantly and keep experimenting to find the best email marketing strategy:
Perform A/B testing of email content;

Measure email CTR's and open rates on the go to identify top performers;

Run several A/B tests simultaneously;

Manage your tests on the fly (change content, enable or disable emails);

Choose the most effective email variant in one click;

Schedule email chains to be sent automatically.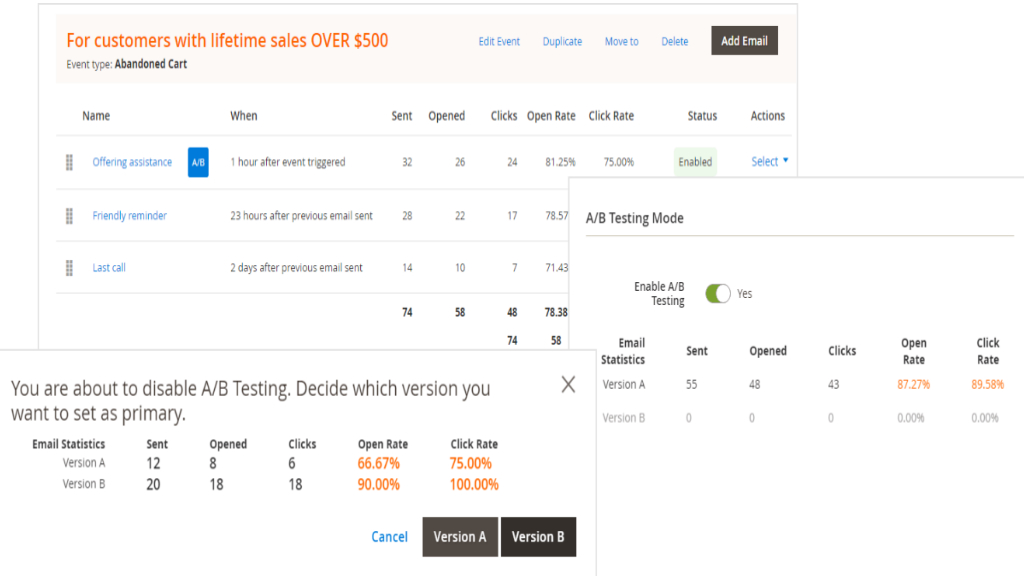 Analyze the performance
Monitor stats to get a better vision of your email marketing performance. Measure the efficiency of the emails sent against the following criteria: 
Sent, opened, and clicked emails;

Open rate and CTR;

A/B testing stats;

Coupons used.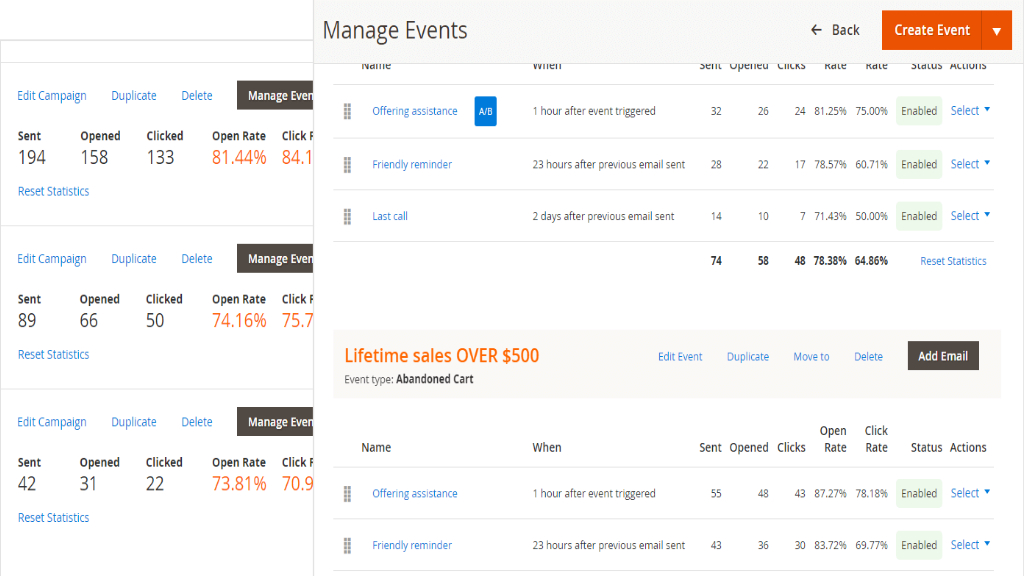 Customize email content
Add relevant content to your emails, including:
Personal data;

Coupon codes, prices, and saving options;

Products and pictures;

Custom variables;

Links to restore carts right from the email;

Links to unsubscribe.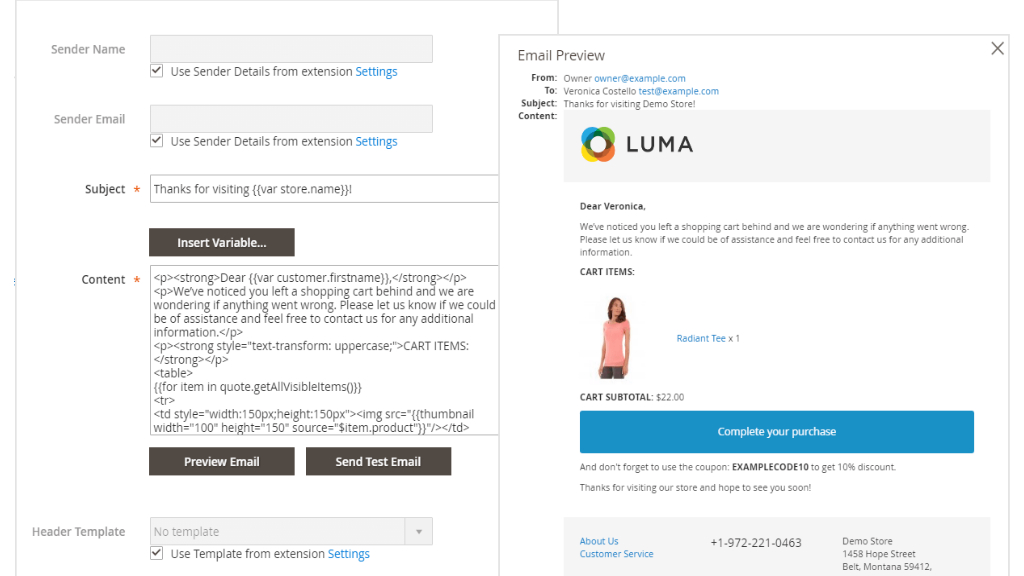 No spam
Prevent any spam risk with automated email chains. The emails in chains are scheduled one after another, meaning that the next email will not start its countdown until the previous one is sent. 
Define how many hours and minutes after the event an email should be sent

Create chains with scheduled emails

Define the period when your follow-up campaign is active (e.g. only during the month before Christmas, the week before Black Friday, etc.)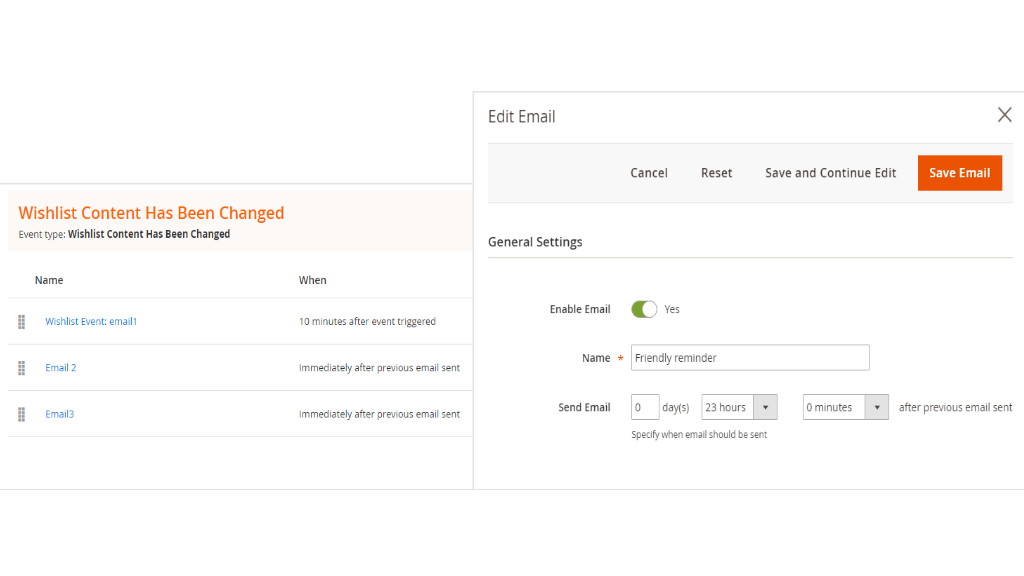 Set sender address, test email recipient, BCC emails, enable-disable test mode.
Edit campaigns' info (name, description, start/end dates), duplicate, delete campaigns on one page.
Email header/footer setting
Define the header and footer templates for your follow-up emails.
Edit, duplicate events, move them to another campaign on one page.
Enter sender name, address, subject, header, and footer; configure email content by adding variables, links, pictures, products to the template.
Decide how long the extension will keep the mail history.
With the 'Scheduled emails' grid, you can manage automated email chains in one grid.
Choose between 8 events for emails to trigger: Abandoned Checkout, Order Status Changed, Customer Registration, Any Customer Activity, Newsletter Subscription, Customer Submitted a Review, Wishlist Content Has Been Changed, Customer Birthday.
You can enable the A/B testing mode for your emails to experiment with different email versions.
View campaign stats, per-mail stats, A/B mode stats all in one place.
Integration with Customer Segmentation
A target against customer segments thanks to integration with M2 Customer Segmentation.
Integration with Coupon Code Generator
Add coupon codes to the templates with the M2 Coupon Code Generator.
2.2.5

Released 12.10.2021
* Fatal error during compilation [Magento 2.4.3]
* Error appears after creating a customer [Magento 2.4.3]

2.2.4

Released 18.05.2021
* Fixed issue with indexing
* Fixed support of extension attributes for Aheadworks\Followupemail2\Api\Data\EmailContentInterface
* Coupon code is missing in emails
* Critical error occurs when a link from an email is not copied properly
* There is no statistics for opened emails


2.2.3

Released 09.11.2020
* Fixed issue with Start Date/End Date fields
* "Abandoned Cart" event: Products aren't shown in the native templates
* Fixed issue with redirecting to product page from email
* Emails are not sent to BCC addresses
* Module does not support email templates larger than 64 Kb
* Events for order status changing are not processed correctly
* Fixed issue with creating a credit memo when quote no longer exists
* Impossible to save an order when its quote is removed

2.2.1

Released 31.08.2020
+ Compatibility with Magento 2.4
* SQLSTATE error occurs when sending emails

2.2.0

Released 06.12.2019
+ Integration with Aheadworks Customer Segmentation
* Fixed issue when header and footer of abandoned cart email templates get lost
* Fixed issue with Grouped products links

2.1.2

Released 20.11.2019
* Fixed issue with Wishlist Event
* Magento 2.3.3 compatibility fixes
* Translation does not work correctly when sending messages on schedule (cron)
* Fixed issues with Environment Emulation
* Magento EQP tests fix
* Improved compatibility with Aheadworks Advanced Subscription Products
* Visual fixes on A/B Testing Mode page

2.1.1

Realesed 15.02.2019
+ Magento 2.3 compatibility
+ Improved work with Magento quote

2.1.0

Released 11.04.2018
+'Customer submitted a review' event type
+'Customer Birthday' event type
+'Wishlist content has been changed' event type
+Scheduled emails tracking and managing
+Drag-and-drop email chains reordering
+Moving events between campaigns
+AW Smart One Step Checkout integration
*Email content encoding issue
*Errors appear in CRON jobs for guest orders
*The EventHistoryProcessor cronjob executing issue
*Error shown when subscribing to newsletter

2.0.3

Released 15.01.2018
*Fixes for Magento Marketplace

2.0.2

Released 13.11.2017
*Magento 2.2 compatibility
*Fixes for Magento Marketplace
*"Last Customer Activity" event renamed to "Any Customer Activity"
*Error appears in preview window when developer mode is enabled

2.0.0

Released 06.10.2017
Full extension refactoring
+ Email campaigns
+ Restore cart link
+ A/B testing
+ Email statistics
+ Email chains

1.1.0

Released 10.11.2016
* fixes for Magento Marketplace
* Magento 2.1.x compatibility

1.0.5

Released 13.10.2016
* Fix for Code Analysis Errors - "resource" is a reserved word in PHP 7

1.0.4

Released 13.10.2016
* Magento 2.1 composer.json compatibility

1.0.3

Released 03.08.2016
* Incorrect dates are shown in Mail Log after changing Interface locale
* Incorrect dependency in class error during the compilation process
* Can't create a new email
* In some cases Emails are not generated
* "General Conditions" tab should be hidden for Single-store mode
* Remove pagination if email qty is less than 20
* "Save as New" button doesn't work
* Can't create an invoice
* "Abandoned Checkout" emails are not generated
* Emails are not cancelled after occurrence of canceling event

1.0.2

Released 27.07.2016
* Single-store mode issue
* Pagination issue
* Disabling rules issue

1.0.1

Released 15.07.2016
* Database tables with prefix issue

1.0.0

Initial release 05.07.2016