Place pop-ups anywhere within the store
Customize for any size, alignment, content, name
Avoid spam - use cookies and shows per customer
Current extension version: 1.4.0 | Compatibility: Open Source 1.4.1.1 - 1.9.3.10; Commerce 1.12.0.0 - 1.14.3.10

30-DAY MONEY BACK

FREE INSTALLATION

30-DAY FREE SUPPORT

LIFETIME RIGHT TO USE
Pop-up+ Gallery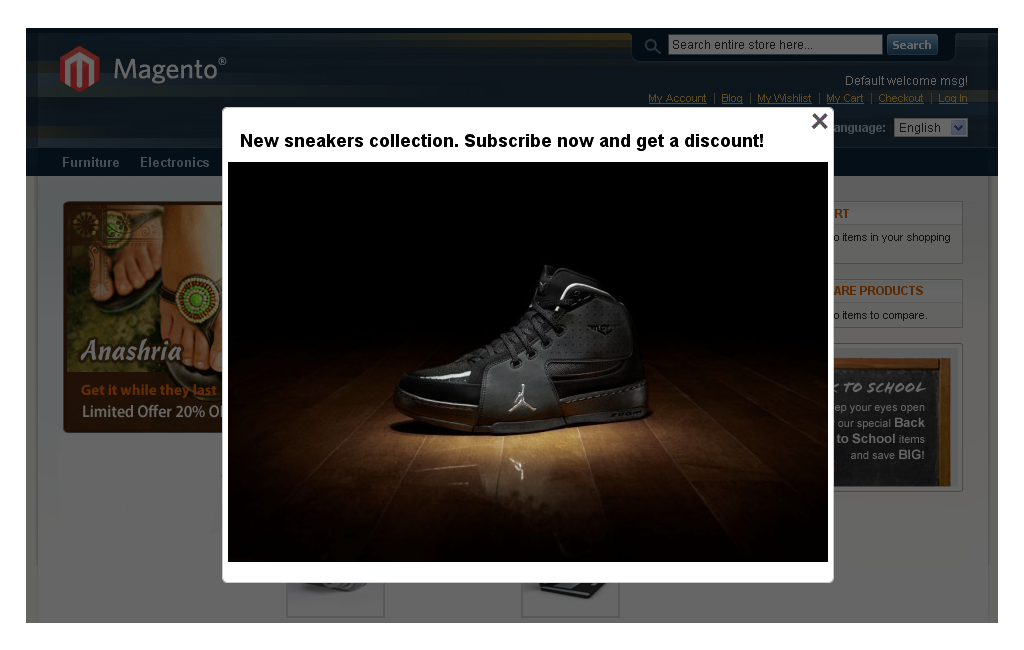 Magento Popup Extension Overview
The Pop up Magento extension is a great solution for those who want their visitors to be aware of all hot stuff.
The popup window can be displayed on any page. Just load the image and create a popup and that's all - the Pop-up+ extension puts the content of your proposal in a chosen place with background-fading effect, accenting your offer.
The Pop-up+ module offers you a perfect opportunity to notify your customers on all significant events by means of a popup window.
Features
You can fully control the appearance of your pop-ups by defining the following options:
duration and auto-hide time
window dimensions and its alignment on the page
the start and end date (specify the window time period when the popup is active)
general number of shows for each popup and per customer
popup title (the text is shown in the title field at the top of the popup-area)
sort order (determine pop-ups displaying order)
and many others
Differentiate your pop-ups according to their subject.
They can be placed in various positions such as: home page, product page, CMS, checkout and customer account pages.
Differentiate your pop-ups by audience*
Create customer segments based on age, gender, lifetime spending, order history, wishlist items, etc. Use them for targeted pop-ups.
*Additional options can be accessed through our Market Segmentation Suite
The Pop-up+ Magento module gives you a chance to reach the widest possible audience and be sure that the proposal will be surely ran across by your customers.
1.4.0

+ An option to restrict popup displaying on mobile devices
* Pop-ups appears regardless cookies lifetime settings

1.3.3

* SUPEE-6788 compatibility issue

1.3.2

* Incorrect work of the "Number of shows per customer" option
* Layouts, templates, and skins were missed in base/default directory (Magento EE)
* Black background appeared instead of transparent background on IE10


1.3.1

* Popup didn't appear if several pages were selected in "Show At" area

1.3.0

+ Eliminate popups for bots
+ Show a popup on specific pages

1.2.4

* Admins without permissions had access to the extension settings

1.2.3

* Minor bugfixes

1.2.2

+ Stability and speed improvements

1.2.1

* Minor bugfixes

1.2.0

+ Integration with Market Segmentation Suite extension by aheadWorks
+ Ability to specify general number of shows
+ Ability to limit the quantity of shows per customer
+ AJAX-based popup
+ Ability to set up lifetime of cookies
* Incorrect date format in backend



1.1.0

* Incorrect filtering by store view in grid
* Page titles were not specified in admin area
* Problem with saving date in admin area
* Incorrect styles in Internet Explorer