Serve up targeted campaigns driven by defined criteria.
Display popups on catalog and product pages, at shopping cart and checkout
Make popups visible with 7 animation effects and 9 predefined positions on a page
Trigger popups upon a set period after the page load, exit intent, % of page scrolled, or the number of pages viewed
Control the number of popup displays per customer
Define Customer Segmentation to specify which customers see the popup
Current extension version: 1.2.3 | Compatibility: CE 2.3.X - 2.4.X EE 2.3.X - 2.4.X

45-DAY MONEY BACK

FREE INSTALLATION

90-DAY FREE SUPPORT

FREE LIFETIME UPDATES
Popup Pro Gallery

How does the Magento 2 Popup extension hop in your business express?
With ease and due dexterity, to say. By far, popups are pleasant passengers to have. They may well help catapult your conversion rates and add to customers' engagement with the store. With Popup Pro for Magento 2 from Aheadworks your promo strategies will have a delightful ride to success. Always targeted, looking sharp, knowing their time and place, unobtrusive and well examined when back home.
Profit from every click with Popup Pro extension for Magento 2
Extend your promo reach
Сonduct customer actions
Extend your promo reach
Plan campaigns calculating all the possible outcomes. Run promos that cover the maximum audience and bring in the most notable results to the budget.


Have your popups made wise, matching well the specifics of the promo, hitting right customer groups or segments
Delay popup display not to scare customers off while browsing your store
Give customers easy access to promo info due to responsive popup design
Сonduct customer actions
Anticipate any patterns in customer behavior and react properly with the Magento 2 Newsletter Popup extension.
Present motivating content with the WYSIWYG editor
Prevent customers from leaving
Use "Once the cursor is over the page" as a trigger event to make customers stay in your store
Urge customers to return for special gifts with the help of the lightbox popups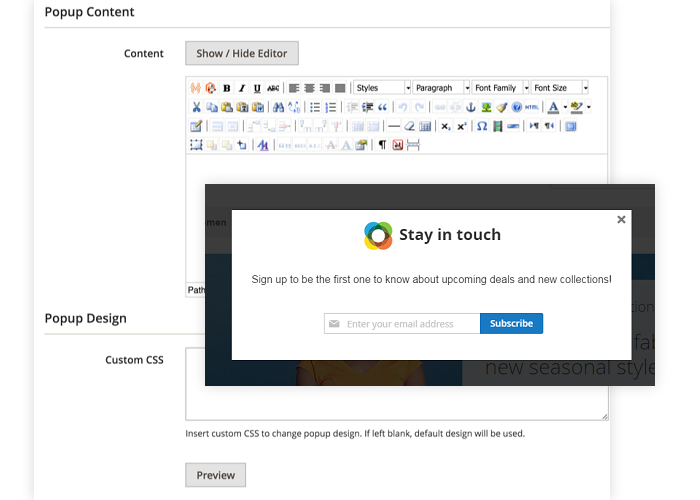 Magento 2 Pop-up Detailed Feature List
1.2.3

Released 22.10.2020
* Improved compatibility with Aheadworks Customer Segmentation
* Fixed issue when popup does not appear after the segment has been deleted

1.2.2

Released 27.07.2020
* Fixed issue with excessive Ajax calls to server
* Impossible to save a popup with product grid/slider in the content


1.2.1

Released 16.06.2020
* Magento 2.3.5 compatibility fixes
* Fixed issue with sending the cookies


1.2.0

Released 22.11.2019
+ Integration with Aheadworks Customer Segmentation
* Error appears after compilation

1.1.5

Released 22.11.2019
* Fixed issue with preview button on "Edit Popup" page

1.1.4

Released 24.10.2019
* Fixed issue with grids opening in Admin (Magento v.2.3.2)
* Popup position is incorrect on mobile devices
* Fixed issue with popup page opening in Admin (Magento v.2.2.4)
* Popup doesn't respect the option "Hide popup for mobile devices"
* The position of a created popup is always "Middle left"
* Fixed issue with nested conditions



1.1.3

Released 28.01.2019
* Magento 2.3 compatibility

1.1.2

Released 03.04.2018
*Recently viewed widget does not appear in the popup
*Popup breaks checkout data for guests
*Error appears when collecting translations

1.1.1

Released 14.11.2017
*Compliance with Magento Marketplace requirements (no fixes or new features has been introduced)

1.1.0

Released 04.09.2017
+ Disable popup on mobile devices
* Manage Popups grid doesn't open in Magento 2.2

1.0.6

* Unexpected error message when subscribed to newsletter
* Compatibility with RBSlider: Slider is not shown in Popup
* Page load speed is affected due to cache invalidation

1.0.5

Released 26.01.2017
* Compillation issues
* Installation issues

1.0.4

Released 14.10.2016
* Magento 2.1 composer.json compatibility

1.0.3

Released 04.08.2016
* "Add To Cart" button in popup redirects incorrectly
* Popup does not appear on product page if conditions with "Price" attribute are set
* Filters don't work at Admin
* "Save As New" button doesn't work on Popup page
* Catalog and Product conditions aren't taken into account when popupis set at all pages
* Error occurs after applying mass actions


1.0.2

Released 26.07.2016
* Added support for php v7 in composer
* Popup cannot be edited if single-store mode is enabled

1.0.1

Released 20.07.2016
* readme link

1.0.0

Initial release 27.06.2016