Over the last decade, gift cards have become particularly popular among magento 2 merchants. The reason being  that gift certificates are of high demand among customers to use them as a payment method. In this article, we'll recognize the advantages of offering gift vouchers to your customers and how magento 2 merchants can get maximum benefits from it.
What is a gift card and how does it work?
Gift Card is the form of payment accepted by the manufacturer, store, restaurant or any other institution. It can be presented in a physical or virtual medium and is redeemed only for purchases within a particular store or related business. Gift cards cannot be cashed out.
There are two types of gift cards: reloadable and non-reloadable. The reloadable certificates can be reloaded with money several times till its expiration. Non-reloadable are one-time use gift cards. Usually when a gift card covers only a part of the total order amount, customers are allowed to pay the remaining part by cash.
According to Wikipedia, gift cards are the second-most given gift in the US. Buyers choose gift cards because of the following benefits:
They save customers time dramatically during holiday periods or any other special occasions.

They give a sense of freedom of choice, allowing shoppers to buy any desired item in the store.

They are easy-to-use and safe. If the gift card was lost, it can be frozen and restored as a basic debit card.

Gift cards are a convenient way of electronic payments.

With gift cards you can control the spendings of young shoppers.
Amazon, Starbucks, Target, eBay and many other brands offer gift vouchers. And here are the reasons why:
They cultivate customer loyalty, allowing them to redeem gift cards within your store only.

Gift cards can be used to reward workers or your customers for a work done.

Gift certificates can also be used for promotional purposes. It's the best way to attract new shoppers, and convert accordingly.

They increase revenue. Not to waste money, shoppers have to make a purchase equal to or exceeding the gift card amount, which has a positive impact on sales.
As a result, gift cards are satisfying for both merchants and customers. They are more safe and convenient in comparison with credit or debit cards, and are much more profitable for a store.
Best Gift Card extension for Magento 2
If you need a powerful module to create gift cards of any type with a unique brand-like design you may try Aheadworks Gift Card for Magento 2. With it you can offer personalized vouchers with flexible pricing options and limited lifetime. An intuitive editor will help you customize design, attach free images to the gift card, write customized text and add specific coupon codes.
You can track gift card balance, set expiration dates and assign cards to gift card pools with the handy operation system and multifunctional admin panel. The extension allows merchants to import and export card codes to save time on creating card pools and arrange a unique gift voucher's system. Besides, you can create email templates for your magento 2 store to get in touch with your customers, when important updates take place.
These and many other features make the Gift Card extension for Magento 2 a perfect solution to increase your AOV and drive repeat purchases.
And now, let's learn 3 main hacks to convert more with Gift Card extension for Magento 2.
"As a customer, I want the gift card to be received on the occasion day, so I don't have to resend it myself".
Allow your customers to specify the gift card delivery date both for physical or virtual gift cards, so they could congratulate their friends and relatives on time.
For it tap Allow Delivery Date toggle in gift card settings. Now you know what date the gift card should be sent to the recipient.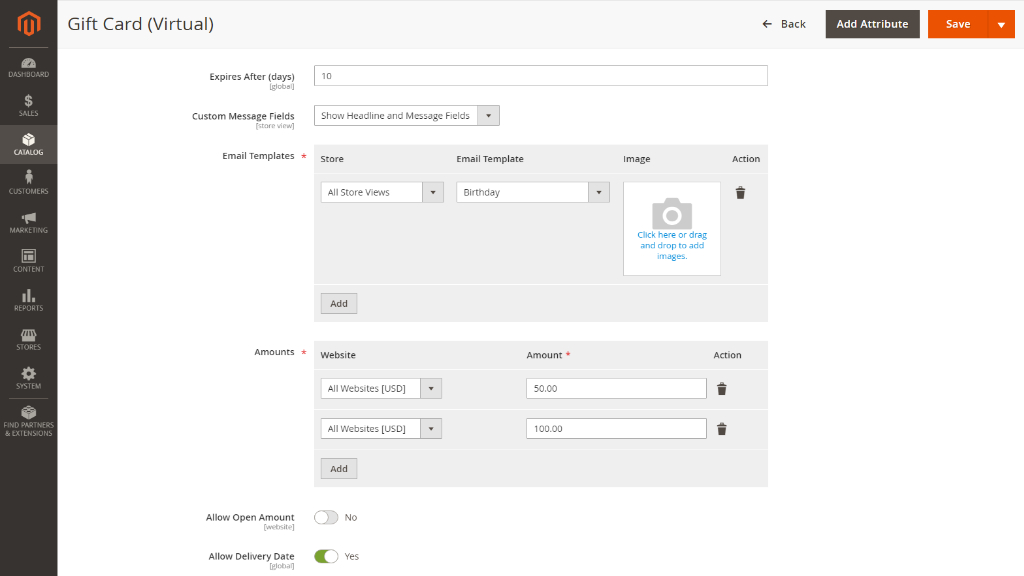 "As a customer I want to redeem my gift card, but I'm not a competent PC and Internet user."
Allow your customers to connect with store admin by phone and request applying gift cards to orders created on the backend.
For it go to Sales > Orders > Create New Order. Add the requested products and apply the gift code.
"As a merchant I want to allow customers to apply a Gift Card code at our one step checkout."
Benefit from Magento 2 Gift Card integration with Aheadworks Smart One Step Checkout extension.
Install Smart One Step Checkout for Magento 2 and allow customers to apply either a coupon code or gift card code at checkout. For it Gift Card extension by Aheadworks should be enabled. Note: The loading speed will be a bit lower because of two inquiries sent at one time.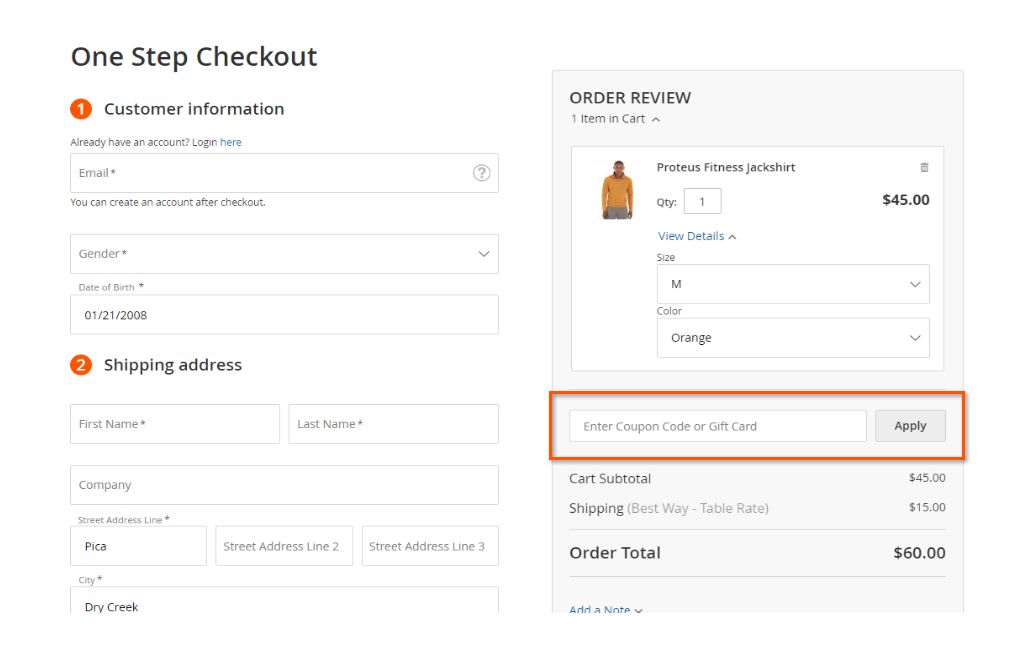 Our simple though powerful extension gives merchants the opportunity to create compelling gift vouchers and manage them effortlessly. Install Gift Card for Magento 2 and increase your average order value significantly!