No doubt, all merchants know that the quality of customer service is of great importance for every business, but to what extent?
It turns out that customers' satisfaction crucially affects the success of any company and is able even to ruin all your preceding efforts by leaps and bounds. Here are just few picturesque stats, which are able to make you inspect your customer care service instantly.
Threats
89% of consumers have stopped doing business with a company after experiencing poor customer service. - RightNow Customer Experience Impact Report
A customer is 4 times more likely to buy from a competitor, if the problem is service related vs. price or product related. - Bain & Co
A dissatisfied customer will tell between 9-15 people about their experience. Around 13% of dissatisfied customers tell more than 20 people. – White House Office of Consumer Affairs
Quite convincing, isn't it? But the other side of the coin is much more attractive and we clearly understand that an upscale and helpful service is able to elevate you to the highest pitch.
Opportunities
A 5% reduction in the customer defection rate can increase profits by 5 – 95%. – Bain & Company
55% of consumers would pay more for a better customer experience. – Defaqcto Reasearch
In 73% of cases, the business made no attempt to persuade dissatisfied customers to stay; even though 35% said that a simple apology would have prevented them from moving to the competition.  – NOP
So, here it is - make your support quick, helpful, and customer oriented and make customers happy. But in this case, you need a first-class customer support system, which contains the necessary functionality and, if you are a Magento user, you can find it in just one extension – Help Desk Ultimate 3.0 (HDU 3.0).
This extension contains truly advanced functionality for broad application presented in five convincing reasons to use it in your Magento store.
I. Scalable to Any Size of Business
This extension is perfectly suitable for all kinds and sizes of businesses and easily serves both start-ups and multi-branch enterprises. It allows you to create an unlimited number of support departments across multiple Magento stores and storeviews.
You won't need to look for a new solution as your company grows, since HDU 3.0 copes with any number of queries.
II. Provides Transparent and Effective Communications with Customers
The HDU 3.0 extension records the history of all communications with customers and among support agents. Сustomers are able to follow the communication stream, which specifies the name of the agent and response time.
73% of consumers love a brand because of friendly customer service, Source
The "Escalate Ticket" functionality enables them to draw attention to a particular case in the Help Desk, if a customer feels dissatisfaction with the provided service. Help Desk supervisors have an opportunity to track these incidents via email and align the process.
Flexible web-form configuration provides customers an opportunity to choose necessary departments and the priory of their tickets. Magento admins can also enable customers attach multiple files to their inquiries and specify the maximum attachment file size.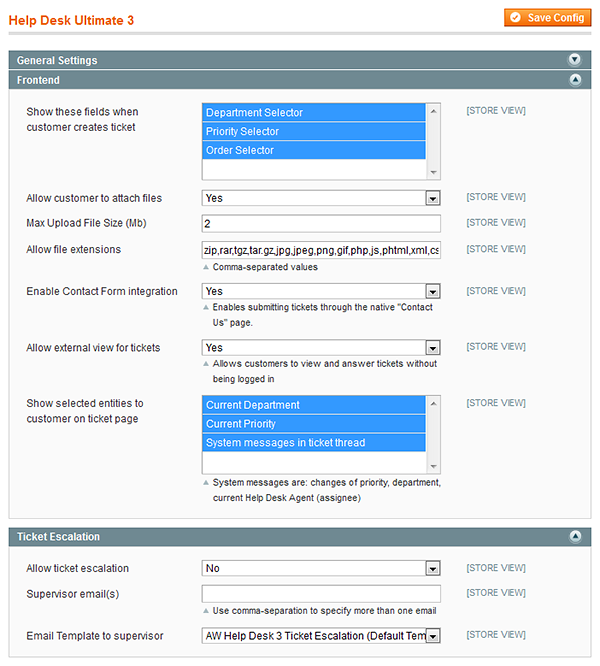 Help Desk Ultimate Settings
In order to eliminate or at least reduce spam, the extension also includes anti-bot protection in the contact form. It also validates email attachments and authorizes only those, which are approved in the backend.
III.  Multi-Source Tickets Collection
Help Desk Ultimate 3.0 is able to collect tickets from multiple sources.
Email Gateways
Except the provided web-form for ticket submissions, it can also parse incoming emails and convert them into Help Desk tickets. Each message, which goes through the dedicated mailbox, is considered to be an inquiry or ticket reply. If the tickets flow via email is too heavy, you can separate it and assign different mailboxes to each support department.
This functionality is enabled and configured from the "Email Gateway Details" section (Help Desk – Departments – "Add Department" button – Email Gateway – Email Gateway Details). The section provides an opportunity to specify next values for a certain gateway:
Status (Enabled / Disabled);
Title;
Protocol (IMAP / POP3);
Gateway email;
Gateway host;
Login and password;
Port.
Note: Make sure the specified port is opened in your server's firewall settings; otherwise, the extension will be unable to connect to the gateway.
Use SSL / TLS;
Delete Emails From Host;
Note: This option defines whether an email will be removed from the gateway mailbox after it gets parsed to ticket.
The "Test Connection" button enables gateway validation and shows, if the below settings are correct.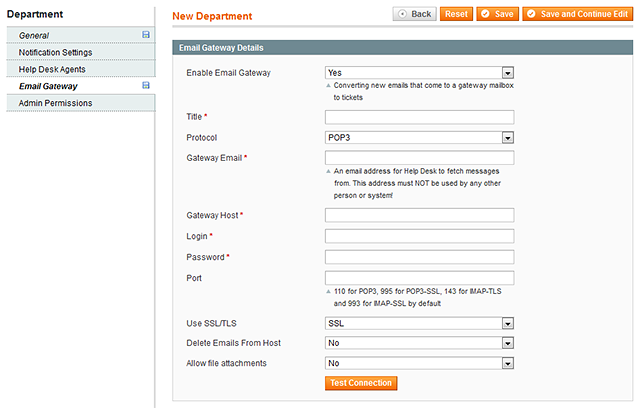 Email Gateway Settings
The spam protection system effectively blocks emails containing suspicious text in Header, Subject, or Body fields. To configure the email spam filters navigate to Help Desk-> E-mail Rejecting-> Manage Patterns.
9 our of 10 consumers expect to receive a consistent experience over multiple contact channels, Source
Magento Contact Form
The Contact Us page is the third way for tickets to get into your Help Desk. When this functionality is enabled, all submissions via the native contact form will be parsed and converted into Help Desk tickets.
Product Questions ver. 2+
One more opportunity to collect tickets is provided by the HDU 3.0 and Product Questions extension integration. If you have our Product Questions extension ver. 2.0 and higher installed, you can integrate it with the HDU 3.0 extension in just one click and create tickets from the questions asked within the Product Questions extension.
Thus, HDU 3.0 allows you to get tickets from multiple sources and never miss appeals of your customers.
IV. Powerful Backend Functionality and Advanced Reports
The sophisticated and highly effective backend functionality perfectly reveals the power and benefits of the extension.
Except the mentioned above features HDU 3.0 provides truly efficient ticket management system, advanced backend notifications for agents, multiple ways to answer tickets, pre-defined templates for immediate answers, advanced tickets search and filtering options, and much more.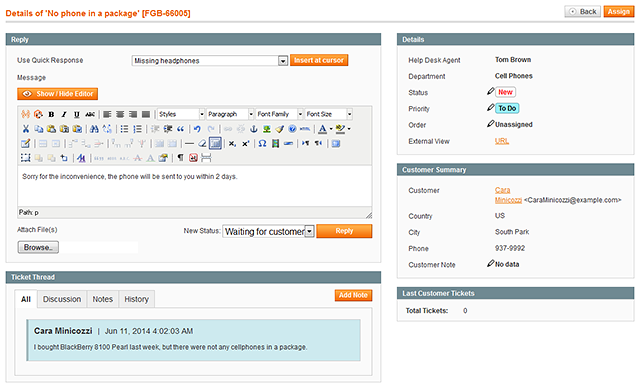 Backend Ticket View
This great potential is designed for fast and efficient resolving of appearing cases and provides customers an unrivaled level of service. Here are only some features, which form the backend functionality of the module:
It takes 12 positive customer experiences to make up for one negative experience, Salesforce
Convenient tickets management:
Mass tickets assignation;
Tickets lock;
Orders to tickets linking;
Customer profile linking;
Ability to create tickets from order/customer's pages;
Pre-defined "Quick Response" templates for admin, allowing to choose and edit/submit ready answers;
Ability to edit or delete department replies from the backend;
WYSIWYG editor for admin replies;
Search tickets option in the admin area;
Tickets auto-expiration option;
Advanced admins-only notes system;
Tickets replying via the web-form or email;
Offensive ticket IDs filter;
CC (carbon copy) of all emails from HDU.
Besides, we all know that successful performance is impossible without constant results tracking, which allows you to analyze your showings and try to make the work perfect. That's why, Help Desk Ultimate 3.0 provides demonstrative statistics describing the entire process of the support service.
Workload Report
The main idea of this report is to give Help Desk supervisors an instant picture of the current workload of each department and the customer service team in total.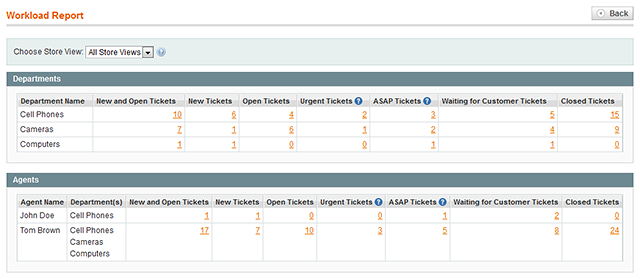 Workload Report
Agent Statistics Report
The Agent Statistics reports provides data regarding the effectiveness of support agents in person and shows their average first response time and average ticket closing time parameters.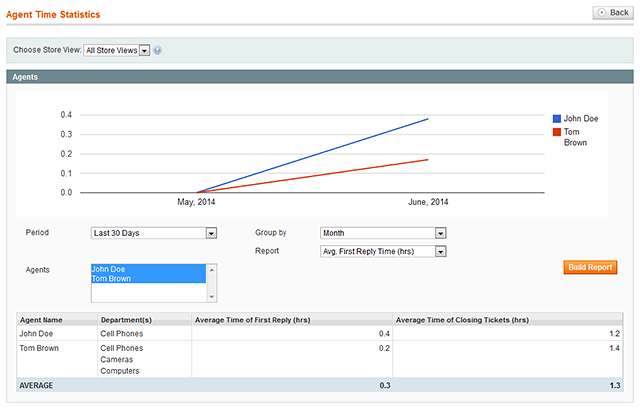 Agent Statistics Report
Ticket Statistics Report
The Ticket Statistics report shows retrospective data of the number of tickets by their statuses within the selected period.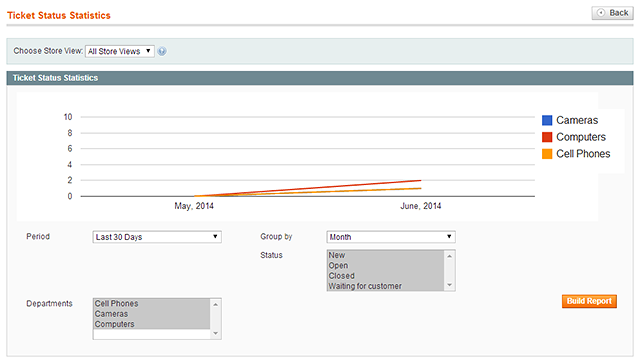 Ticket Statistics Report
V. Highly Customizable
As the Help Desk Ultimate 3.0 is created to bring power of excellent customer service to any kind of business, it is highly customizable and, thus, suitable for any of them.
The module allows you to tune the Help Desk according to your needs and preferences thanks to multiple customization options, including the flexible department configuration, custom email templates, customizable email notifications for administrators and customers, custom ticket status and priority values, and etc.
The last feature provides you an opportunity to create an custom interface of the Help Desk backend and process tickets even more efficiently.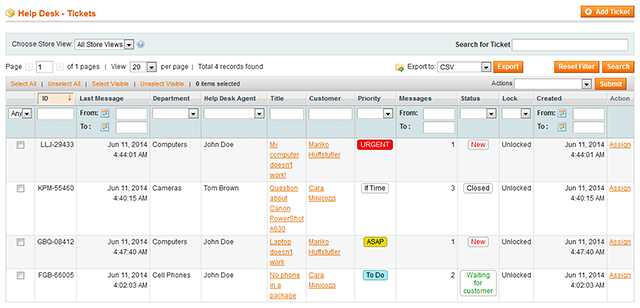 Help Desk - Tickets Grid
Conclusion
It is 6-7 times more expensive to acquire a new customer than it is to keep a current one, Source
The HDU 3.0 is fully integrated into Magento admin and customer account areas and meets Magento programming practices for most versions. The powerful functionality and multiple useful features of the Help Desk Ultimate 3.0 extension enable it to become the central element of your customer care service. It really assists you to successfully resolve customers' issues and help them fully enjoy your products and services.
The described above features are still not a complete description of the available functionality. If you would like to learn the full scope of facilities, please refer to the product page of the extension or to our demo stores.
Please share your impressions about the extension in comments below.