Merchants who run Magento stores know that this feature-rich platform has a global community of partners and developers. Most of these specialists are highly qualified and offer a great variety of robust extensions and certified professional integration help.
That's why when a store owner needs to implement additional functionality in a store he or she faces the difficult choice: which provider to give preference to? In this post you'll find out about the benefits offered by aheadWorks to its customers. Let's start!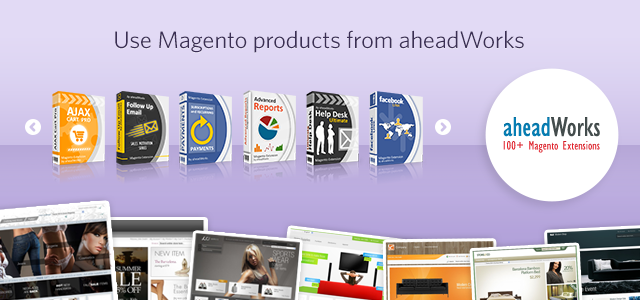 1. High quality extensions, themes and services that merchants benefit from
All the products created by aheadWorks are based on deep analyses of the requests, desires or pain points described by users and our own researches. Created strictly in conformance with Magento standards our extensions and themes work even on highly customized stores!
2. Update of modules
Users can find the complete list of over 100 products, patches, updates and new releases in
our store
. As a rule, the latest versions of our older modules and products that were recently developed are compatible with new Magento versions. When a new version of Magento is released, our testing department checks the work of our products with this new version. Information about updates and new releases is available in our blog and can be got from the newsletter subscription. New products and updates can be downloaded as soon as their releases are announced!
3. Choose time-tested quality
Established in 2001 as a web development company, aheadWorks has been developing for Magento since 2009
, producing high quality solutions and taking care of its customers' needs. Today our company has two offices with over 60 people of employees. Smaller companies or freelancers are less experienced and can hardly provide users with the services of the same quality.
4. Market leading provider
Being Magento Platinum Industry Partner our company runs as a sponsor at numerous Magento events, speaks at them and helps to develop the platform.
5. Attractive discounts and rewards policy
We provide attractive discounts for our customers and give them money for certain activities in aheadWorks Magento Store. All the rewards can be spent on further purchases. You can learn more about our
Points & Rewards Policy
here.
6. Topnotch support for your service
The work of our first-class specialists is highly appreciated by users. Our customer support team works 7 days a week and we are always ready to give you a hand.
Helpdesk: Monday—Friday: 8:00AM—4:00PM, Saturday: 8:00AM—3:00PM CEST
Live chat: Monday—Friday 8:00AM—9:00PM, Saturday: 8:00AM—4:00PM CEST
Contact us
by email: 24 hours 7 days
7. Heightened attention to customer issues
We are a team that listens to opinions of users about product development and pricing. Any feedback from customers is very important for us. Whether it contains critics or requests, we take this information into account as it forms the basis on which we develop products and services. Our clients are informed about changes, sales or releases through the blog and newsletters. We are ready to discuss any issue. Please leave feedback on the product pages, in our
forum
and
blog
. And don't be surprised to find out that your requests are implemented in our next releases!
8. Rich experience of the trustworthy company
Deep knowledge in development of Magento products allowed aheadWorks Co. to become Magento Platinum Industry Partner and Magento Enterprise Partner. The company runs as a sponsor at Magento events that are held around the world. Our experts share their rich experience in creation of Magento extensions, themes and templates with public. aheadWorks team is open to dialogues and we do our best for further development of Magento platform.
All these points influence the choice, made by numerous Magento store owners around the globe. 25k+ merchants have been already using attractive themes and feature-rich extensions from aheadWorks, enjoying their high quality and stability. Are you a member of this community? If not, it's time to join it!
Do you have any other strong points that can extend this list of reasons? Please share your ideas in comments below.