Now, when 2016 is here most of us make plans for the future and figure out upcoming needs and essentials necessary for plentiful sales throughout the year.

We clearly realize this concern and have a great offer for you in this connection. In order to satisfy the technical need to provide your Magento store with relevant and valuable functionality extensions aheadWorks slashes prices for the whole catalog by 10%. And, that's not all.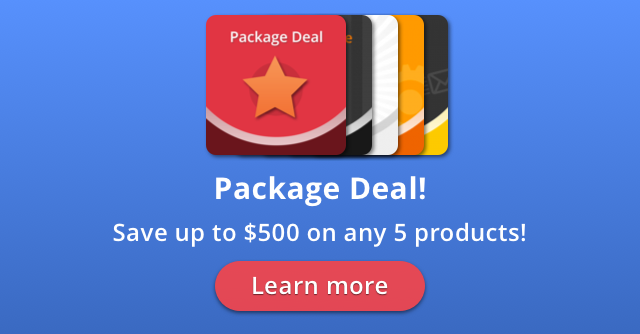 For the merchants starting new Magento 1 stores or just planning to boost sales in 2016 we offer great Package Deal. The deal allows you to grab any five Magento 1 extensions for just $499. We believe that this freedom of choice is the best option as far as you certainly better know your plans and demands.

How It Works


You purchase the Package Deal product on its product page;
You send the list of required extensions to our support team and get the accesses to requested extension packs from your account in our store;
After the purchase you can make use of the purchased extensions any time you like.


What You Should Now


Package Deal is valid for only aheadWorks Magento 1 Community Edition extensions and themes. No partner products, services or Magento 2 extensions are included;
The offer is active until the end of January 2016;
Package Deal provides you with the 90-day support period for all selected products.


Advantages and Benefits


Profitable for absolutely all Magento store owners;
Especially profitable for new Magento stores;
Up to $500-$1000 maximum savings depending on the set of chosen extensions.


In order to get more information regarding the Package Deal product refer to its page in our store. If necessary, send all your questions on the offer to our support team.

Choose your most required Magento extensions out of 100 modules in our store profitably!