We are extremely happy to announce the release of the new version of the Advanced Newsletter extension from aheadWorks. The new features added in the latest version allow you to avoid additional pages loading and considerably quicken and facilitate the process of managing customers' subscriptions, especially if you need to apply changes to a specified group of customers.
The Market Segmentation Suite integration allows you to accurately segment your customers basing on any criteria you require – customer personal details, newsletter subscription or product details – and afterwards with the Export Customers option you can subscribe/unsubscribe the whole group from any newsletter segment.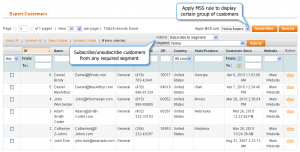 Forget about time-consuming necessity of manually searching each customer who has bought, for example, a cell phone from Nokia or 5 T-Shirts, and subscribing them (again – each by hand) to a proper Advanced Newsletter segment. Just apply the required rule and subscribe/unsubscribe the found customers all at a time!
Moreover, in Advanced Newsletter v.1.3 the following bugs have been fixed as well:


Unactivated customers are synchronized with MailChimp no more


Incorrect activation when subscribing customer from admin


Fatal error when enabling compilation


Intersecting rules triggered incorrectly


Minor bugfixes


Try the extension demo on the Advanced Newsletter page and make sure what an ample opportunity for targeting your subscribers is now opened up for you!