Affiliate programs are widely spread across the Internet and you can take advantage of any of them.
In order to evaluate the benefits of provided options you need to revise multiple factors influencing your profitability, but the main condition of your success are high-quality products, and we are ready to offer you exactly the thing.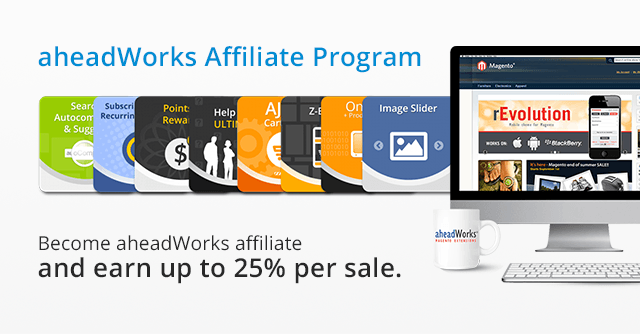 Not actually a thing, but 100+ premium-class Magento extensions widely known and valued by multiple store owners and developers within the Magento community.
You can be sure that you don't just have a chance to sell our products, but customers consider our products in the first instance, while your role is to properly explain the benefits of our extensions for each single need.
The leads generation in this case is especially easy since you have an access to multiple marketing and technical materials regarding our modules and themes at our store.
We also provide all necessary technical support:
Individual accounts for affiliates;
Dedicated linking tools available right from your account;
Detailed statistics on sales, conversions, and traffic sources.
The provided commissions are much attractive and you can make up to 25% for each sale. Refer to the table below.
Table 1. aheadWorks Affiliate Program Comissions

Commission payments are made on a quarterly basis, but you can also get it on demand. For the purpose, you should request the payout from your account or send us an email.
Our support team is always ready to answer your questions and solve the issues you face being our affiliate partner.
The subscription to our Affiliate Program is free and totally simple, as you just need to fill a short form and accept Affiliate Program Terms and Conditions. Once our team confirms your request, you will get the access to your affiliate account and be able to join our us.
If you still have some questions, visit the dedicated page in our store and refer to the FAQ section, please. Or just send us an email to [email protected].
We'll be glad to see you our affiliate partner!
If you have something to add to this post, share your comments below, please.
Subscribe to our RSS.