The specific feature of ecommerce, its advantage and frustration, is that online stores actually sell ideas of products without any actual access to tangible items.

If you go deeper, physical stores provide the same ideas just perceived by a larger number of senses, such as smell and touch, as customers are certainly not able to evaluate all consumer goods qualities right at the store.

Do we able to substitute those senses online with something equal? Actually, yes. Perhaps, not completely, still we are able to narrow that gap using multiple product images, which describe all sides of the product. This makes your customers stand closer to the product and make only conscious choices.
Note: 90% of information transmitted to the brain is visual, and visuals are processed 60,000X faster than texts. Sources: 3M Corporation and Zabisco.

However, if your catalog contains numerous items, the number of required images will be just tremendous and take from you much time to upload and assign them to products. The best option here is to hand off this work to an automatic tool, such as the Bulk Image Uploader extension from our partners.
Bulk Image Uploader

The Bulk Image Uploader extension allows you to automatically upload multiple images to the Magento store and assign them to necessary products. The only thing you need to do is to gather all files in one destination folder, either on your server or in your Dropbox account.

Main Features


Uploading up to 1000 images at once;
Uploading images for multiple products;
Import of images from a Dropbox account or local folder;
Automatic assigning images to certain products based on their names;
Automatic product images management, including setting primary product images, removing existing images before the upload, renaming image files after the upload, or deleting source files from destination folders;
Extension activity logging;
Easy Dropbox authentication.


Extension Configuration
Most activities of the extension are exercised behind the scene, so most of its features are set up at the configuration stage.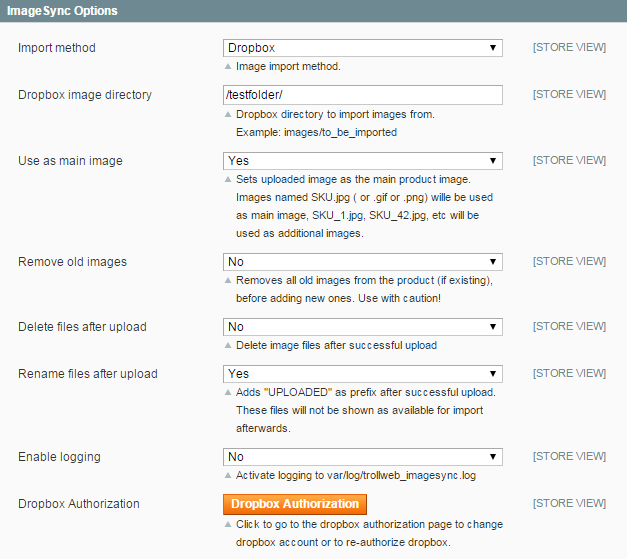 General Configuration

The image above clearly describes the configuration peculiarities of the extension, and the only thing, which is possibly not properly disclosed there is the Dropbox account authorization feature.

In order to authorize on Dropbox.com you should just click the Dropbox Authorization button and follow the provided instructions. The whole process consists of three steps:


Enter the Magento ImageSync on Dropbox.com;
Copy the code from the Dropbox page;
Enter the provided code to the text field and save the configuration.


That's all; now you can upload images from your Dropbox account.

Dropbox Authorization

Starting Import
If you installed the extension, configured it, set up the connection with your Dropbox account or ftp connection with the destination folder on your server, a new import session starts each time you enter Catalog -> Trollweb ImageSync backend tab.
Conclusion

The Bulk Image Uploader extension is able to save tons of your time and allows you to get rid of the routine. You will evaluate the benefits of this product from the very beginning while filling the product catalog and later each time you add or change images on your product pages.

Please visit the product page of the extension in our store and walk through the whole list of features. You can also refer to the product's documentation and try Bulk Image Uploader in action in our demo store.

If you have something to add to this post, share your comments below, please.
Subscribe to our RSS.