We expect you to be that type of a reader who regularly visits aheadWorks Magento extensions store and keeps track of alterations we bring to it. Anyways, it pays to do it, because we often announce time-limited sales saving you as much as 50% of the module price.

Most likely you could not help noticing that something new happened in our store. You might have detected it while browsing through our Magento extensions and suddenly spotting some products marked with the 'Coming Soon' label and not available for purchase. What is it and why are we doing this?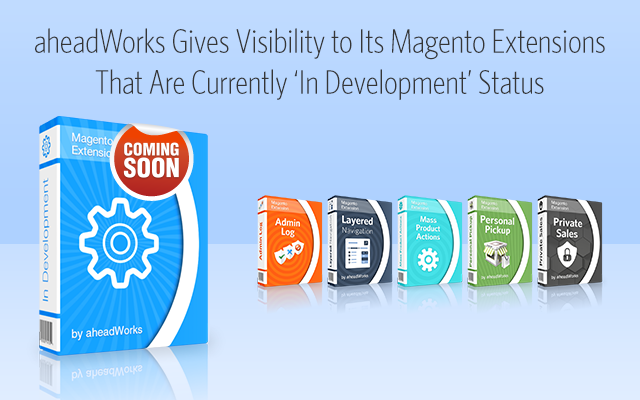 We constantly tell you how hard we're working on releases and updates (like industrious ants!), but we found out that our development process is not transparent enough. Merchants' needs is the main goal we are seeking to satisfy, and it's wrong they don't know what we are preparing for them.

Usually we receive plenty of extension requests via reviews, aheadWorks forum threads and personal correspondence. From now, we enable you to see what requests were put in development. To do this, simply run through our products in aheadWorks store and you'll see the ones 'in development' at the moment.
Tip to recognize a module 'in development': it has the 'Coming Soon' label and the 'in development' caption. The extension page contains a detailed description, main features list, yet not ready for sale.

Meet the first batch of the 'Coming Soon' extensions that are currently in development, but will be released later on.

















P.S. Why do you think we left one table field empty? Because we are looking forward to your suggestions what Magento modules should be developed next. Leave your ideas in comments!