We are announcing
a free trial period for all Enterprise extensions
in our store, aiming to support the Magento Enterprise Edition and demonstrate its high potential to incorporate extended functionality. All Magento Enterprise merchants are encouraged to
try
this service for free
and leave us feedback.
At the moment the Magento Enterprise Edition is less widespread than the Community version and, in our opinion, is rather underused, although more eCommerce transactions flow through the Magento Enterprise. Being the first and so far the only company that offers a free trial service on Magento Enterprise software market, we intend to boost the EE popularity in the community and outside it.

Trial conditions:


users may request at most 5 extensions per trial session




installation and deinstallation are free and provided by our support team upon request


As far as this offer is new to Magento ecosystem, I explain how to
request a free trial for our EE extensions
step by step.
1.
Navigate to the
Contact Form
on our website.
2.
Make sure the
Enterprise Free Trial Request
option in the
Please select the type of your request
menu is selected.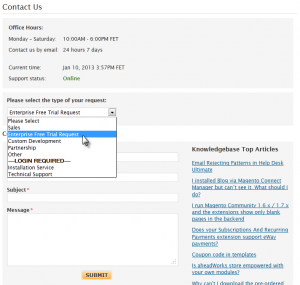 3.
Fill out the form and click
Submit
.
4.
After a while our support team will contact you and provide the requested EE extensions (with free installation/deinstallation if needed).
5.
10 days later, our support team member will inquire whether you are interested in purchasing extensions. If yes – you will proceed with the purchase, if no – module should be uninstalled and nothing will be charged.
If you are the owner of Magento Enterprise-based store or do development and customization for Magento EE edition, do not hesitate
to request a free Enterprise trial
and test our EE modules on your particular website. Our support department will help you install and deinstall extensions
at no cost
when the trial period is over.