So yes, we're all safe and sound, no global devastation has occurred so far (let's cross fingers) and the year 2012 became the part of history. It is a good time to draw some conclusions as long as the year 2012 was full of events, impressions and (what I like the most) – rich in meetings/conferences/chats/networking with good and talented people around the globe.

As a person who's mainly responsible for establishing partner links around aheadWorks, I'll focus on the partnership program and its large circle of partners.

In total, 36 partners from 18 countries helped us build the partners network in 2012. This way, we covered all the inhabited continents except for Africa.

Our partners are enrolled in Magento Industry and Solution Programs including 8 Gold, 4 Silver and 7 Bronze partners.

If we talk about the size, we've got small (up to 5), medium (10-15) and large (over 45 people) companies in our list of partners.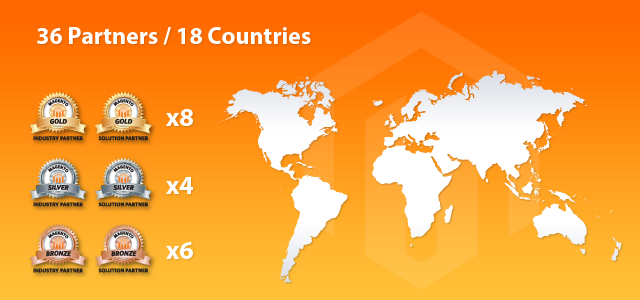 The services provided by our partners include programming, performance optimization, customization, hosting set-up, design and others.

The partnership program itself ran through several changes in 2012 as we changed its title, tiers and partnership levels.

For instance, in addition to several benefits such as discounts on aheadWorks products (up to 45% on the full range of products), dedicated support and consulting (see the full list on the partnership program page), we introduced a new one in December: now all our partners are provided with leads for the custom development services.

This latest offer is highly popular as seven new partners joined the program in December alone and I expect this number to keep on growing in 2013.

And finally, on behalf of the whole aheadWorks team, I'd like to thank our partners for being with us all through the year and we wish them to have even bigger ball in 2013. From our side, we'll do our best to be good and trusted partners to you.