Watching leaf fall in the serenity of the Indian Summer, Aheadworks is bringing the prices down to share generous discounts on the verge of Halloween.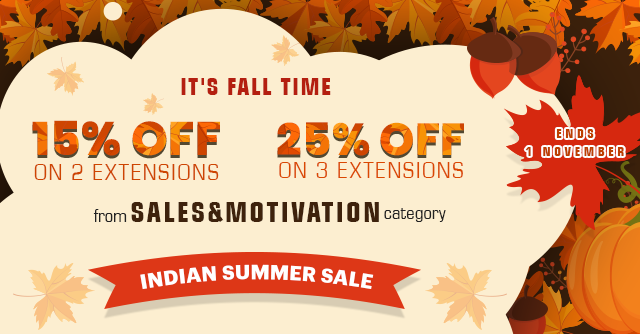 We could have run a regular Halloween sale, as we have already done, as we will of course do sometime in the future, but the fanciful weather of the period, the pleasant course of revival, warmth and gold, prompts to share now. It's fall time after all. In harmony with nature Aheadworks brings the prices down. Enjoy the Indian Summer discounts!
Top-up your cart with the extensions in golden yellow - the very hue of autumn, to get up to 25% off the bundle price. Harvest now! Put your cart together today, and save time to cut the Jack-'o-Lantern pumpkin. We will be rolling up the sale on the eve of Halloween, November 1st.
Luxuriating in the warm spell of the season, the Northern hemisphere are celebrating the goodness of the All Hallows time, Indian Summer a beautiful metaphor to. Halloween is the heyday of the period, a bright punctuation of the short interval of smoke and mildness in the prime of the late autumn warmth. These days are meant to charge us with gratitude and sense of everlasting revival to keep our spirits up during the headlong rush into winter. Motivating. The time draws lavish praise!
Grab a steaming cup and visit our store today for lucrative offers to complete your harvest. We have a kettle on, already whistling for you. Enjoy these second summer days.
---
| | |
| --- | --- |
| Promo Category: | Sales & Motivation |
| Bulk discount 1: | 15% - 2 yellow extensions |
| Bulk discount 2: | 25% - 3 yellow extensions |
| Deadline: | November 1, 2019 |