We've all been there – the constant struggle of acquiring new customers can feel like an uphill battle. And let's face it, it can cost a pretty penny – up to 5 times more, in fact, than retaining existing customers. But there's a way to help you ease this challenge while bringing in a steady stream of revenue: selling subscriptions online. That's where Advanced Subscription Products for Magento 2 comes in – the ultimate solution to seamlessly integrate subscriptions into your Magento 2 store.
With Advanced Subscription Products for Magento 2, you can create multiple subscription plans, offer discounts, and sell various types of products on subscriptions. But wait, there's more! Mixed cart, separate payments scheduling and a wide range of payment methods - our subscription plugin is a must-have tool for any Magento 2 merchant looking to boost customer lifetime value and take their business to new heights.
We've put together some seriously cool business cases to show you exactly how popular businesses are crushing it with Advanced Subscription Products. You'll get to see firsthand how they've seamlessly integrated subscriptions into their game plan, resulting in impressive growth and substantial financial success.
1. Sell One-Off and Subscription Products
BonGeo Pharmaceuticals presents a wide selection of innovative products, including specially tailored vitamins for men, women, and children. To prioritize their customers' well-being, the company offers the option to subscribe to vitamins, ensuring regular and timely deliveries. This way, families can effortlessly maintain a healthy lifestyle without ever running out of essential nutrients.
A business wants to sell both one-off and subscription products while enabling customers to pay for these items in a single transaction. This will streamline the buying process, ensuring convenience and user-friendliness for customers.
With the help of Advanced Subscription Products for Magento 2, BonGeo Pharmaceuticals allows customers to seamlessly select both one-off products and subscriptions in one mixed cart and complete their purchase with a single transaction.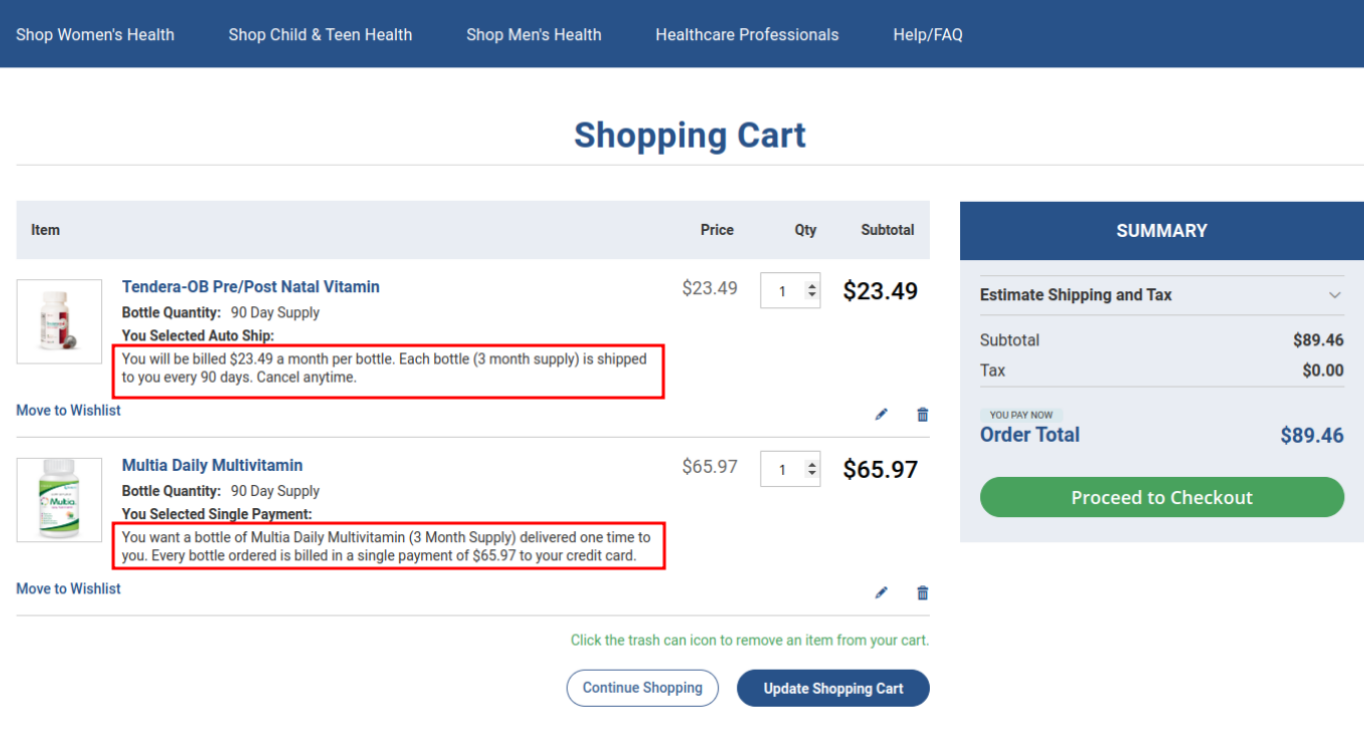 With Advanced Subscription Products for Magento 2, users can also offer customers the option to conveniently add one-off products to their nearest subscription. By simply clicking the "Add to nearest subscription" button, any additional one-time products in the cart will be included in the next scheduled subscription delivery.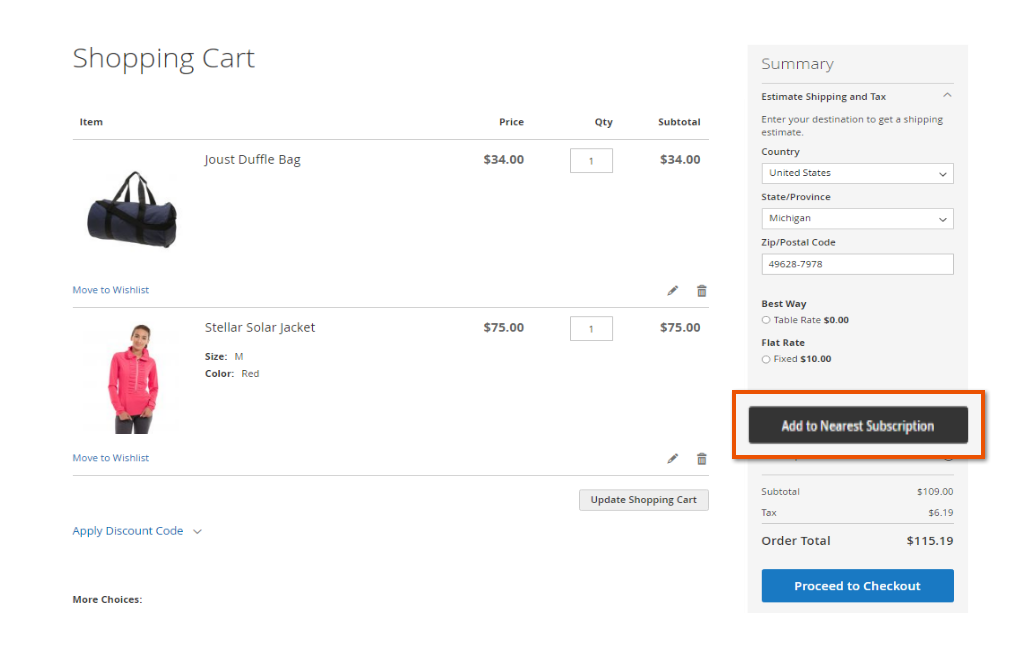 The Cornish Food Box Company focuses on quality, fresh, and locally sourced products that customers can purchase as a one-off or through a subscription. While subscriptions offer a convenient way for customers to receive their regular supply of Cornish goodness, it appears that the diverse product range may require more than one subscription to meet all customer needs.
A business wants to allow customers to buy premade subscription boxes or select multiple products within a single subscription to create a personalized subscription box.
By leveraging Advanced Subscription Products for Magento 2, the Cornish Food Box Company was able to sell subscription boxes. These boxes allowed customers to create one subscription to all the products they wanted and enjoy a lower price compared to making individual one-off purchases.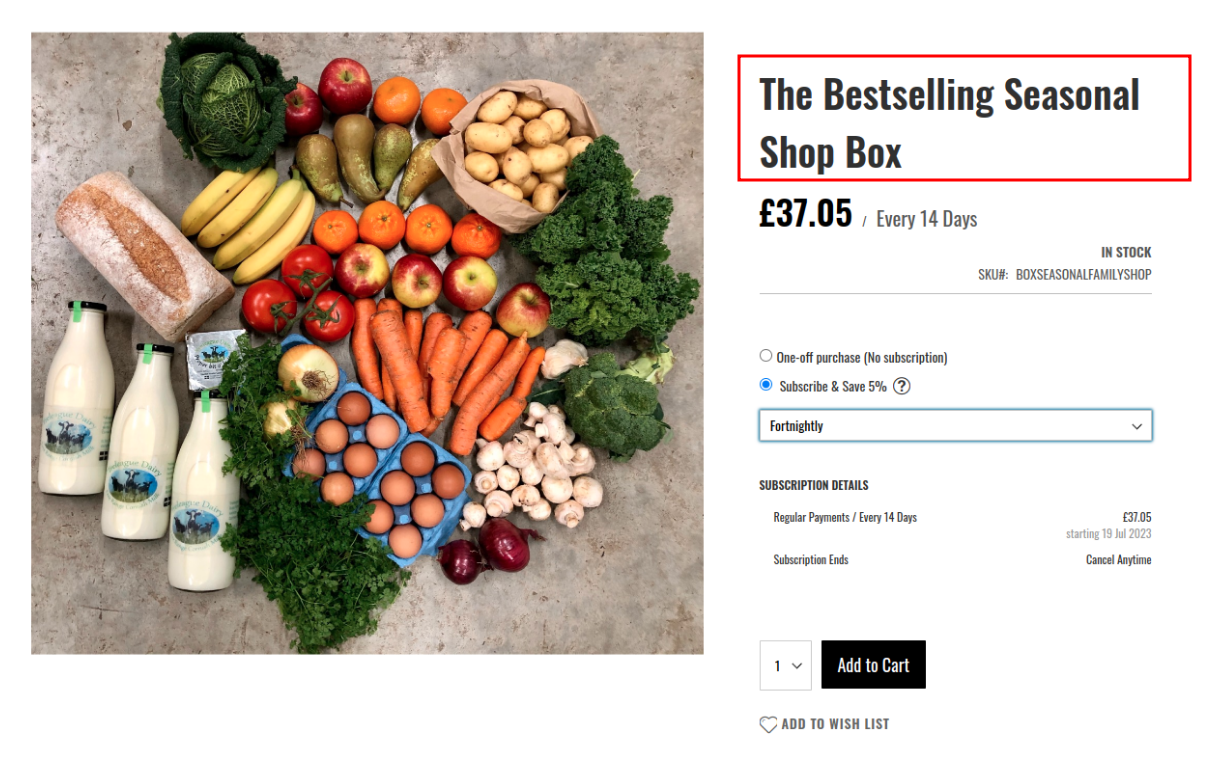 Furthermore, as a custom development provided by Aheadworks, The Cornish Food Box Company's customers gained the flexibility to include or exclude specific products from their subscription box for the next billing cycle. This gives them the freedom to adjust their subscription to align with their changing preferences and needs.
By offering customizable bundles (boxes) and empowering product selection, you can achieve higher levels of customer satisfaction and loyalty.
Check out how to create subscription bundles in the video below:
GOLD COLLAGEN® is a popular brand of collagen-based liquid supplements that slow down aging from within. They offer both one-off purchases and subscriptions, providing customers with a hassle-free way to receive their favorite products regularly. Subscriptions ensure a steady supply, simplifying shopping and helping customers maintain their beauty and well-being effortlessly.
A business wants to stimulate customers to buy subscription rather than one-off products, because subscriptions grant recurring payments and more stable revenue.
GOLD COLLAGEN® relies on Advanced Subscription Products for Magento 2, enabling them to offer enticing benefits for customers who opt for subscriptions over one-off products. By choosing a subscription plan, customers can enjoy a discount, saving money on their favorite supplements. Additionally, they receive treats and free delivery for orders over £100, enhancing their overall shopping experience. Moreover, the flexibility to cancel the subscription at any time ensures customers have complete control over their subscription journey.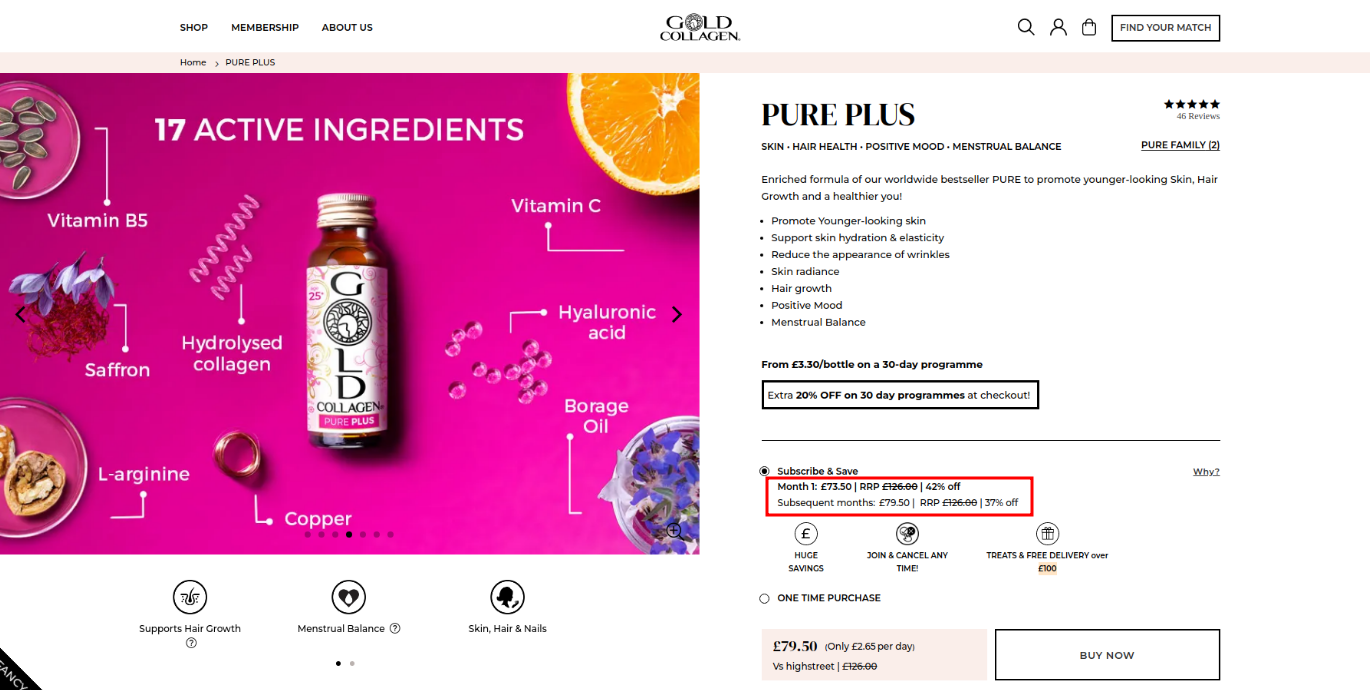 4. Provide Different Payment Options
Homefire is the UK's premier supplier, manufacturer, and distributor of a wide range of heating products, including kiln-dried firewood, heat logs, smokeless coal, BBQ fuel, and firelighting accessories. As one of the options, they offer subscription to some of their products.
A business understands the importance of customer convenience and aims to offer various payment options for subscriptions. Additionally, they prioritize flexibility and want to allow customers to change their payment method for ongoing subscriptions.
With the help of Advanced Subscription Products for Magento 2, Homefire offers their customers the flexibility to pay for subscriptions using credit cards, PayPal, or Google Pay. What's more, customers can easily switch their payment method at any time for their subscriptions, making the process smooth and user-friendly.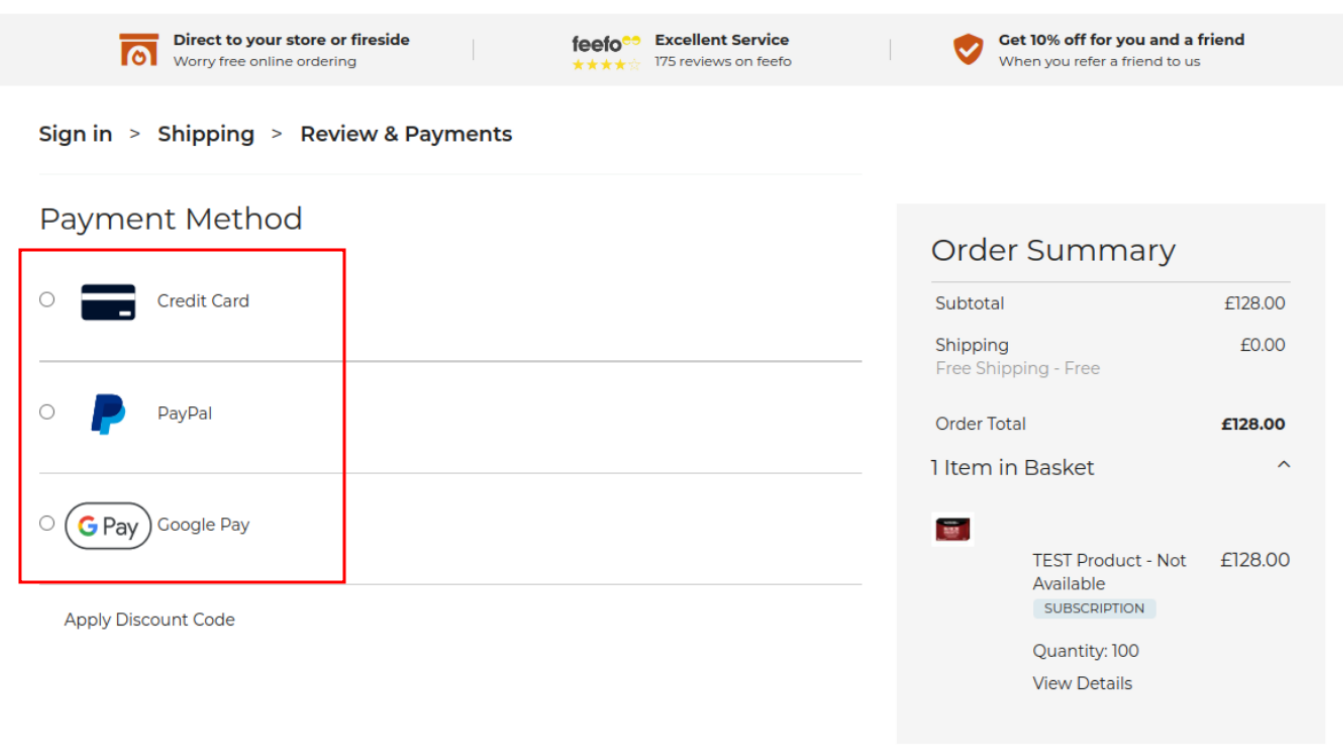 And that's not all - the Advanced Subscription Products extension supports a wide array of payment methods. From Stripe, Adyen Google and Apple Pay, NMI by Aheadworks to Adobe Payment Services, Cash on Delivery, and many other payment options. Check the full list on the product page.
More options to grow your business with Advanced Subscription Products
Hand over subscription control to customers
With Advanced Subscription Products, you can give customers full control over their subscriptions. This means customers can easily update their payment details, remove products they no longer need, switch subscription plans, change the next payment date, and edit shipping addresses – all within 'My Subscriptions' tab in their customer account area.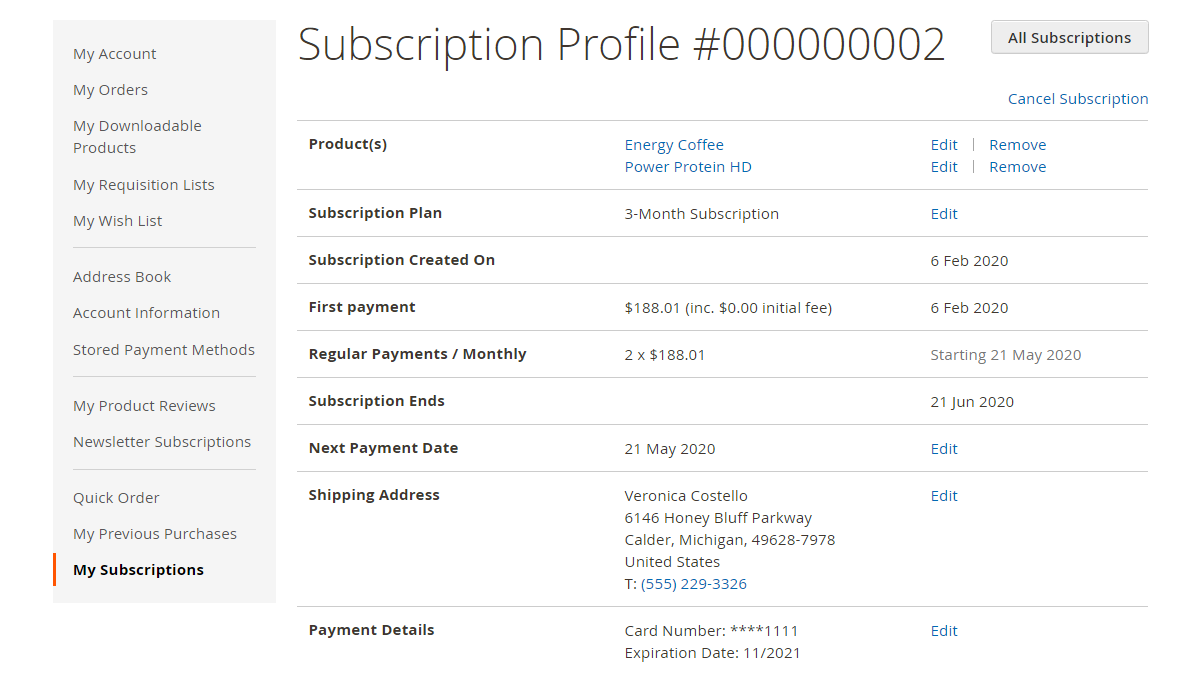 This level of control empowers customers to manage every aspect of their subscriptions, achieving greater flexibility and convenience. It allows businesses to save time and resources that would have been spent on manual customer support requests.
Sell different types of products as a subscription
With Advanced Subscription Products, you have the flexibility to sell a wide range of products as subscriptions. From configurable products, simple, virtual, downloadable, to bundle products, all can be offered to customers as subscriptions, providing versatile options to cater to diverse customer preferences and needs.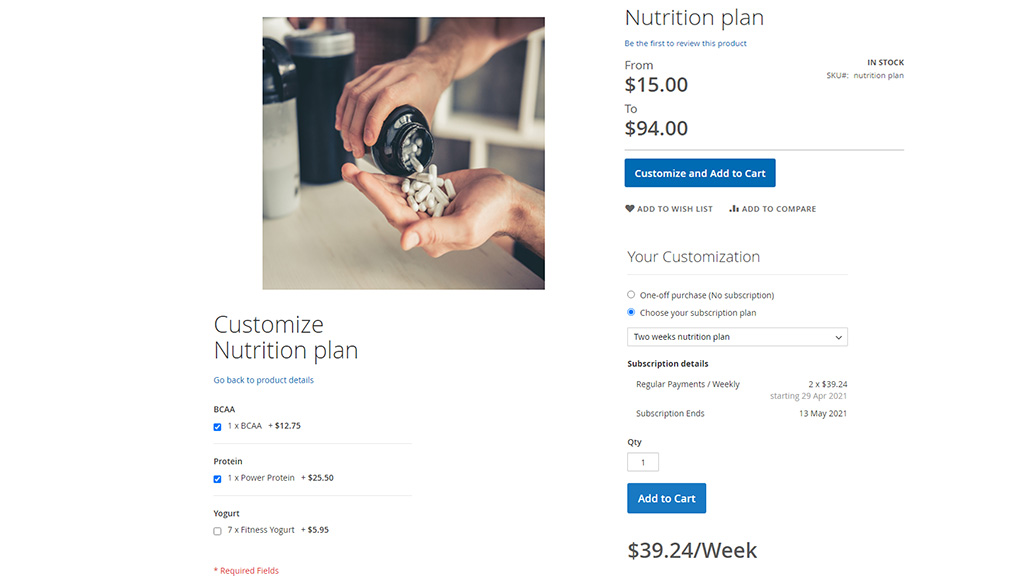 Offer the most beneficial price to customers
With the Recalculation of Totals feature in Advanced Subscription Products for Magento 2, you can automatically recalculate prices for recurring subscription orders to provide the most beneficial price for customers. This feature compares discounts from price rules and subscription plans, ensuring customers receive the best deal on their recurrent orders. 
For example, if a subscription plan offers a 25% discount, but a special promotion campaign provides a 50% discount, the system will apply the most advantageous discount for the customer, encouraging loyalty and satisfaction. Read more about discount management for subscription plugin here.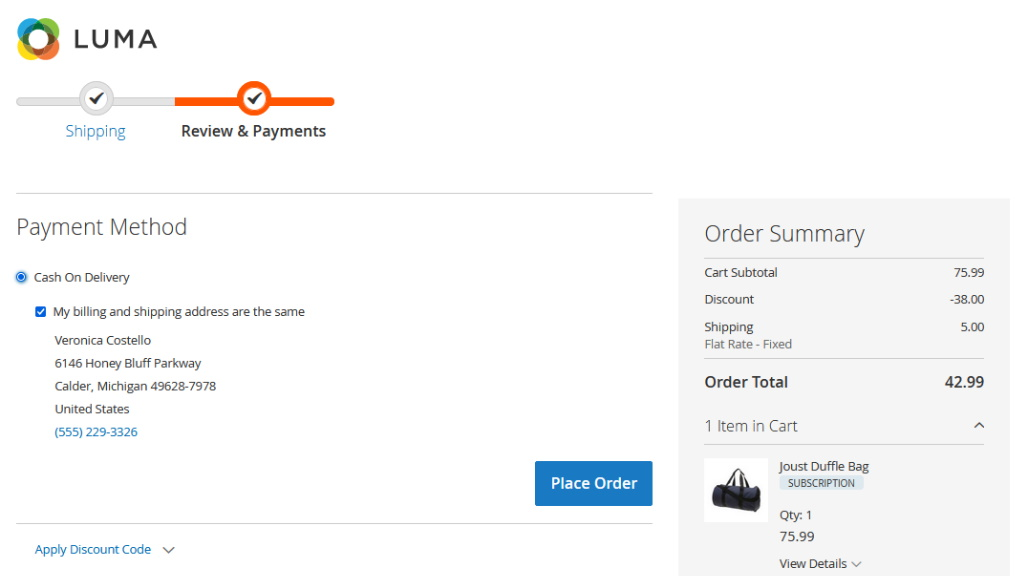 Advanced Subscription Products for Magento 2 is a game-changing solution for businesses looking to embrace the power of subscriptions. With its versatile features, it opens up new possibilities for enhancing customer experience and driving recurring revenue streams.
If you're ready to take your business to the next level, you should give Advanced Subscription Products a try. Who knows, next time, we could be featuring your success story!