We understand how difficult it can be to enter an international market. According to a study by Harvard Business Review, as many as 95% of companies that enter new markets fail to achieve their goals.
"Our company is expanding globally, and we want to increase sales by translating our website into the languages of our target countries. However, the current process of collecting content, sending it to translators, and then importing the translated content back to our website is a real pain in the neck."
LangShop for Magento 2, a Magento 2 multi-language extension, is here to simplify your entire website translation process. Our extension assists you in establishing a conducive environment for successful internationalization and localization of your Magento 2 store.
In this article, we'll describe the full process of Magento 2 store localization. By the end of this article, you will have a thorough understanding of how to create a multilingual website on Magento 2. So, if you're ready to take your eCommerce website to the next level, keep reading to learn more about the benefits and features of Magento 2 website language translation.
Induction into Magento 2 language translation
Translating a website on Magento 2 is a multi-step process that involves researching and understanding the target market, choosing the right content to translate, and implementing a translation plugin. Let's dive into an initial preparation for Magento 2 store translation.
Add multiple languages to your Magento store with LangShop!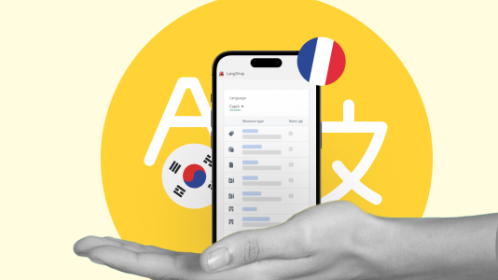 Before translating an eCommerce store, it is crucial for merchants to conduct thorough research in order to understand the target market and tailor their translated content to the local culture and customs. This research should include the following steps:
Language research: Understand which languages are spoken in the target market and which languages are most commonly used online. This will help determine which languages to translate the website into.
Cultural research: Research the cultural norms, customs, and values of the target market. This will help ensure that the translated content is appropriate and relevant for the target audience.
Competitor research: Analyze the competition in the target market and understand the strategies they are using to reach the target audience. This will help identify any gaps in the market and incorporate the solution into the translation strategy.
Search engine research: Understand how people search for products and services in the target market. This will help you include only relevant keywords and product descriptions.
Customer research: Conduct surveys, focus groups, and other forms of customer research to understand the needs and preferences of the target market. This will be helpful for translation of product descriptions, categories and other important sections of the website.
This kind of research will help increase the chances of success in the new market.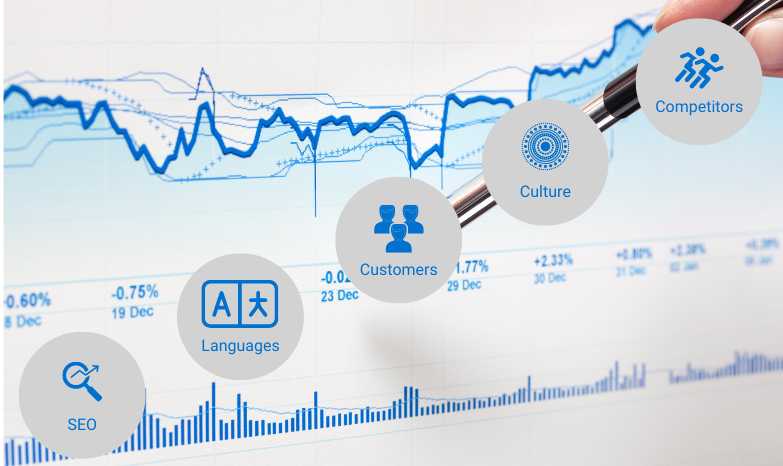 2. Choose the content for translation
Determining which pages and elements of a Magento 2 website to translate is an important step in the process of creating a multilingual website. It is essential to identify the most important pages and elements that should be translated in order to provide the best user experience for visitors in different languages.
There's no need to translate pages that will be irrelevant for the new audience, so you can remove them from the language version of the website. You should focus on translating the most important pages on the website:
Home page

Product pages 

Category pages 

Shopping cart 

Checkout

Customer account pages. 
The translation of these pages will contribute to improved user experience for visitors in different languages.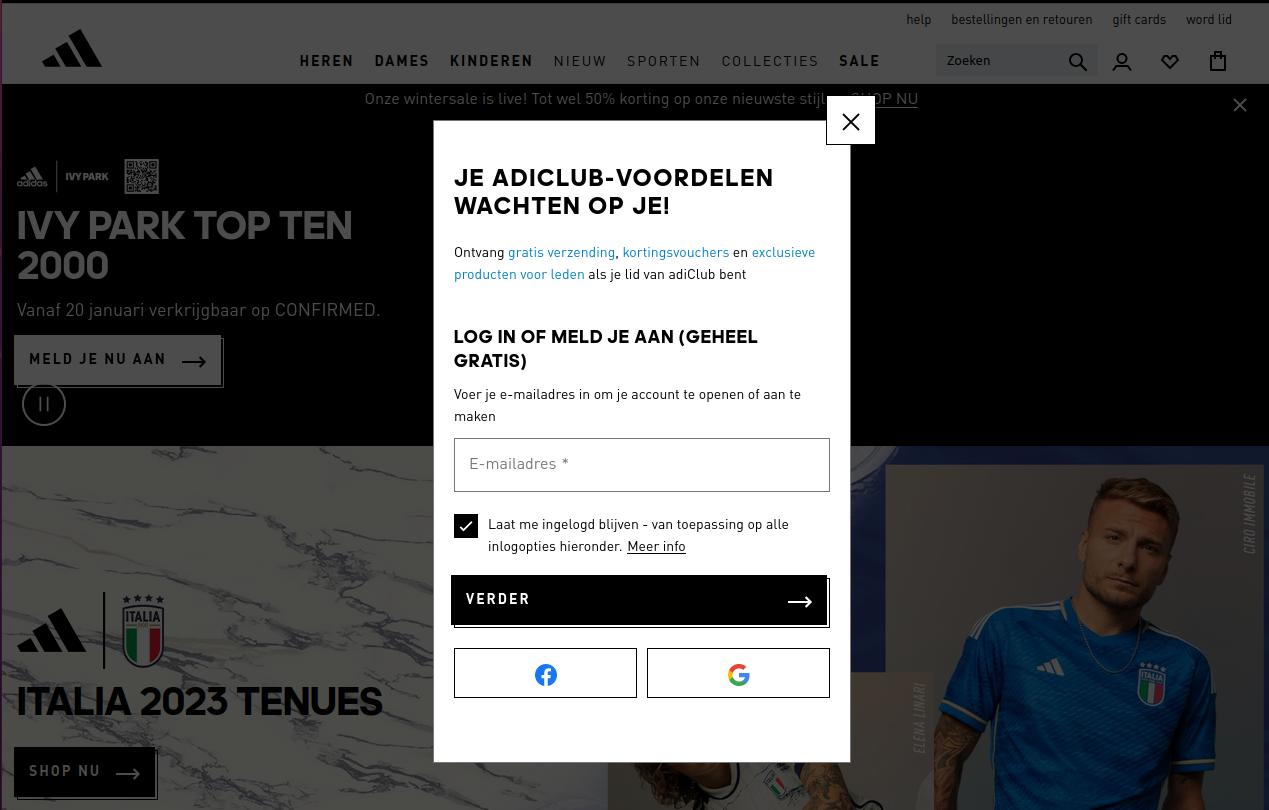 3. Choose translation plugin
A translation plugin is crucial for the success of a multilingual Magento 2 website. Here are a few factors to consider when selecting a translation plugin:
Compatibility: Make sure that the plugin is compatible with your version of Magento 2 and any other extensions you are using on your website.
Features: Look for a plugin that offers a wide range of features such as multiple languages support, different translation methods, the ability to translate core website elements, etc.
User interface: Choose a plugin that has a user-friendly interface and is easy to navigate. This will make it easier for you to manage and update the translated content.
Support and documentation: A good translation plugin should come with comprehensive documentation and have a reliable support team to assist you in case of any issues.
LangShop for Magento 2 is one of the best language translation extensions that meets all of these criteria. It is fully compatible with Magento 2 and offers a wide range of features:
247 languages and dialects support;

4 translation methods, including AI machine, manual, pro (Google Cloud Translation, DeepL Pro Translation) and agency translation;

Product pages, categories, attributes and checkout translation;

Glossary for more accurate translation results;

Translation in bulk;

Translation suggestions, etc.
LangShop also provides a user-friendly interface and comprehensive documentation, making it easy to manage and update translated content. Additionally, LangShop offers a reliable support team to assist you with any issues or questions you may have.
How to translate Magento 2 store into multiple languages
Now, when you are familiar with a good solution to create accurate translations for your Magento 2 website, let's look at the technical side of the process. In this section, we'll answer how it is to translate a store into multiple languages from the very beginning.
1. Install LangShop (Free Plan Is Available)
First of all, you need to install Magento connector. For it, login to your ssh console and follow the instruction given here. 
Once it's done, select LangShop plan. LangShop provides a variety of subscription options for merchants looking to create and manage a multilingual store on Magento 2. The cost of LangShop depends on the features included in the plan you choose. You can choose between Free, Basic, Standard or Advanced plans.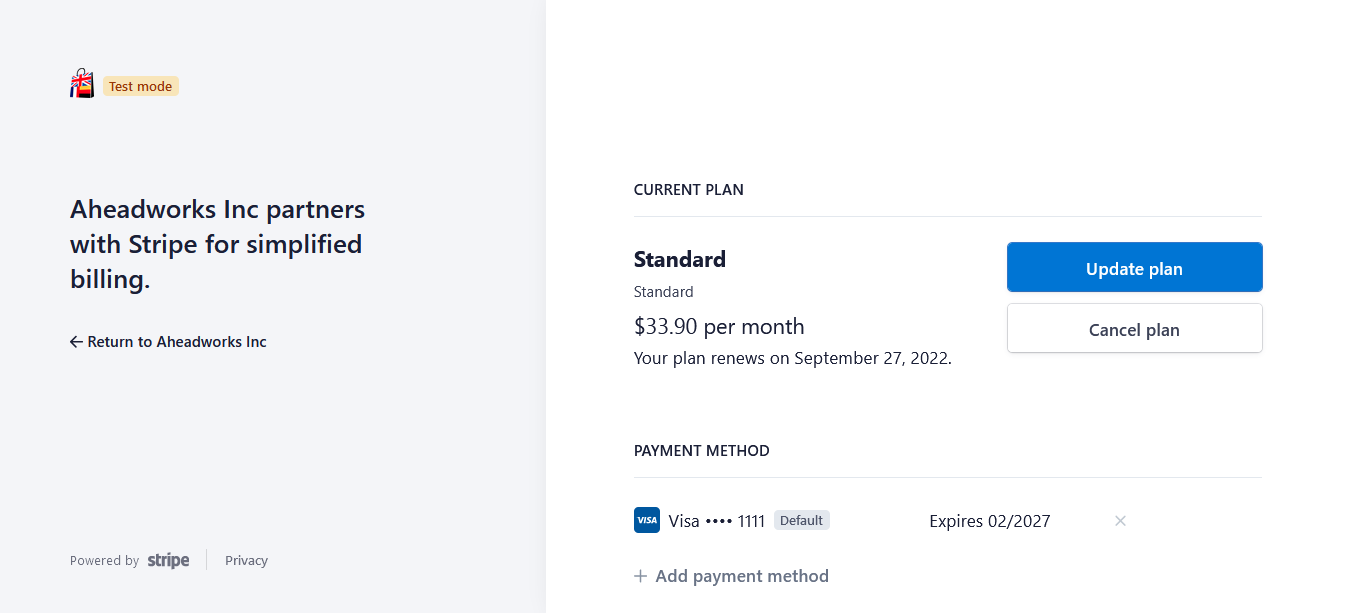 2. Add additional languages
The next step you need to do before translating content is adding new languages to your Magento 2 store. Select the desired languages from the list in the LangShop admin and create a store view for each language in Magento admin, so the system could generate a language version.
For it, go to Stores > All Stores > Create Store View. Then, set a language for each view in the General Configurations section in the Locale field.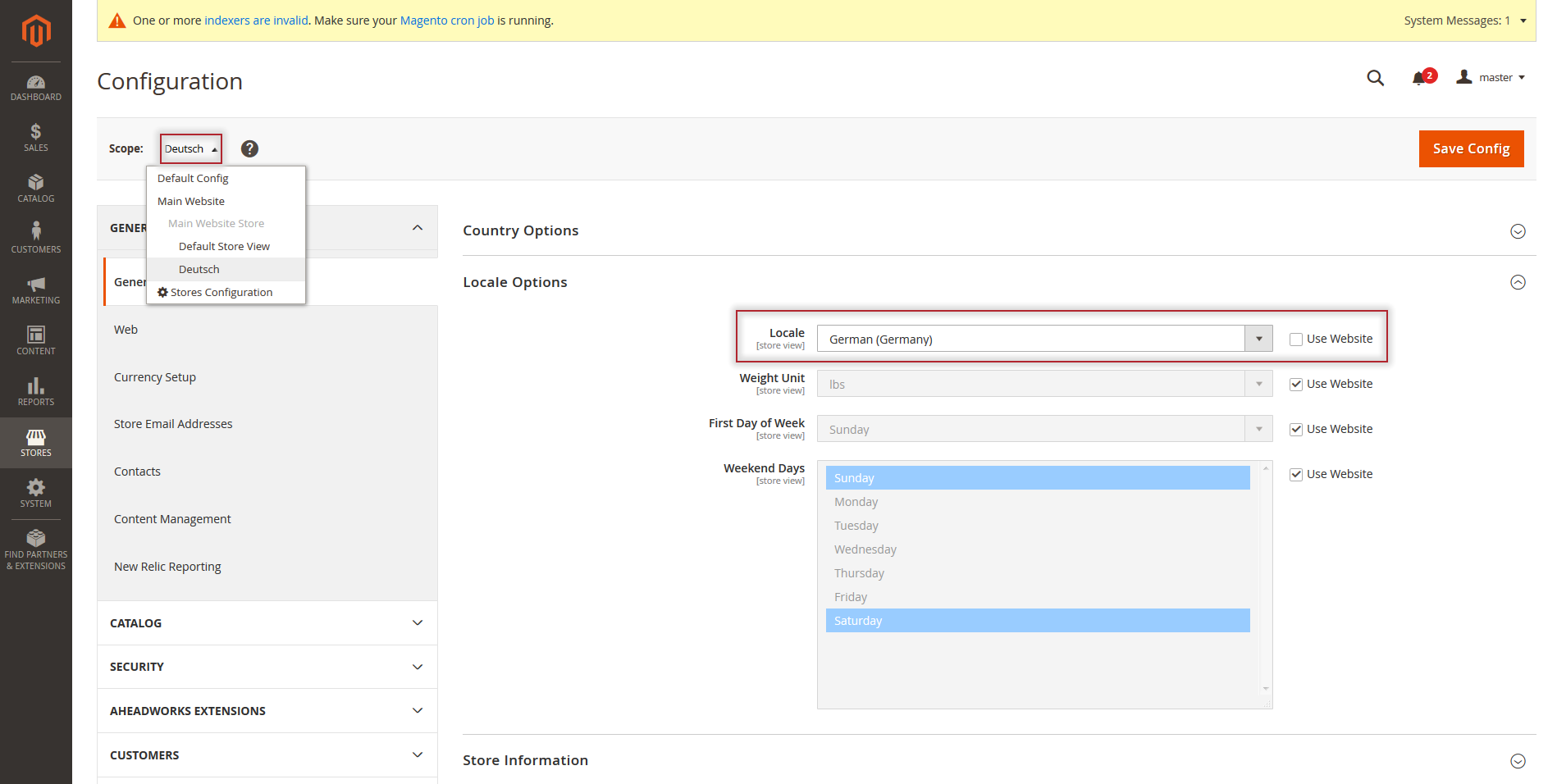 When all configurations are set, go to Stores > Configuration > Aheadworks Extensions > LangShop and choose the store views you want to translate.
3. Prepare for translation
Proper preparation can help ensure that the translated content is accurate and appropriate for the target audience. Here are a few steps to help prepare for translation:
Create a glossary:

A glossary is a list of terms and phrases used on the website and their corresponding translations. This will ensure consistency in the translations and help avoid confusion or misunderstandings.
The glossary manages two types of rules: "never translate" and "always translate as". The first are usually used for terms and brand names, while the second are helpful for homonyms, multi-meaning words.
To create glossary rules, from LangShop admin, go to Glossary > Add new rule. In the appeared window, choose the type of the rule and write the phrase you want to be translated in a specific way and save configuration.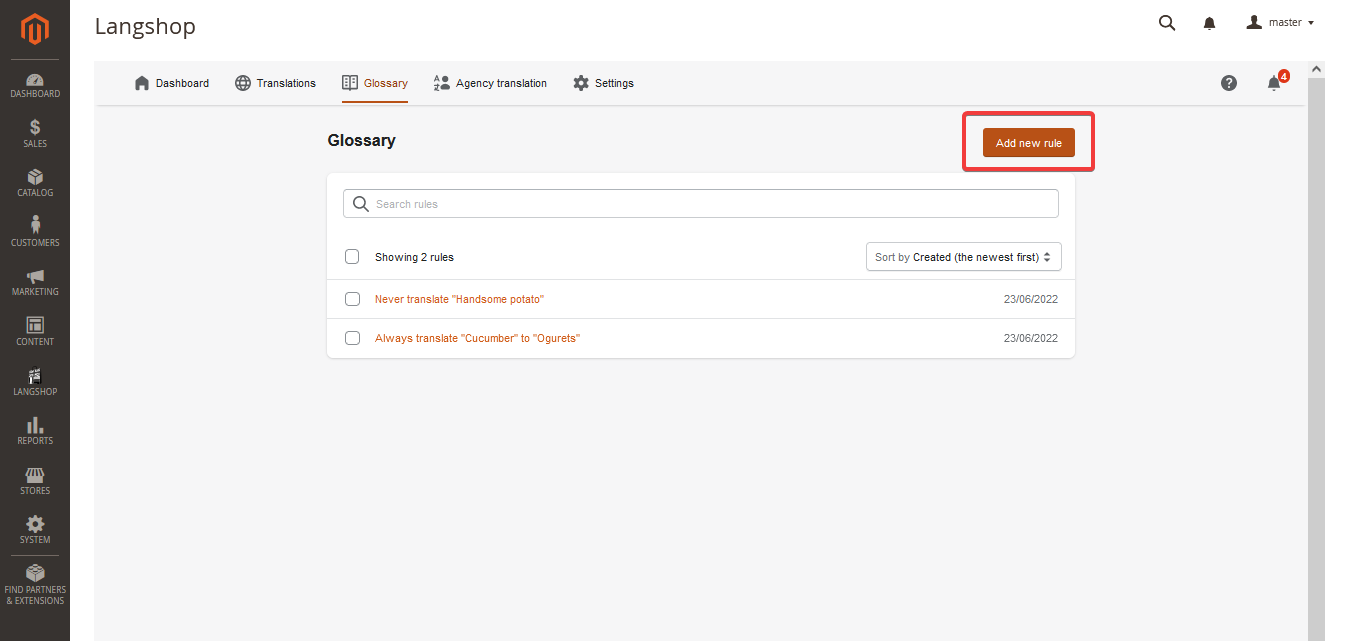 2. Gather all the necessary content: Collect all the content that needs to be translated, such as product descriptions, categories, and other important sections of the website.
3. Choose the translation method: Decide which method is the best fit for your business needs and budget. There are different methods of translation:
AI machine translation uses multiple translation engines for content translation. It's the fastest translation way, however, the result is not of the highest quality.
Pro translation uses one of pro translation engines: Google or DeepL Pro for content translation. It's not as fast as AI machine translation and requires an API key from the translation engine. However, the quality of translation is higher.
Agency translation is the translation performed by native speakers. Thanks to LangShop's integration with Text Master, you can order translation performed by qualified translators and upload it in one click. No need to manually gather all the data and upload it product by product. Just select elements from the list and send them directly to the translation agency with a single click. 
Manual translation

is a time-consuming translation method and keeps the control over translation quality in your hands. We recommend using it for editing translated content.
By following these steps, businesses can ensure that the translation process goes smoothly and that the translated content is accurate and appropriate for the target audience. 
4. Translate your Magento 2 store
Manual Translation
To manually translate or edit pages and elements on your store, from LangShop admin go to Translations and choose the element/page you want to translate. Add the translation in the right fields and save.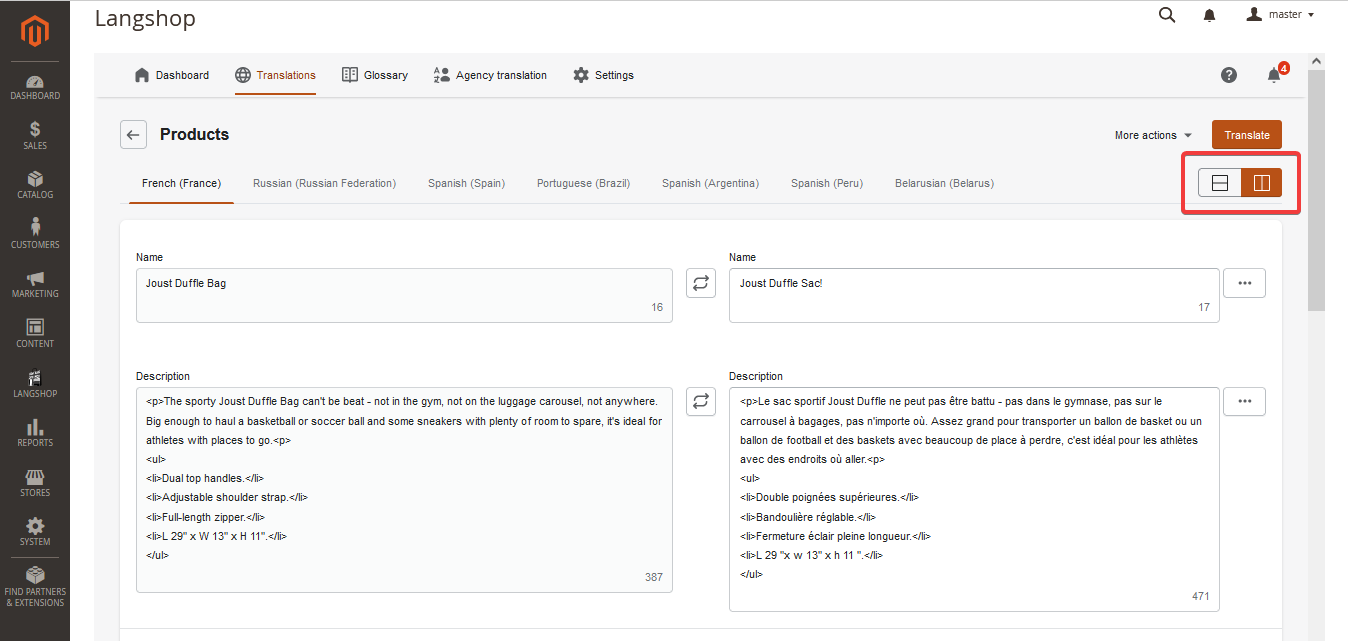 AI machine Translation
To translate Magento store pages/elements quickly, in the Translations section select pages/element you want to translate and click the Translate button. In the appeared window, select languages and components; then click Translate. That's all - super quick and easy language translation!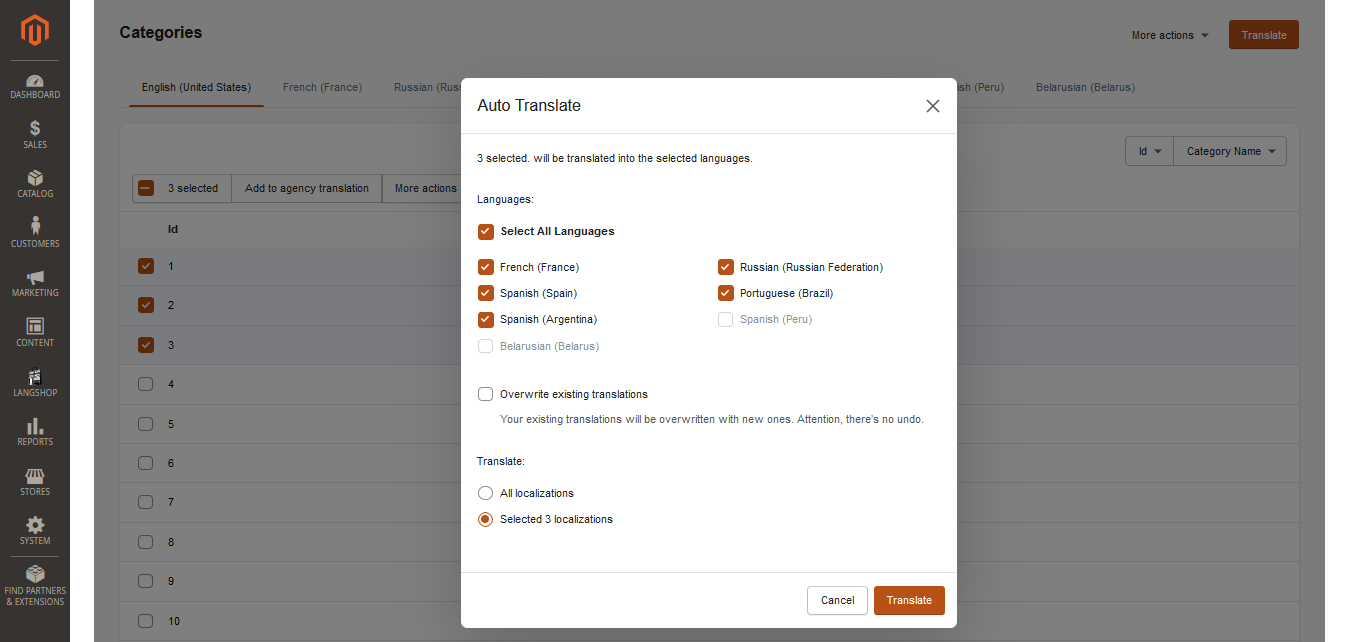 Pro Translation
To use pro translation, you need to activate API key in Settings > Translation Engines. Then, go to Translations, choose the element/page you want to translate > Translate. In the appeared window, choose your pro translation engine, select languages, components and click the Translate button.
Agency Translation
You can order store elements' translation in bulk, which will be automatically uploaded to the relevant website version once you approve it. 
To gain high quality translations, from LangShop admin you'll need to select pages and elements in the Translations section, click Add to agency translation, specify languages you want to translate the content into and tap the Add to cart button. Then, in Agency translation > Cart section review your order and fill in the required field and pay for your order. The translation is performed in 48-72 business hours and is sent to your review. Once you mark it as reviewed, the translations will be automatically imported into the language version they belong to.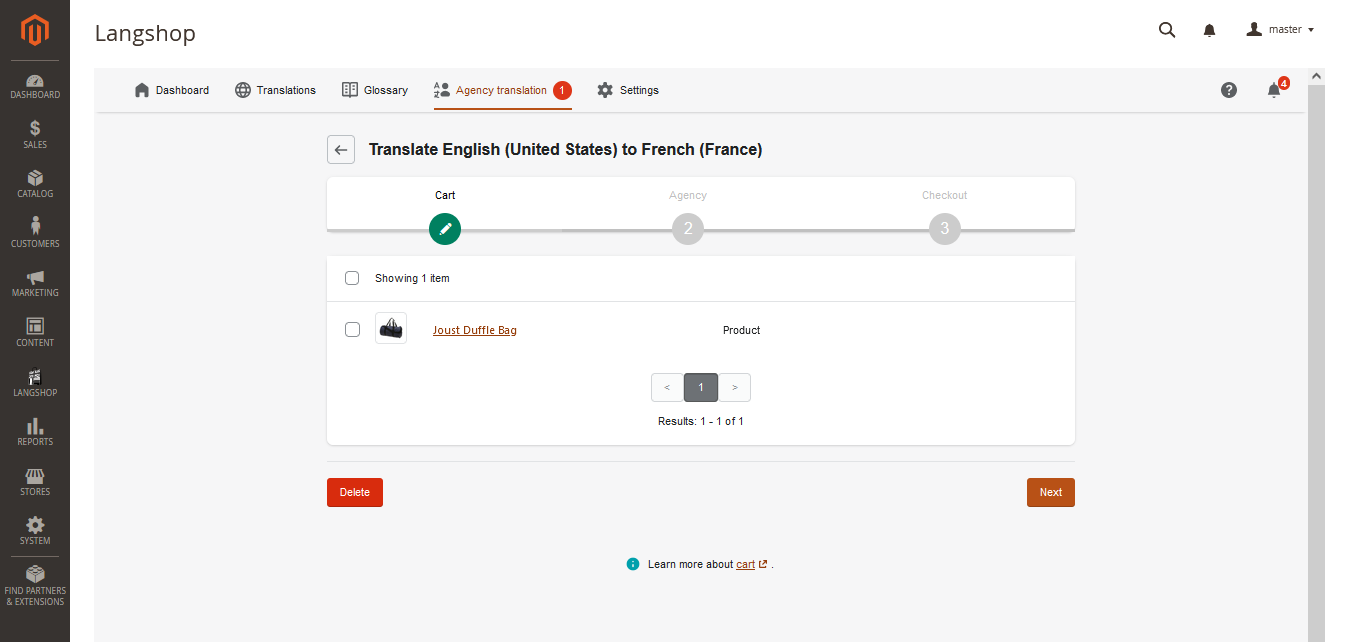 5. Review and update translated content
Regularly reviewing and updating translated content can help ensure that the translated content is free of errors and inconsistencies. It also helps to ensure that the translated content is in line with the latest changes in store or the target market.
With LangShop, a Magento 2 translation extension, you can easily expand your online store to new markets by providing a localized user experience. If you're looking to launch a multilingual website using Magento 2, give LangShop a try and see the benefits for yourself.
Create a multilanguage website in just a few steps with LangShop!