It's a generally known fact that cross-selling helps to increase the income derived from your clients. This selling technique allows you to draw customer's attention to products that are related to the one he/she is interested in.




The Automatic Related Products 2 Magento extension puts a new spin on adding related products to your store. You can specify rules for items selection and spark the interest of your customers in buying more products in addition.




This October day we have great news for you – the Automatic Related Products 2 extension has been updated and has three new powerful features implemented.




With Automatic Related Products 2 v.2.3, you can display the block with related products not only on the category and product page, but also on the shopping cart page.








Now you are able to promote products, based on customer's choice, in the shopping cart. The block can be displayed before the content, instead of native cross-sells block, or it can be added to any place of your store through CMS, widget or layout, so related products will appear on a page after the cart is filled in with the required item.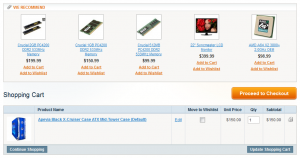 The second possibility of the updated Magento extension is to sort related products in the block, so the items can be displayed in the sequence you want. Just specify the attribute products will be sorted by - name, weight, quantity, etc. - and define whether they will be displayed in ascending or descending order. For example, you can make related products sorted by price and displayed in ascending order.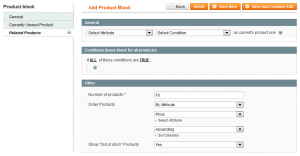 Moreover, Automatic Related Products 2 allows you to show out-of-stock items in the related products block. Though, your customers can add these products to wishlist or compare with other items.
Note that related products can be compared only if the ARP2 block replaces the native cross-sells block.
Remember, if your support period is active, you can download the latest version of the extension absolutely for free!
Find the complete list of features on the Automatic Related Products 2 module page.