Our previous Alexa 1 million top sites survey unveiled an unsurpassable leadership of Magento CE among world top e-commerce platforms.
But things change rapidly in this fast-paced and highly competitive market, and Magento itself undergoes significant changes. So, in order to keep abreast of the latest changes and trends we prepared a new edition of the study.
The
current research is updated with new platforms
, included into the main sample, and delivers a bit different relative data, but the absolute changes, we discovered, clearly explain the main trends.
Study Description
The
study supervises Alexa 1 million top sites
and detects the stores, which use one of thirty two e-commerce platforms included into the survey. Compared with the previous study, this edition is extended by 12 new platforms, including WooCommerce, Yahoo Stores, Demandware, OXID eShop, etc.
Note: We'd like to remind you that the obtained results are accurate only under specific conditions of this study.
E-commerce Platforms Popularity Study
Magento CE takes the leading position
among the examined e-commerce platforms in Alexa 1 million top sites. The nearest competitor WooCommerce is 5% behind the leader, and thus, together these platforms take 46.4% of the market share.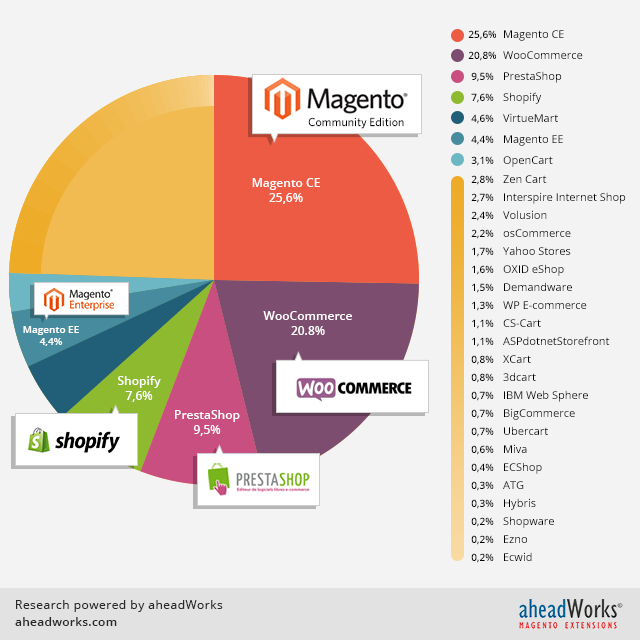 The great insight here is that comparatively different e-commerce solutions have almost the same popularity and market shares. The only difference, worth to be mentioned, is that the sites based on Magento CE have higher positions in the Alexa rank. For example,
Alexa Top 100 thousand sites contain 68% more Magento CE sites than WooCommerce ones
.
If we continue to exploit the Paretto principle, we'll discover that top
7 e-commerce platforms, which constitute 22% of the total quantity, hold 76% of the market share
.
Due to the added e-commerce platforms to our investigation, the shares declined, compared to previous study, but, excluding WooCommerce,
the leaders are still the same
: Magento CE, PrestaShop, Shopify, VirtueMart, Magento EE.
However,
their progress since the last study differs greatly
. Shopify is still the most progressive, just as in the previous study, and grew by 26.5% since April, 2014. While the total number of sites running Magento CE within Alexa 1 Mln increased by 13.5%, and PrestaShop sites - by only 2.8% over the same period. Below you will find the changes in progress of all platforms in comparison to the previous April's study.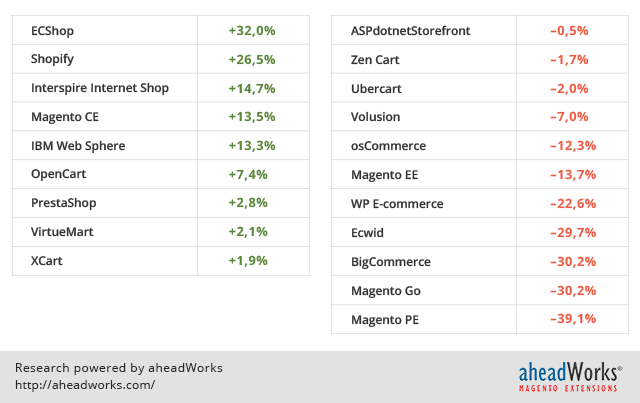 Expectedly,
Magento Go and Magento PE are decreasing
and take "leading" positions among the most regressing platforms. However, Magento EE is also rather unsuccessful within the past period and performs the 13.7% decrease.
And yet some noteworthy facts: the OpenCart platform increased by 7.4%, while Volusion and osCommerce decreased significantly, by 7% and 12.3% respectively.
Google Trends
Magento in Google Trends
The search value of the leading platform names differs a bit from our results, and PrestaShop is ahead of WooCommerce. Perhaps, we can explain it by a comparatively short history of WooCommerce, but, as you see, it performs a great spinup. Anyway, the progress of the platforms we observe on this chart is in line with our findings, where Shopify is the fastest (we have no previous data about WooCommerce, unfortunately) and PrestaShop and VirtueMart are in slight plus.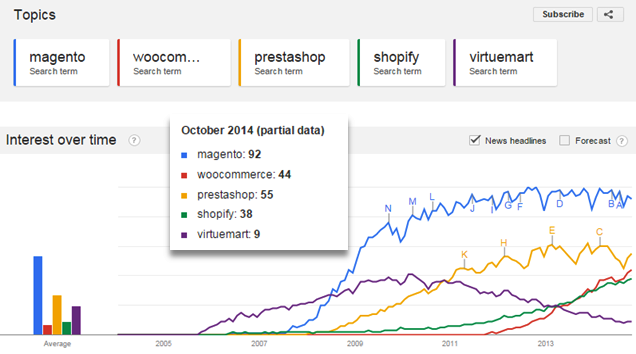 Source: http://www.google.com/trends/
As the Google Trends service provides us an opportunity to compare the progress of any search term by countries, we made that comparison for Magento and got the next results.
Inspecting traditional Magento markets in Google Trends we can see, that most of them are not booming and, perhaps, only the UK one has great chances for the further increasing. But it, possibly, caused by the fact that most Magento merchants handled their issues about Magento in these countries and reduced the number of their queries to Google.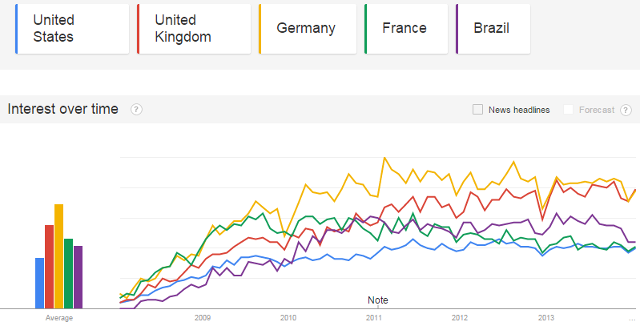 Source: http://www.google.com/trends/
Together with the stabilization in the European and the U.S. markets
Magento continues to extend to Asia
, including China and India.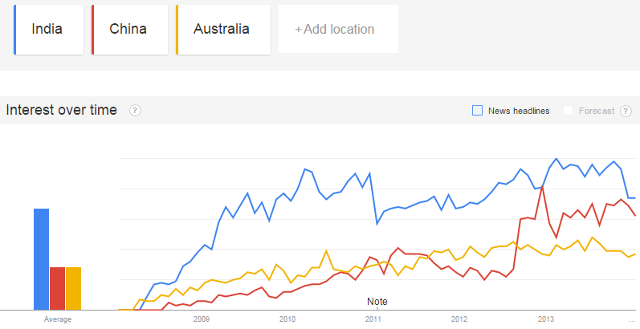 Source: http://www.google.com/trends/
Largest E-commerce Markets
Magento is the most popular platform in the U.S.
according to the Google Trends search query volume in 2014. Still Shopify is also almost there and even overdoes Magento in October. WooCommerce is also rather popular in that region and grows slowly.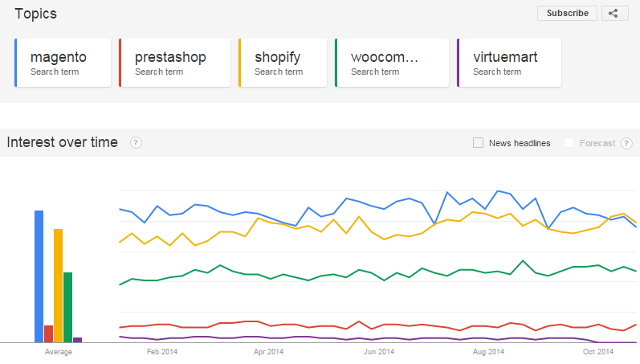 Source: http://www.google.com/trends/
Magento is the only platform, which has enough search volume to build a chart in China. We should note that starting from June the quantity of Magento search queries more than doubled in this region.

Source: http://www.google.com/trends/
The UK e-commerce market is more interested in Magento, and much less in PrestaShop, however, Magento demonstrates here obvious decline in 2014. Shopify and WooCommerce are also popular in this region, still far from Magento, anyway.

Source: http://www.google.com/trends/
The same to the Chinese region, Magento is the only search term used often enough in Japan among other e-commerce platforms being under consideration in this survey.

Source: http://www.google.com/trends/
Germany is addicted to Magento
, but things, apparently, change. Today Magento has no any powerful competitors in this region, but its decrease disturbs considerably.

Source: http://www.google.com/trends/
So,
Magento leads in all world largest e-commerce markets
, but its positions are not unbeatable. It constantly reduces in European markets and cedes its leadership in the U.S. market, but its positions are strong in the Asian region.
Key Findings


Magento CE takes the 25.6% share, which is the greatest one among other e-commerce platforms, and grows considerably;


WooCommerce is the second biggest e-commerce platform and takes 20.8% of the market share;


Top 7 e-commerce platforms hold 76% of the market share;


Shopify, the most rapidly growing e-commerce platform, performed the 26.5% increase during the last six months;


Magento CE increased by 13.5% in last six months;


Magento Go and Magento PE decreased by 30.2% and 39.1% respectively and have only 0.1% of the market share each;


Last half-year Magento EE decreased by 13.7%;


PrestaShop, VirtueMart, and Open Cart demonstrate moderate growth;


Magento search volume is the biggest, according to Google trends;


Magento search volume is stable in the European and U.S. markets and increases in Asia and India.


Latest News:
Magento 2 is ready to take the challenge.
If you have something to add to this post, please share your ideas in comments below.
Subscribe to our
RSS
.