Running a successful and prospering online business is impossible without advanced reporting systems. High-quality reports are not only a source of indispensable commercial information, but also a great inspiration for original business decisions and breakthroughs.

Magento provides its users with multiple useful commercial reports, which inspect and visualize numerous aspects of your online business, from reviews and coupons to orders and sales. Still, sometimes we need special solutions fitting individual purposes and showing business from a slightly different angle.

In this case, the Advanced Reports extension is the first to draw your attention as it is able to provide you more information about your sales and create a complete picture of your business.
The Advanced Reports Extension

The Advanced Reports extension provides you with a wide range of Magento reports and great number of additional units you can integrate with the extension at your discretion and keep your expenses as low as possible.

Report configuration options enable you to set up the appearance of reports, including the height, chart color, font color and size, background color, orders processed, custom date range options, etc.
Variety of Reports

Product-Focused Reports
High-quality products greatly attract customers, the same as reasonable prices, of course. But which of your product meets those requirements and draw visitors better? The "Bestsellers" report is designed to answer this question and show you the way to more balanced and profitable product lines.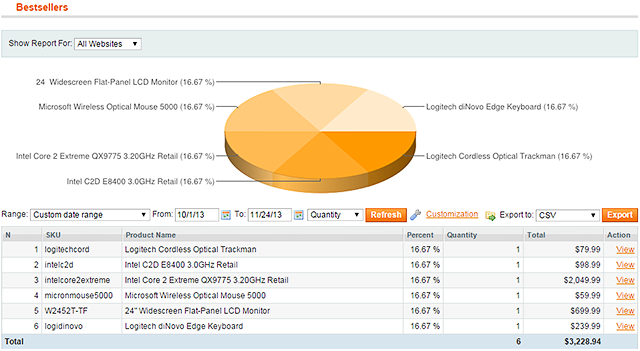 "Bestsellers" Report

The "Sales by Product" report shows the dynamics of sales of chosen items during a definite range of time. Using this report you are able to determine the correlation of sales fluctuations and seasonal demand changes on certain products; to see how the changes of product pages or discount offers increase or decrease sales; to weed out declining SKUs, etc.

Time-Focused Reports
Attaining successful online sales is a formidable task and requires the knowledge of all aspects of the purchasing process, including seemingly tiny and unimportant. But…



Trifles make perfection and perfection is no trifle.

So, the information about sales rush hours can be very important for sellers. First of all, you can check the bandwidth adequacy of your store within these hours and improve it, if needed; then you can increase you promotional efforts while you have the greatest flow of visitors; or you can bring additional staff on board to provide immediate customer service within these hours; etc.




During the lull hours you can carry out some service maintenance of your site or you can offer additional discounts at those hours in order to attract new shoppers.

The same is applicable to days of the week: you can promote your products additionally on "bad" days or just make them days off, and increase your activity, when the customers is heavy.

Taking into account the value of such reports, the Advanced Reports extension offers you two time-focused reports: "Sales by Hour" and "Sales by Day of Week", which allow you to get clear visual representation of your customers' activity by hours and days of the week accompanied by detailed charts.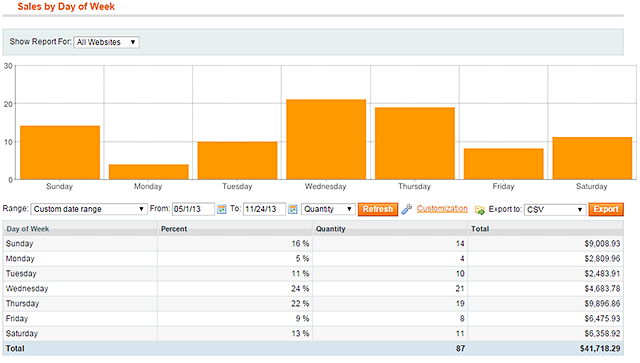 "Sales by Day of Week" Report

Customer-Focused Reports
Customer-focused reports include three valuable items: "Users Activity", "Sales by Customer Group", and "Products by Customer". The accurate understanding of the behavior of customers on your site is extremely valuable and allows you to locate usability drawbacks, discover specific features of the purchasing audience, and learn customers' product preferences.

The "Users Activity" report represents customer orders, reviews, and new account creations within a defined period of time.

Those merchants who have a sophisticated segmentation of customers will definitely find the "Sales by Customer Group" report useful and appropriate to their needs, as it covers sales by customer groups in a very comfortable manner and allows focusing on main profit makers.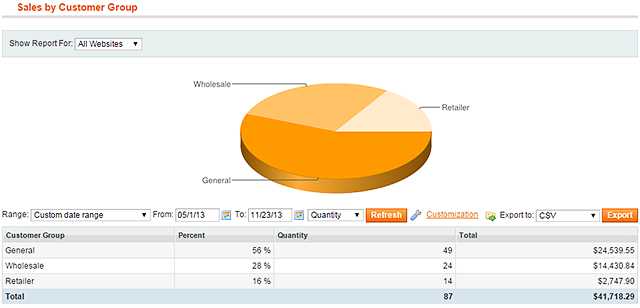 "Sales by Customer Group" Report

The "Products by Customer" report allows Magento merchants to define those customers who purchase numerous products and the total value of their purchases.

All the mentioned above reports make it possible to define date ranges, minimal time intervals of reports, and export them to other data formats.

Enhanced Sales Reports
"Sales". This report provides you enhanced information about your sales within a certain period, including number of orders, items ordered, subtotal and tax amounts, shipping costs, discounts applied, invoiced and refunded total values via the chart and spreadsheet.

The "Sales Product" report provides you with the date and time of the products sold withing a certain time period and sorts the rendered data by SKU, product name, manufacturer, etc.

Other Reports
If you manage an international business, the "Sales by Country" report is absolutely indispensable for you, as it graphically shows the purchasing power of countries where you sell.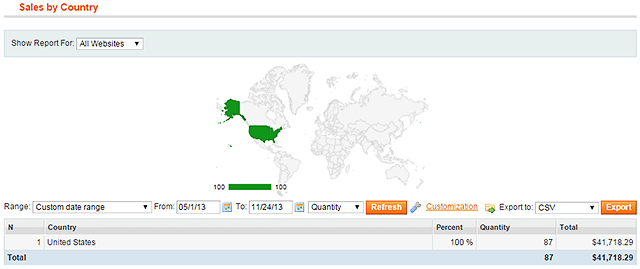 "Sales by Country" Report
Advanced Reports Units

In addition to 10 reports provided by the extension you can also take advantage of the report units designed for this extension and pick an item you need most of all. Here is the list of all now available Advanced Reports units:


Sales by Manufacturer – reports sales by manufacturer;
New vs. Returning Customers – allows you to compare sales of new and existing customers, and evaluate the contribution of each segment into total sales;
Sales by Payment Type – allows you to determine most favorite payment methods of your customers;
Sales by Coupon Code – reports the orders made using coupon codes;
Sales Statistics – shows an average order amount and average item price by days, weeks, months, or years.
Sales by ZIP Code – displays the sales data grouped by ZIP codes. The report allows you to differentiate your local or international sales by fine-grained locations.
Customers by Country – provides sales and customers data grouped by countries, including the number of users, customers, orders, items, etc. .
Users Wishlists – this report allows you to analyze the wishlists made within a certain period providing multiple wishlist attributes, including users, product names, SKUs, etc.


So, the Advanced Reports extension is able to give you a lot of valuable information about sales, customers, and orders, which can be a great incentive for brand new marketing and business decisions.

The comprehensive information about Advanced Reports is provided on the product page of the extension. You can also refer to the readme file, related knowledge base articles, user guide, or try the module in action in our demo store.

If you have something to add to this post, please share your ideas in comments below.
Subscribe to our RSS.



Additional Information
Since Magento moved to the next version of the platform Aheadworks released the reporting extension compatible with Magento 2 stores - Magento 2 Reports Extension. Created basing on latest usability and design principles the module still embraces almost all the same reporting facilities and even more. Among other things, it is equipped with a number of drill-down scenarios allowing you to analyze any nonstandard data carefully and deeply.