Live event communications are always beneficial and have a great potential for new sales and cooperation. Ecommerce conferences can offer merchants and manufactures multiple advantages and accelerate their business growth.
2015 engendered possibly the
greatest number of Magento events
ever and even more ecommerce conferences. A bit later we'll certainly publish the list of Magento conferences expected in 2016, while now are shedding the light on the
eCommerce Expo South Florida conference
.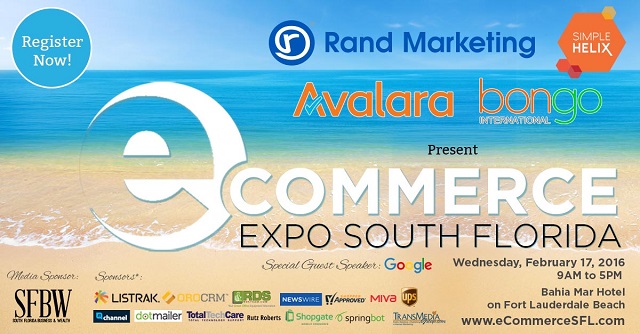 eCommerce Expo South Florida
The first edition of the conference was a great success and gathered a lot of ecommerce experts and attendees. The second annual eCommerce Expo South Florida is going to
become even more crowded
with multiple outstanding sponsors, exhibitors, speakers, and guests. The conference will take place on
February 17, Fort Lauderdale, Florida
.
Organizers and sponsors of the conference will provide refreshments through the whole day and arrange
the raffle
of NBA basketball Miami Heat and NHL hockey Florida Panthers tickets, and gourmet coffee gift cards among the attendees.
Venue
The conference is hosted by
four companies
: Rand Marketing (aheadWorks Authorized Partner), Simple Helix, Avalara, and Bongo International. The organizers settled just on the East Coast of Florida in Bahia Mar Hotel on Fort Lauderdale Beach.
Speakers
eCommerce Expo South Florida is a full-day event hospitably greeting
14 speakers
with vast ecommerce experience.
Seth Rand, Founder & CEO, Rand Marketing
Seth is a master of internet marketing with
750
optimized web sites and the
$20 million
pay-per-click advertising experience. He is a Google Certified Partner, licensed Google Advertising Professional and Yahoo Ambassador, member of SEMPO and the Marketing Association.
Robert Rand, VP of Operations, Rand Marketing
Educated at NY Poly Robert is known as
one of the best experts
in ecommerce strategy on the east coast.
Katherine Cxypoliski, Strategic Alliance Manager, Avalara
Katherine has over
25 year experience
in financial and software industry managemet, including 13 years in Microsoft.
George Cagle, VP of Operations, Simple Helix
Started as a system administrator George transited to the CTO position in 2015. He made a lot to shape and increase the value of 
Simple Helix ecommerce offerings
through hardware and software optimizations.
Danielle Kesten, Global Account Manager, Bongo
Being with Bongo since 2011 Danielle is a
highly experienced
senior sales professional.
Jay Carter, Co-Founder & Chief Revenue Officer, OroCRM
Jay is
a
proven leader
in the open source software sales. Prior to OroCRM Jay was the Vice President of Worldwide Sales and Channel for Magento and before that he led Americas Channel and Territory Sales for Alfresco.
Ashley Boggs, Retail Segment Manager, UPS
As a Retail Segment Manager in UPS Corporate Retail Marketing Ashley helps retailers to
bring latest innovations
and trends to their supply chains. Ashley has also managed several UPS strategic alliances with global retailers, including Amazon, Google, Netelixir, and Listrak.
Ravi Gupta, Agency Development Manager, Google (Special Guest Speaker)
Ravi advices agencies the ways to
increase ROI
and built effective AdWords advertising strategies since 2014.
And, we should also mention the other speakers making this conference greatly valuable for ecommerce fans and experts:


Ray Pascua, Partnership Management & Senior Sales Manager, Shopgate, Inc.;


Jeremiah Cathey, Vice President, Business Development and Sales, Shopgate, Inc.;


Jonny Dixon, Global Head of Magento Channel, dotmailer;


Rick Wilson, President and COO, Miva;


Brooks Robinson, Co-founder and CEO, Springbot;


Ryan Lunka, Digital Marketing Director, nChannel, Inc.


Free Attendance
The great news is that
qualified attendees
can visit the conference absolutely
free of charge
in the case they own a web store or work for a manufacturer, distributor, or retailer. Still, web site development and design, programming, hosting, and advertising company representatives are not qualified for free access.
Conclusion
Ecommerce Expo South Florida
is going to bring together multiple ecommerce experts from around the country. This local format is extremely beneficial for all parts as far as both the experts and attendees are able to discuss well-known problems and share the solutions tailored for the domestic ecommerce market.
This way, the event is going to be
especially useful
for currently operating ecommerce managers and online store owners. Just a bit later the organizers will provide the topics to be presented during the event; so stay tuned and take your chance to visit the conference.