No doubt, Magento 2 will become the next ecommerce destination for numerous Magento users.

So, if you consider migration as the next step of your improvement or just build a new M2 store, we are ready to make you two great offers.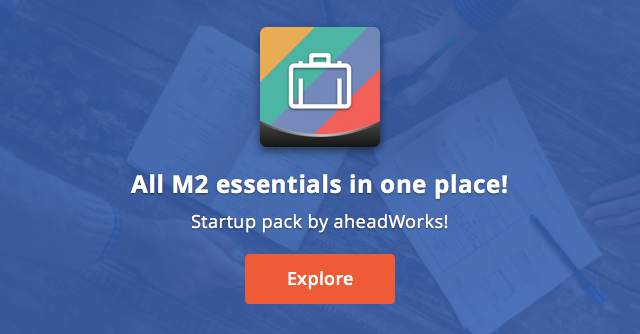 Coming into this innovational Magento 2 era we have a hankering to enter it with our new and existing customers continuing the long-term beneficial partnership. And, since we sincerely believe that Magento 2 is currently the best available ecommerce software, we offer you to equip your M2 online stores profitably right now.
M2 Extension Pack

M2 Extension Pack provides you with a unique and original chance to access all M2 extensions either currently available for purchase or expected to be released. The pack includes free extensions installation and the 360-day support period.

Our Magento 1 extension buyers are provided with the 30% discount on M2 Extension Pack (use the M2PACK coupon code):


CE M2 extension Pack: the discounted price is $979 (only for our M1 customers) and $1399 is the full price of the pack;
EE M2 extension Pack: the discounted price is $2099 (for our M1 customers) and $2999 is the full price of the pack.


Totally, we expect all 12 extensions to be good and ready by the end of March. The modules cover most significant functionality fields, including sales and marketing, administration, user experience, and content management. As soon as you purchase the pack, all the extensions above will appear in you customer account area. For the launched extensions you will get the links for downloading immediately, while the coming soon extensions will appear after their final release.


Sales & Marketing

On-site promotions are presented by the Automatic Related Products extension. The module provides store owners with the opportunity to favorably present their products on store pages and generate new sales.

Since email marketing is showing its glorious comeback, we've also included our Follow Up Email extension in the package. Abandoned carts recoveries, orders status changes processing, birthdays and other occasion congratulations are only a few events covered by this extension.

The Gift Card Magento 2 extension allows your customers to please their relatives and loved ones with nice gifts and increase your sales.
Administration

Backstage online store operations are vital for any retail store and sometimes greatly important for store owners.

RMA is just that kind of extension that maintains and streamlines product returns making the whole process transparent for both merchants and customers.

Advanced Reports is a great reporting system for your Magento 2 store able to present sales from different angles and create a background for justified commercial decisions.
Content Management

Next you need an excellent content, which is absolutely must-have for any Magento store as it attracts new visitors, makes your search engines results more successful, and eventually generates more sales.

The Blog extension for Magento 2 allows you to communicate with customers via the blog integrated into your M2 store.

Product Questions provides customers with plentiful product information allowing them to discuss items and share their user experience.

The Z-Blocks Magento 2 module enables you to place additional content in dedicated static blocks in different positions and on different pages. The blocks are positioned and displayed according to flexible conditions and custom rotating and scheduling options.
User Experience

In order to let customers easily find and purchase your products take advantage of the Layered Navigation, AJAX Cart Pro , Social Login, and Store Locator extensions for M2.

Layered Navigation helps customers find the items they need by products attributes and sort them properly. After the product is chosen they can add it to their carts without any page reloads and continue shopping. That's what the AJAX Cart Pro extension is responsible for.

Store Locator allows customers to find your nearest physical stores, offices, warehouses, etc., while the M2 Social Login extension allows customers to log in the store via social media accounts.

The enumerated above extensions improve some really essential functionality areas and make the start of your Magento 2 store easy and rapid. Find all the included extensions on our road map below, please.

Full List of Currently Available and Expected M2 Extensions


Automatic Related Products (launched);
Advanced Reports (launched);
Product Questions (launched);
Follow Up Email (launched);
Layered Navigation (launched);
Blog (expected February 2016);
Store Locator (expected February 2016);
Social Login (expected February 2016);
Ajax Cart Pro (expected March 2016);
Z-Blocks (expected March 2016).


M2 Extension Pack allows you to start your store swiftly and save up to $3 000.

The offer is time-limited till March 31; so make decisions promptly.
50% Discount for Our Magento 1 Customers

Quite possibly, some of you need only several extensions from the list above and we have a great alternative offer for you.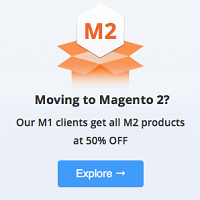 Our Magento 1 customers have an opportunity to purchase any Magento 2 extensions at a discount of 50%. Use the M1M2 coupon and save.

Offer terms:


Support period – 180 days;


Note: Only registered M1 customers (except the ones purchased only Advanced Reports units, free products and their support) are able to take advantage of this offer. Get more details in our Magento 2 Knowledge Base articles.
Consider the options and make the right choice!