Have you ever heard about SWOT-analysis?
SWOT-analysis
is one of the best ways of making environmental scan: examine external and internal factors, which affect farther development of your business.
If you want to build a strategy, find your position in market, or identify possible directions for developing your company, product or project, you should use this effective tool.
Its strengths lie in its flexibility, but remember that its capture is a part of the complete picture.
While preparing
e-commerce SWOT analysis
, some managers are facing difficulties, so to avoid them follow my advice to have a success:


be realistic when allocate the strengths and weaknesses


think about where's your company today, and where it could be in the future


take in account your competitors


keep it short and simple, but as long as it does not distort the reality


unnecessary complexity can lead to over analysis


It's always easier to perceive new information when you have an obvious example. That's why I've made SWOT-analysis of e-commerce industry for you, so now you can move from vision to action.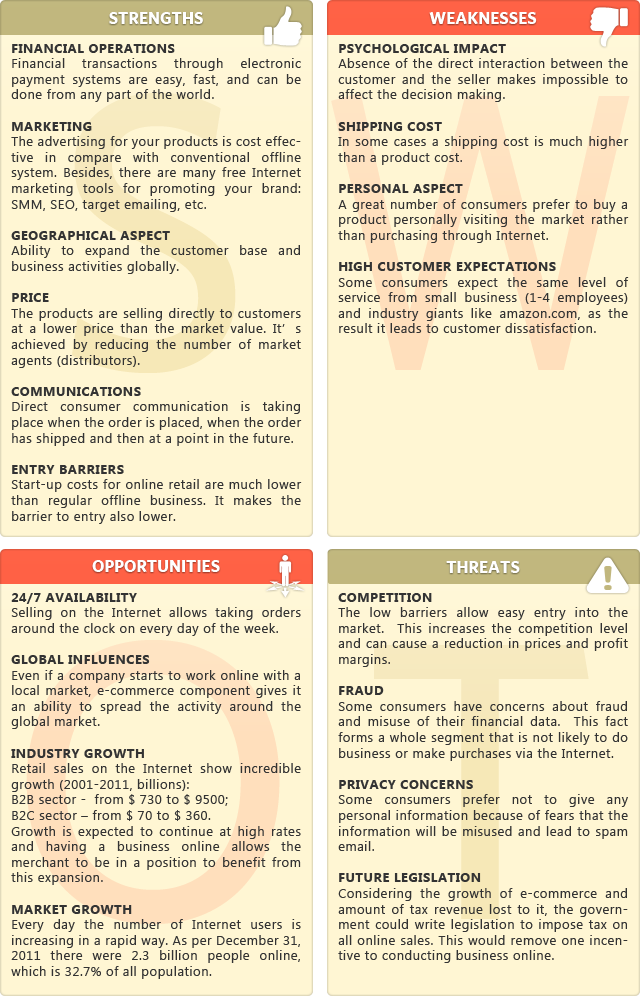 There is an opinion that SWOT is not an analysis, but summary of the analyses that were made previously. Anyway, as a
decision-making tool
it works perfectly. SWOT is evident, systemized, and easily perceived.
No matter what are you doing: constituting your strategic plan, choosing future directions, or estimating existing opportunities – you definitely can rely on SWOT analysis. Consider all those factors in your work to achieve the best possible results!