I had a chance to prove the theory that you are just six degrees of separation from anyone in the world recently. Reviewing our customers stores to choose the one for my 'Store of the Month' section I stumbled on Dip 'N Dive.

The first thing that attracted my attention was the fact that the store used 12 aheadWorks extensions, quite many, I thought. Secondly, they had been involved with Magento for two years.

As chance would have it, Oleksiy Chaukin, the person I contacted, appeared to be our former countryman. Moreover, the friend who recommended Oleksiy extensions happened to know aheadWorks owners. In my case the chain of acquaintances had four intermediaries. ;)

Who: dipndive.com

What: Established in 1976, Dip 'N Dive maintains a full service retail store, travel department, teaching facility and repair center. For over 30 years Dip 'n Dive has been instructing and outfitting divers all over the world. At dipndive.com they train new divers, advanced divers, master divers, or even dive masters and instructors. The retail store features the latest in diving equipment from nationally recognized manufacturers.

Where: Buffalo, NY, USA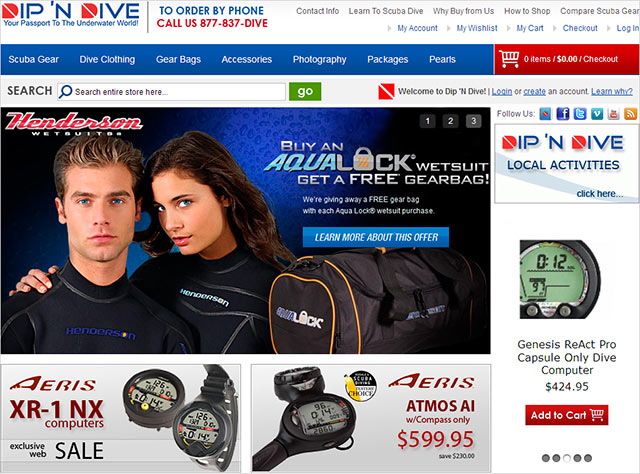 Q: How did you become involved with Magento?

A: We have been running our store on Magento platform since 2010. After the intensive research among several e-commerce platforms, Magento was carefully chosen as the best fit for our business. So we moved our store from the custom-made platform to Magento platform.

Q: There are many eCommerce platforms, so why Magento?

A: The crucial criteria were: open source, flexibility, easy to install and configure, variety of extensions and widgets.

Q: There is an opinion that Magento platform is slow and resource intensive. Have you faced such problem?

A: We know Magento both strong and challenged sides. The key moment for a fast and flawless operation is a proper infrastructure setup and configuration (as it is in any system).

However, the hardest thing in launching a Magento store was Catalog entry.

Q: Why did you choose aheadWorks as a Magento extensions provider?

A: Initially aheadWorks was chosen for Automatic Related Products and Follow Up Email as a test. Then it was plain word of mouth. My very good friend happened to know the owners of aheadWorks and when I mentioned to him about these plugins he gave excellent recommendations and told me that these guys are very good and I will be happy with them. As simple as that. And he was right.

Q: Do you use only aheadWorks extensions in your store?

A: Apart from your 12 extensions, we use several others as well. As to AW modules we own:











Q: What extension had a bigger impact on your sales in the last 12 months?

A: Home Tabs Pro & Featured Products 3. Both extensions created better product visibility for the customer. We are small business and in Ecommerce market really a startup so better product visibility is a key for us.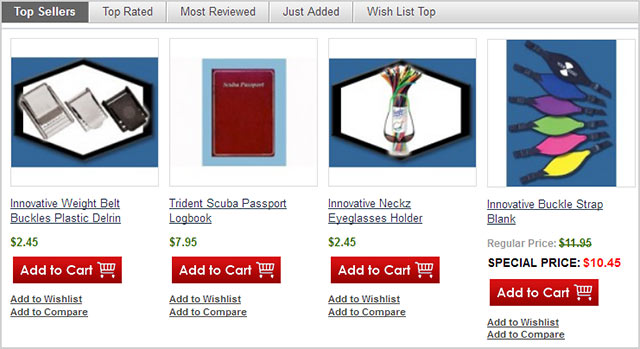 Q: What marketing methods do you use to increase sales?

A: Follow up emails, product promotions, sales deals and product discounts along with bundle sales.

I don't really have any examples, nor case studies. As I mentioned earlier, we are a small biz company and now we are concentrated on growing and not on building case studies :-)

Extensions help us get our store functionality to the level of large size businesses and show our customers that we are capable to provide the same level of functions and services.

Q: Can you describe the extension of your dream?

A: Maybe good product import/export utility for backend of Magento. Better and simple solution compared to what we have now in Magento.

Q: Any last words you might have?

A: Just keep doing what you are already doing and always look what the best for your customer.

Q: Thanks for sharing your experience with our community, Oleksiy. Wish you a prosperous and successful year ahead.


P.S. If you would like to share your store with Magento society, please feel free to contact me at [email protected]